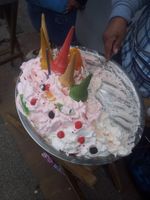 Ecuador has a strange relationship with food.
Exotic fruits flourish through the amazon, and grains such as quinoa are grown in every field, however they stick to 4 staple ingredients of rice, potato, meat and bread with each and every meal at home.
Understandably considering these staples are so cheap to buy, but step outside into the streets of any Ecuador town and flavours come to life before your eyes. Combinations so strange that you are compelled to try each and every one.
So what are my favourite Ecuadorian street taste sensations?
1. Hands down number one is Plantain con Queso.
Which is literally a grilled banana with cheese.
At first i was hesitant to try this concoction but as soon as i took my first mouth full i was hooked. More than that. Addicted.I can now actually sniff them out in any Ecuadorian street and i refuse to leave a town without one.
2. Tostados with lime
This is basically un popped popcorn, but bigger. Ok so its corn. But its so delicious! Its cooked for a good half hour un till it forms the perfect combination of crispy on the outside and soft on the inside. These are usually served with lime and sometime banana chips and beans. You wont be able to visit any Ecuadorian town without seeing someone holding a yellow bag of these bit sized treats.
3. Fig and Cheese Sandwich
Another strange partnership, but one made in heaven! The figs give off the sweetest juice know to man which is literally like drinking gallons of maple syrup, but combine that sweetness with bread and cheese and it turns into perfection! You need a tissue with this slice of heaven though, there is no way to devour it in a formal fashion. The juice must drip and the cheese must fall. Let it, enjoy it and get another one
4. Coconuts and Coconut water.
Self explanatory. The ultimate refreshment. 50c for a cup, you would be crazy to miss out.
5. ICE CREAM!!
Ok this is nothing new, but it is special. With no where to hide from the street seller a plethora or flavours are offered upon you on a minutely basis. Creamy ones, fruity ones, miscellaneous ones. All made from fresh ingredients and god damn delicious. The perfect end to a day of sightseeing in Ecuador
And my not so favourite??
Pigs heads.
They watch you along every market, usually with there mouths wide open looking ready to attack. Not the best view to eat your lunch next too.
Cows feet.
You brush past them while trying to navigate through crowded streets, you come face to face with them while buying your groceries, serving no purpose, yet still available by the truck load.
Whats your favourite street foods? Have you guys tried any of mine?
Let me know what you think!