Seems like a random post for a Travellers website, but trust me this is a problem for a lot of travellers, ok Female travellers.
This is especially a concern when CouchSurfing!
One of my favourite ways to repay my hosts are by baking them a traditional English cake! But then I am faced with (especially in South America) NO OVEN. The people must get cake!!
The solution is pretty simple, as long as you have any kind of stove.
What do you need?
.A deep dish pan, something like a stir fry pan .
A cake tin .
A tuna can
Instructions
1. Put the tuna can inside the pan As you can see i have tried this technique many a time since i have been living with my Ecuadorian family. They cant get enough cake!!
2. Make your ingredients as normal
3. Put the wet ingredients into a cake tin and place on top of the tuna tin. Obviously this will only work if the pan is bigger than the cake tin. Also make sure you grease the tin more than you usually would!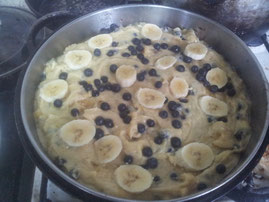 3. Light the stove on a high heat. Make sure the tin has a small gap between the pan to let the air through, otherwise the bottom will burn
4. Leave it for 30 Minutes. After 30 Minutes come back and cover the top with a lid or anything else that will cover the whole surface of the pan. This will help cook the top
5. After an Hour the cake will be ready
 As easy as that!