That time I went to Cusco, Peru, but didn't go to Machu Pichu...
On the rare occasion I make plans within my travels, they seem to have a habit of going south. Today in PERU was no exception. However, it has to be one of the most successful unsuccessful days I had yet to have.
Completely fed up with the long bus journeys (I worked out I have spent 130 hours/5 1/2 days on one so far) I decided to start taking shorter journeys and stopping for one or two nights in smaller towns. From Lima we decided to stop off 4 hours up north to a non-touristic town called Huamary.
We found pretty much no information on the town itself, however, we did find a hostel that rented sand boards for surfing down the huge sand dunes.
Sold.
But when we got to the hostel we discovered cockroaches populated the dorms more than customers did, in fac,t we were the only guests, so cockroaches were the majority. The beds were thin planks of wood with barely a matress on and there was a ant colony living in the bathroom. So as soon as we arrived we dropped our bags and went into the town to get some food, only to be told by a local it was dangerous to be out at night.
It was safe to say Huamary definitely isn't worth a visit.
( We later left a review on Trip advisor about this hotel, which we will not name, but it is the only one on hostelworld in Huarmey, so it won't be hard to find. The review was fair and basically outlined what I wrote above, with the caption 'you get what you pay for' and a two-star rating. The owners then contacted us and threatened us telling us to take it down and calling us immature and racist!!! They must have used this approach for a lot of guests as they only have positive reviews. A cockroach and bug population bigger that your guests should really be dealt with, but never the less we begrudgingly took it down relying on karma to do its work)
Through painstaking research, we also discovered an absolute hidden gem, 40 minutes north of Humary.
Sechin is the oldest ruin to be discovered in the whole of the America's. Boasting many more years than Machu Pichu, with civilization living within the ruins over 1500 years before Christ, it seemed like a must see.
So that was our plan; surf the sand and then visit the oldest ruins in the Americas.
We hired the sand boards and were on our way. 40 minutes later we arrived in the desert and into the mid-afternoon scorching heat.
Which wouldn't have been to much of an issue if we hadn't of forgot to bring any water.
What we had heard from previously travellers about sandboarding had sounded awesome, so we were pumped and ready for a major adrenaline rush.
However it seemed no one else shared our enthusiasm.
We were the only people on the dunes, in fact the only people for a good few miles. We took this as a blessing and were ready to take full advantage of our own private sand dune.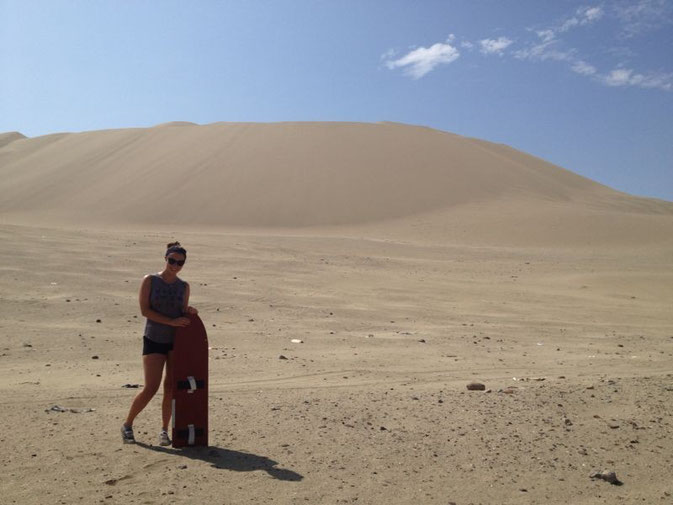 If only it was that easy.
Jumping on the board expecting to be propelled into a cloud of dust, the board did little more than melt into the sand.
We continued to attempt the so called extreme sport which was currently producing the same amount of adrenaline as going to the dentist.
All the while the punishing Sun was sucking away all our moisture and having a little chuckle in the process.

Having moved about 0.1cm we concluded the board was rubbish, and way to small to hold our weight. Totally confident  of our skills the board seemed like the perfect excuse…. 
Seeking shade and water the dunes had got the better of us and we decide to venture on to the next stop.
As we found our selfs walking through field of voluptuous mangos, with scents of fresh passion fruits and seeping watermelons, our mouths melting as we wandered through fruit heaven. All five sense were going wild, we had to get ourselves some of these objects of heaven.
We walked a few more miles still with no sign of civilization through fields of grapes, melons, avocados, passion fruits and unidentified fruits, tempted to just grab them all and bathe in them.
We refrained  from picking them and the potential of getting caught on farmers land, and were rewarded for our honesty by a local farmer.
We stopped as we saw her to comment on the beautiful colours of her mangos in the yellow sun and asked if we could possible buy one from her. She explained they weren't quite ready to be picked yet but scurried off and returned with 5 passion fruits and 4 Apple's, refusing to accept payment.
Now I can't quite put my finger on whether it was her generosity or the fact that we were becoming dehydrated that made these passion fruits taste like they were the sweetest things on earth. But oh my word were they delicious!!
As we sliced them open warm juice seeped out and a gorgeous yellow colour pulp reflected into our eyes. The sweetness fell into our mouths and for those few seconds we were taken into a moment of utter bliss.
The perfect combination of sweet and sour. The freshest fruit I had ever tasted, under the north Peruvian Sun, surrounding by fields of exotic fruits, and not another human being in sight.
There and then it became one of my favourite moments of our trip so far.
With no way anything could dampen my high I even agreed to walk the rest of the way to the ruins rather than stopping at the next town to get a tuctuc. However stopping at the next stop to finally get some water crushed those plans.
Approaching the building unaware whether it was a shop or someone's house we had to wake up the lady outside it taking a snooze. Life was just so relaxed around here.
Ushering us to sit on the chairs outside we finally consumed some water and an iced snack which turned out to be incredibly moorish and was the catalyst for us spending the next 90 minutes there.
Getting the impression we were the only people she had seen all day we entertained her conversation while continuing to eat the milky sweet snacks. She gave us a tour of her home including the dozen guinepigs she was keeping until they were fat enough to eat, and her farm passing us a peculiar fruit called … (I've totally forgotten) to try which we had never seen in our life's.
The time had completely slipped passed our consciousness and  it was already 5pm. With doubts the ruins would still be open we hopped in a tuctuc and hoped for the best.
The sign outside confirmed our suspicions; closes 4:30pm.
Hmmm.. oh well let's just go in anyway.
Half playing dumb and half not understanding what they said we managed to pass the security guards by saying we just wanted to walk 'over there' away from the ruins. To be fair I think they were to lazy to try and explain it was close and we  couldn't go in, that they just said 'ok be quick
So that was how we got to see Sechin, the 5500 year old village that had only been opened to the public for 14 years, totally empty with the sun setting behind it. Today was a good day for exclusivity.
The next day we were on the road again, (another 4 hours north)this time to a surf spot called Huanchaco, which boasts the world biggest left break wave.
A much more built up town, tourists flocked for the waves, making the hostels a tiny bit more expensive, but with modern amenities.
We stayed in one of the best hostels so far in South America called Na Lamp, we got our own private room with a balcony for 50 soles which is about 12GBP and I can tell you it was worth every penny. Sea views, clean rooms and great staff. 
One problem of the town however was the jelly fish! They ruled the ocean and surfers were their pray. 
We hired a board and wet suit for 20 soles and jumped straight into their trap.
Itchy and sore from the purple jelly stings, we decide to eat their friends and order the most famous dish of Peru; ceviche.
Which is a local fish eaten raw with lime and onion. It doesn't have a distinct taste but the texture literally melts in your mouth and resembles more mango texture than that of a fish.
Not stopping there we order a second course of chicarra another local fish battered and fried into popcorn sizes served with yuca (one last traditional food; a cross between a potato and a parsnip) and topped off with the ever famous Inca Cola.
Later that afternoon we also discovered you didn't have to have a surf board to surf the waves!! Watching kids running in and out of the white wash, the inner child within lead us to doing the same thing. Using every inch of our energy we became victims of the ocean, and had to accept it would use and abuse us a it wished. We swam out until we couldn't touch the sand anymore and gave our selfs up to the fearsome waves.
Dragged under water, spun in opposite direction, hitting our heads and swallowing more than your daily recommended amount of water in one mouth full, we always emerged in hysterics wiping the salt out of our eyes. We carried on this washing machine motion until the ocean had well and truly defeated us and was begging to threaten stronger and higher waves.
Resting our battered body's, but filled with heavy hearts we sought out some of our favourite Peruvians street food;
Picarons; a fruit batter fried into rings and drenched in date juice.(25p)
Maras; a frozen milk infused with fresh fruit/nuts/coconut shapped into a lloy pop. (10p)
And of course, the biggest, juiciest fresh mangos and passionfruit.
Heard enough about Peruvian food yet?
Read also: Hiking Solo to Machu Picchu
After spending about 3 week now constantly travelling, it was time to set up camp and hide out somewhere to save some pennies for our up and coming country hop.
La Casona hostel in Lobitos had asked us to come and volunteer for them doing general hostel work for 5 hours a day 6 days a week in exchange for accommodation and one meal a day. So without hesitation we were on to our next pitstop.
Lobitos is a small town on the northern tip of Peru. Predominantly know for its good waves, so it attracts a handful of hard-core surfers from around the world seeking the rumoured biggest left hand break.
With promises of an 8 hour bus ride straight to our destination, we were far from impressed 12 hours later being dropped off on a desolate highway at 6:30 am. Have I told you how Fed up we are of busses yet??!!( this time I got baby's wee deposited on my foot)
Luckily we stumbled across a local who was waiting to go to the same place as us and we all managed to hitchhike a ride to the nearest town on the back of a pick up. Our first hitchhiking experience in South America, all be it a 15 minute journey.
Eventually arriving in Lobitos at 8am we were surprised to see surfers all ready in the waves.
Rocking up at La Cosana we were the 14th and 15th volunteers there that day, to look after the 3 guests!! La casona was an old generals house when Lobitos was at the high of oil trading and rolling deep in money. Once trading slowed down people upped and moved towns selling their house to the Peruvian government who then made the town into a military base and now still own a lot of the abandoned mansions. La cosna is rented off the government and has been turned into a hostel with 8 rooms.
With all the volunteers coming and going the walls are painted with travellers scribbles and there is lots of DIY going on, but with closer inspection the house is very run down and in need of a good overhaul. However it has great character and amazing views onto the beach from a balcony you could spend all day sitting on.
There is no hot water, in fact not much water at all, maybe for an hour a day there will be running water, and the rest is relied upon the water tank outside. The shower is literally a watering can with a rope attached to pour water on yourself which actually provides quite an entertaining experience.
The kitchen has no oven, just a few hobs that run off gas to use. Well you'll only be using them if you travel to the next town Talara (25 minutes away) to buy food from the market as Lobitos doesn't even have one shop. It's probably the most basic I have lived yet, but it was no problem for concern. It fit in with the lifestyle.
Eventually, as the days went on volunteers moved on and we were left with more guests and 7 volunteers.
Work was easy, and the whole place was ridiculously chilled. We woke up at 8am and worked 2 hours in the morning cleaning, had a communal lunch, napped, sunbathed, read and not a lot more until taking a 3 hour shift on the 'bar' which consisted of a fridge full of beers.
Life was tranquil, but also very slow. With nothing to do in the town but surf, days quickly wore thin. We tried our hands at surfing again, but these waves were for pros, we spent more time paddling over them than actually catching them.
Evening were spent playing cards, making bracelets, watching movies and heading to bed early.
And sometimes I tried my hand at a bit of room art, every travellers must do.
If you want to volunteer at La Casona Lobitos email them at lacasonadelobitos@hotmail.com, also they are on Workaway and HelpX