With it being so quick and easy to cross the Argentina border to get to the neighbouring country it seemed like the obvious next move on our South American adventure was CHILE!
We had lined up our next volunteering experience through Workaway that would challenge our limits and what we had learnt so far. Teaching English at a school. Realising this would would not be an easy task we gave our selves a week off to discover our first taste off Chile. And more than just a small taste we got….
Unfortunately travel comes hand in hand with delays. And none quite like a 16 hour one.
Arriving back in Mendoza to catch our connected bus to Santiago we are informed the border from Argentina to Chile is closed due to snow. Looking up into the firey Sun it is hard to believe.
Travellers tip, always check online if the borders open before you travel.
'Next bus tomorrow morning' laughs the conductor. Not sharing the humour we prepare for a fun fulled 12 hours. 
We had set ourselves up a nice little home for the night on Mendoza terminals floor with a couple of sleeping bags, some smelly shoes, rock hard cold floor and some giggling locals.
Obviously this delay had effected many other, some of them having the same idea as us to set up bed. Not the locals though. They STOOD for 12 hours with little more than the occasional yawn or body stretch. Crazy folks.
Full to the brim of alfajores (pronounced Alfa-whores haha) the most incredible South American biscuit snack it was finally time to conquer Chile. 
Crossing the winding roads and leaving Argentina behind us it wasn't long until we were off the bus again to get our passports stamped and let in to Chile.
Sniffer dogs and police surrounded us. We were handed a disclaimer explaining everything you weren't allowed to bring into the country.
It would of been easier to write what you were allowed. Standing in line like criminals my heart beating one to a dozen, I pictured myself getting thrown into a Chilean jail if they discovered my stash.
Should I declare it? 
What if I got caught?
I considered texting my dad there and then telling him to get his bank details ready.
The dog was sniffing my bag;I was ready too fall to my knees and confess.
It was now going through the scanner. I was done. Surely they would detect them.
The guard grabbed my bag…..
And put it in to the 'your allowed into Chile pile'
Phheww.
My tea bags were safe.
Back on the bus I congratulated my self on being a true Brit. I would rather go to jail than give up my nations treasure. The queen would be proud.
4 hours later we reach our final destination. SANTIAGO.
Lonley planet' s description of Santiago; 'On a clear day Santiago basks in one of the most spectacular settings. A clear day, however, is rare in this smog-blighted metropolis.The noise is likely to cloud your first impression'
My description; ' An incredible city neatly sat in between the breathtaking Andes mountains with outstanding views whenever you look. A city that buzzes with locals selling the freshest fruit and vegetables,who would bend over backwards to help you out'
I could go on but I don't want Lonely planet stealing my description to update their clearly inaccurate summary.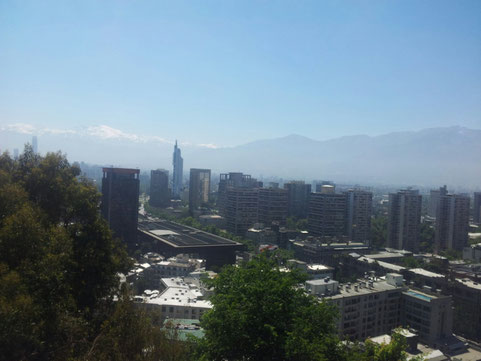 Settling in to Santiago I decided it was time to try out my first CouchSurf in South America.
In your wildest imganation,when you have no worries and nothing much to think about you dream of winning the lottery or visiting a paradise island.
In a travellers wildest dreams we imagine fresh laundry, breakfast, coffee and a double bed. We quickly snap out of it when realising our £7 a night hostel offers little more than a welcoming smile.
But then I met Pia,… Big statement coming up…the most amazing women I have yet to meet on our travels.
Brezzing in to Pias apartment in downtown Santiago, we (My boyfriend and I) are welcomed liked old friends.
She quickly showed us our room with a double bed and insisted we washed our 4 week old dirty clothes.
That fact alone left us beyond content.
Previously telling Pia we wanted to try some Chilean sushi, she had set up our first taste of Chile that night. Proclaiming she wasn't hungry she proceeded to order 38 pieces of the finest sushi, which between Ryan and I, we ate about 33.
We put up a fight when she insisted on paying,already beyond grateful for the bed and washing,but we soon learnt this was Pia, the kindest amiga, and there was no winning over her generosity.
Set up with local knowledge and advice,we hit Santiago hard the next morning.
Markets,monuments and momentous amount of walking. Discovering Santiago high and low. Falling in love with the city with every step. Scurrying around food markets picking fruit and gauping at the variety of produce all while laping up the sweet summer air. What's not to love.
Want my advice? Go to Santiago, give it a chance, dont rad the guide books.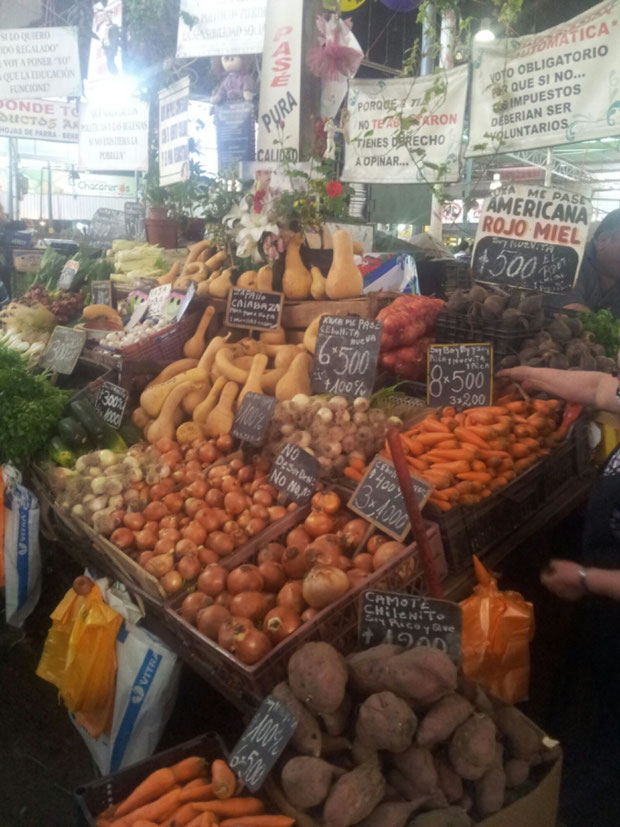 Armed with ingredients from the local markets I set out trying to return pias kindness in the form of a good old loaf of bannana bread. Returning from work we tuck in to the warm bread and pia tells us she has a friend in Vina Del Mar,(Valparaiso) the next city along, who would be happy to host us so we can see the city for a few days. Having already planned to go their and expecting to get a hostel, this is great news. Ohhh this women was just lovely.
The next day we take it a bit easier, we enjoy the simple luxuries of staying in a apartments and cook,sleep and bask on the balcony. It was easy to say we didn't want to leave Santiago. 3 days was just not enough. Valparaiso was calling though, with good reviews,maybe we had more love in store.
Our last night in Santiago had to be spent enjoying more of Pias incredible ora. With new experiences falling out of us,now was no time to stop; It was time to try the Chilean liquid treasure of Pisco sours.
Unfortunately pia has a crazy bet going on with a friend that she can stay sober untill New year's eve. This is CRAZY in Chile. They love to drink. So sipping the sweet and sour gold, taste buds partying, we drink an extra one for Pia.
I guess another new Chilean delicacies couldn't hurt eh. Or how about 5
Crab legs with a local spice similar to paprika, merken.
Muscles. Smothered in cheese.
Pumpkins gnocci
Prawn and scallops linguine.
Callamari risotto
A seafood food feast!! Body warmed by the taste sensation we want to stay move than ever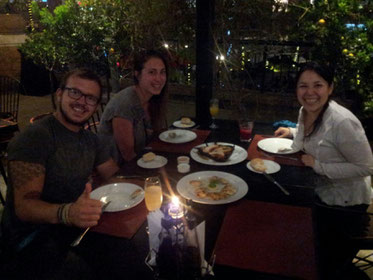 You should stay' pia confirms.
As if we needed any more reasons she tells us about 'the happiest 5k run on the planet' a colour explosion over Santiago city with a little run in between. One of those events you see on TV or adverts that look crazy fun. She invites us, pays for the entry organises the lunch all in one breath.
Guess that's decided then.
One problem; we are supposed to start volunteering in taltal 16 hours away the day of the run.
Nothing a quick email to our new laid back boss can't sort out.
So now our trip to Valparaiso is more like a excursion as pia insist we leave our bags at hers and the bedroom will stay just as we left it.
Our goodbye meal ends in a see you in two days meal. That calls for another pisco sours?
Valparaiso bound with only a change of clothes in tow, we go to meet pias friend. Paulo. I guess they only chose there friend with the name starting with P as we meet Pam here too.
As welcoming as Pia, and without the sobnerness, we settle in to his apartment with some homemade whiskey sours. As the night goes on more friends of his turn up to check out the Gringos and teach us some Chilean slang. Armed with swear words and insults, we are told we will get through Chile just fine now.
But of course no local will leave without giving you the lowdown of where to go in their city. This time we even get a homemade map which resembles a child's drawing of a road and some mountains. Fail proof.
Swear words. Map. Alfajores. All you need for a successful trip around the hills of Valparaiso.
We trundle up the famous 'cerros' of valpa in a bus as old as the city itself and get off as instructed by our trusty map.
Pam was a lot of things, but an artist she wasn't. Map held up to the hills the only resemblance was the sun in the sky. Taking the nearest road we cross our fingers that just around the corner we will be greeted with explosions of colour,art and cobbled roads.
Maybe the next corner.
Next one?
Well as we are this far we might as well keep climbing.
The road turns in to a horizontal death trap that is only feesable by walking backwards.
Nope no art, or anything of interest.
One more road.
We later find out we walked to the highest point of valpa that even the locals hadn't ventured. Nice view though.
Almost rolling down on the way back we realise the map had been drawn backwards and we were in fact meant to be walking down not up.
Alfajor time.
Heading in the right direction, we find the cobbled streets of famous photos. Street art on every corner. Drawings of creatures from the artist wildest imagination, faces of the most beautiful women. Prisition and skill from unknown hero's. Truley awe inspiring.
Legs had turned to jelly. Wine is needed.
We meet Paulo and Pam in the centre at their favourite drinking hole. Insisting they took us there the night before to try a valpa secret, Fruit wine.
Pretty much was it says on the packet, but more like a smoothy than wine, consumption was not a problem.
Wine talk turned to tattoos as it does,and we told Pam and Paulo of our idea. Pam excitedly told us of her friend who had tattooed her previously, and before we knew it an appointment was made for the next day. Why the he'll not eh.
She told us he was crazy, aren't all tattooist? But this was another level of craziness.
Arriving at 1:30 'because that's the time he will probably wake up' he dismissively invited us in.
Disappearing behind a door he returns a few minutes later with a 10 ft snake wrapped around his neck. Okay.
'What do you want then?' He grunts in Spanish.
'We are Pam's friend's' we answer
'Ohhhhhh okay!! Come down' he chirps up.
Walking into his lare, our eyes are taken over by shelfs full of ancient tattoo guns, which honestly looked more like weapons of mass destruction. Sitting on his dentist chair the smell of insense puts us more at ease.
In a much happier mood than our previous interaction he pulls out a bomb proof box.
Having no idea what he was going to pull out, and with his Chilean slang making it almost impossible to understand him, I checked for the nearest tattoo gun for protection.
Laughing. At himself. He opens up his box of treasures.
Wood sticks as long as our arm with sharp points at the end, we breath a sign of relif realising they are just more ancient artifacts. Lost in translation we understand mainly through hand movements, and of that he was skilled.
Pulling out a mean looking wood instrument with two holes at the top, followed by a small sharp wooden needle, he sniggers and puts it to his crotch.
Placing the two sides almost on his penis I watch with one eye open
Pushing the needle through the holes he erupts into laughter
'Cock piercing, hahahaha'
'100s years old's
Right. Great.
Just to make it a more memorable experience for us he then puts it up to his nose sniffs it and offers it to us to sniff.
Loco
Realising trying to escape would be a bad idea, we commited and told him what it was we wanted tattooed.
Through vibrations and pain he continued to surprise us with his personality, giving us tips on Peru and Bolivia in the form of
'Lots of cheap women out there'
4 hours we depart with new ink and scared brains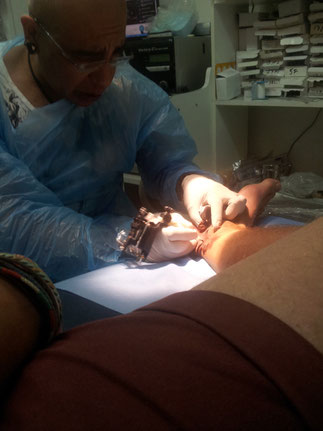 If you too would like a tattoo from a strange man or maybe even a piercing?? check out their appropriatly named website here
Our two day excursion to Valparaiso was up and it was time to head back to Santiago and Pia. Arriving back in the apartment it was like we had never left. Up at 7am the next morning for the run,there was only one thing for it. Drink two bottles of pisco sours, Pam joined us and we drunk the night away with good friends.
The time had come to get messy, and attend the event that had delayed our next volunteering experience. Fragile heads,but excited hearts we pull on our fresh white colour run t-shirt,with no idea what we have ahead.
Tucking into more bannana bread, we decide to walk off the hangover. Turns out the ending point is in fact 5k away, so we end up walking more than we will be racing just to get there.
Joining more and more fresh clean runners the excitement is pumping through our veins.
Sachets of colour powder ready,it takes a lot dedication not to rip it open and throw it and the nearest passer by.
So we just throw it at each other instead. Clouds of purple,Orange,yellow and green all explode into one and fall down on to us in a grey haze. Coughing and splattering,we are in hysterics. The inner child has defiantly come out,and we amuse our self for the next hour throwing paint at each other
Covered head to toe and everything in between with colour, we head off the starting line looking like a scene from Joseph and the technicoloured dreamcoat.
Jogging with the hundreds of other participated we slow to a stop every time a colour storm erupts and spin,roll and throw ourselves into the clouds. Emerging each time a different shade from when entering, we continue hysterically untill we reapeat the process all over again.
Barely breaking a sweat we finish the race,without even realised we had started.
Heading back to the starting line we join the rest of the multi coloured runners in a massive Spanish style rave. Each jump releases more colours and like a camiliean we change to apdat to our surroundings.
With one last attempt to make sure we can't wash off the colour for weeks,the whole crowds opens their sachets in concession and a tornado of colours erupt into the sky,covering the city in love. It truley was the happiest 5k on the planet.
Walking back home was like a clear up from a fairy tale disaster, powder everywhere, people covered in colours, laughs and smiles.
With only a few hours untill we needed to catch our bus to taltal, we barely had time to shower, scoff down some burritos and say farewell to our beloved pia and Pam.
On a non delayed south American bus we review the damage to our skin and accept defeat over colour. I'm sure our first day as teachers will be more entertaining covered in paint.
If you want to take part in this amazing run, you will be pleased to know it happens all around the world. Check out thecolorrun.com  for your nearest event.
And of course if you havent tried Couch Surfing yet i hope this post will push you to give it a try.
Tell me about your best CouchSurf, color run or experience in Santiago