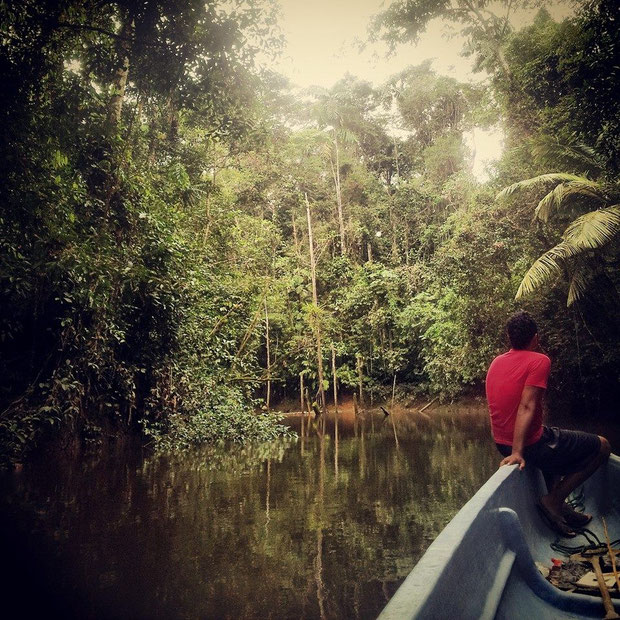 The lungs of the world covers over 1.4 billion acres, provides the world with
more than 20% of its oxygen and it home to over half of the planet's population
of plants,animals and insects.
The Amazon means serious business.
And anyone planning to visit it should do too.
Over half the rainforest is situated in Brazil but also grows along Peru,
Venezuela, Ecuador, Colombia, Guyana, Bolivia, Suriname and French Guiana.
So how the hell do you decide which side to enter?
Well realistically whatever country you are in or is nearest to you.
So this guide to the Amazon is from Ecuador, more specifically tours from Quito going to Cuyabeno
Trying to pick a tour agency down the strip of Marsca Sucre is like trying to
choose a chocolate bar as a kid. Rows of agency's try to lur you in with
lucrative offers an promotions, however each one is the same as the last.
Which one is the best?most reliable? Unless you spend the week before
researching into each and every one you will really have no idea either.
What did I do?
I went into a coffee shop, ordered a frozen coffee and sat there in peace. I
wanted nothing to do with tour agents or package deals, surly there would be
another way to get in.
And of course there is. Public and private transport. Without booking a tour.
A night bus from Quito leaves to Cuyabeno (a river situation slap bang in the
middle of Ecuador,Peru and Colombian rainforest) at 6:30pm and arrives around
6am for $10. The bus drops you off right on Cuyabeno river right next to a road
sign with a dolphin on.
However I didn't fancy a night bus that day so I spoke to a friend I was staying
with in Quito who offered to take me for $15. Sold.
So what do you do when you are dropped off in the middle of the Amazon
Rainforest with no reservation or tour booked?
The sensible option would be to contact lodges before hand and make a
reservation, but the likely hood in getting through is slim, obviously there is
no WiFi in the Rainforest. (However the lodge I ended up in does have a
telephone, so keep reading for more info.)
But if like me, and others I met, you haven't got a reservation, luckily the
'park ranger' of Cuyabeno river has his office opposite the bus stop and will
give you options on where to stay. At this point I will break the news you HAVE
to be able to speak Spanish, if you can't or are not confident enough ignore
this article and book a tour through an English speaking agent.
And the park ranger will take you too 'Cuyabeno Lodge' the only lodge situation
on the river for a good few miles. It is a 15 minute walk from the road into the
forest.
These are the selling points on their Website:
First Amazon Jungle Lodge within the Cuyabeno Fauna Reserve, Ecuador and one of the pioneers in the entire Amazon River region;
Operated by conservationists who helped create and protect Cuyabeno Wildlife Reserve, Ecuador;
The lodge is located on a gorgeous location on a peninsula on the Cuyabeno Lake;
Unique among Cuyabeno Hotels for its canopy wildlife observation tower;
Recommended by Lonely Planet because of its unique location and its professional Amazon tours;
Tripadvisor's 2013 Certificate for Excellence Award;
Tripadvisor's 2013 Best value for Money of the 25 greatest destinations for all South America;
Now here's the tricky part...
Agreeing on a price.
If you book through an agency it will cost you $200 for 3 nights and 4 days,
however if you don't book you can agree on a slightly smaller price with the
lodge owner when you arrive.
What's included?
A private cabin (with no walls so you can experience the true Amazon sounds)
private bathroom and shower, 3 (very good) meals a day and either a boat tour or
walk everyday.
All in all it is good value for money however there is no English speaking
guide, in fact when I went there was no guide at all. Just the owners 15 and 18
years old sons. They put in a lot off effort driving the boat, but then did not
contribute to the tour in any other way, so much so we had to spot the creatures
our self..
But this is the Amazon, and creatures are waiting around every corner. We saw
Pink Dolphins, Caymans, many kinds of monkeys, deadly snakes, wild pig and a
tarantula. Unfortunately it wasn't the right season (March) for fruit or
flowers.
When it came to the 'jungle trek' they announce it was off because of the rain?!
Surely not, rain in the Rainforest???
This was laughable and an obvious way for them to excuse the fact that they
hadn't got a guide for our trek.
After insisted we go on a walk, they eventually got the 15 year old worker to
lead us. And that's exactly what he did. Lead us.
We power walked through the trees, without looking up once. We saw nothing but
our feet.
My overall review on Cuyabeno Lodge is positive however the fact we got no guide
was a major downfall and we felt we had paid over the odds for what actually was
food, accommodation and a boat ride and a walk.
Would I recommend it?
Only if you are looking for a relaxing get away to the Amazon. If you are
looking for adventure and adrenalin then No.
Coming back from this 4 day trip unfortunately I don't know anything more about
the Amazon than I left, but I am happy I went and saw the things I did. However
I'm taking this as a test run for the real thing, I will enter the Amazon again,
but this time after a lot more research.
Have any of you been to Cuyabeno Lodge?What did you think