A final farewell to our little piece of paradise teaching English in Taltal we try and beat the system and get two busses instead of the long ass one bus to San Pedro.
I guess we still have a lot to learn, as there's no winning with the bus system in Chile. So we spend an unnecessary 6 hours waiting in the bus stop and arrive in San Pedro at ridiculous o clock. Settling down for a night's sleep in our 8 man dorm, it was near impossible to sleep, and not because of the token snoarer.
Without really realising we had climbed 3k above sea level, and our body's were beginning to react. My first ever nose bleed was the first sign, followed by thumping headaches and dodgy stomachs.
Hello altitude sickness.
Little did we know the worst was yet to come. We spent the day in the cute town of San Pedro (the closest Chilean town to the Bolivian border) and once we had knocked down a few coca teas, we went on search of the cheapest tour to the ultimate Bolivian experience.
Within an hour we had our tour booked through Atacama Mistica from San Pedro (Who were AWESOME, and highly reccomended, but please note, the best way to contact them is buy actaully going into the shop in San Pedro) , changed our money into bolivianos and bought some coca leaves. As recommended by the locals for altitude sickness, we didn't want to take the risk of feeling that bad again, so bought a bag each. Reasured they were absolutely nothing to do with cocaine (well apart from being the leaves of the plant) and were completely legal, I chucked a handful in my mouth. That was an experience. But within half an hour my headache was disappearing and I was starting to feel more lifelike. The next morning we were off. Officially leaving Chile, it was a hell of a easier to get out than it was to get in. This time not even did I smuggle my tea bags, I also got through with a packet of lentils and some oats. Yeah I know, I'm getting good at this. Two more stamps acquired in our passports, we were well and truly on our way to our 3 day Bolivian tour. We jumped into a 4 x 4 jeep with two Norwegian girls, and started the mighty climb to 4k above sea level.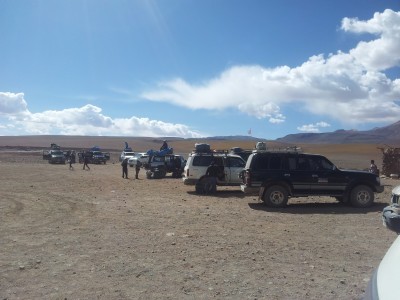 Our first stop was a blue lagoon, we trundled along in the world's bumpiest desert (maybe an exaggeration) until we reached an unusual sight of movie blue water, between volcanoes and mountains. Another unusual sight was a Bolivian folk band filming a music video all dressed in matching Peruvian suits. Maybe the coca leaves did have side effects??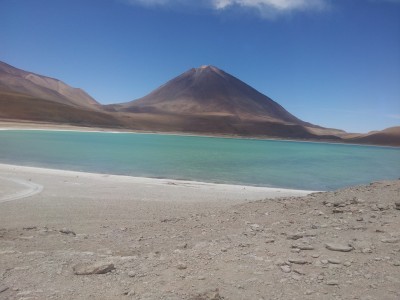 As we climbed higher the altitude became more obvious, and the bumpy conditions really weren't helping. Next stop a green lagoon, which to be honest just looked like the blue one, but some added flamingos to change the sceanary. More and more pressure was pounding into our heads, and our lungs felt like schriveled grapes. The only option was to keep chewing the coca leaves and downing water. With a quick snooze in our spacious jeep we arrived at a natural hot springs, completely secluded in the middle of the desert. The whole concept was some what bizarre stepping out of the jeep into ice cold temperatures, and then into some water at a more than pleasant 30c, with views of flat salt lands, and active volcanoes. I felt like the monkeys from the David Attenborough documentaries, slowly closing my eyes, and enjoying the steam rise from my body. A not so enjoyable dash to the changing rooms in our bikinis, we quickly jumped back into the jeep and sheltered from the cold.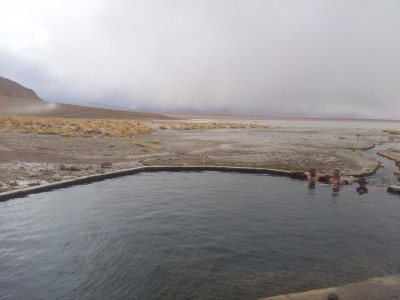 Another layer on and another few hundreds meters climbed. Next stop, I think was possibly the most extraordinary, peculiar scene I have witness in my already eventful 25 years.
Ryan calls them geezers, but I'm sure they are pronounced quite differently in Spanish, but let's go with that for now.
'Geezers' are cracks in the dry ground, which produce high volumes of gas, seen to the eye as a steam substance, which come from the boiling lava underneath. Well that's what we got from our non English speaking guide anyway, so we could be totally wrong. All I know is they are not lager drinking football hooligans from England.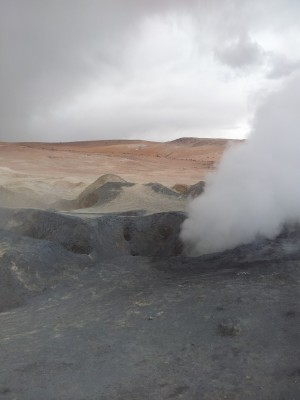 This site alone was pretty incredible, and the thought of active lava running below us was spine tingling. But to make the scene more un imaginable, it started to snow. Hard. In the middle of the driest desert in the world. Next to boiling lava pools. Mind officially blown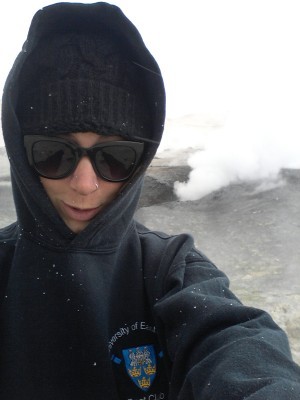 Maybe it was the science that began to squeeze my brain,but more likely the altitude, my head was coming close to exploding point. I could no longer keep my eyes open, my head spinning like a disco ball on overdrive.
Luckily our next stop was at our hostel for lunch, but as soon as I saw a bed I was curled up in the foetal position, ready for the Bolivian volcanoes to take me as there latest victim.
Unable to stomach lunch (a true sign of illness) my sickness was seeming to get progressively worse, and I blank out and refuse to move for the next 5 hours. I mean who wants to see a red lagoon with flamingos and llamas anyway? (Me..)
Dosed up with pain killers and coca leaves, along with sleep and Ryan's head massages, I finally arose in time for some warming homemade soup and tea. Telling myself I could never feel head pain like that again(as its pretty certain I will avoid altitude completely from now on), I was grateful for just a weak stomach and sore throat
. Reminding myself tomorrow's a new day, an early night in our hostel with no heat or running water would do the job.
Welcome to Bolivia.
And that it was, a new day. I woke up with only the distant memory of illness, knocked some breakfast down and was ready to inhale all that Bolivia has to offer.
Back in the jeep we spent the day travelling closer to our destination point of Uyuni, stopping at one to many lagoons on the way. As eye pleasing as they were, they started to get a bit repetitive,and had little difference from the one before. The next stop however gave us a good hour of enjoyment as we climbed our way over sand erroaded rocks snapping classic photos you had seen in guide books.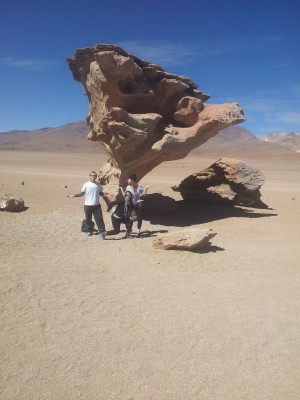 A long day of driving eventually came to a stop for the night at 'hostel del sal' which was pretty much what it said on the tin, a hostel of salt. Everything you touched was made of salt which made of quite a moist experience,sucking out any moisture you had left in your body. A 4:30 wake up to watch the sunrise,sent us to our salt beds at a reasonable hour. The ultimate day of the tour, and the one everyone had been waiting for, with promises of once in a life time views, was off to an early start. At 5am we were back on the road,chasing the sunrise along never ending spands of salt flats. With the exception of the other jeep in our group, we watched the sunrise creep up onto the world's largest salt flats, feeling like the only warm blooded mammals in the world.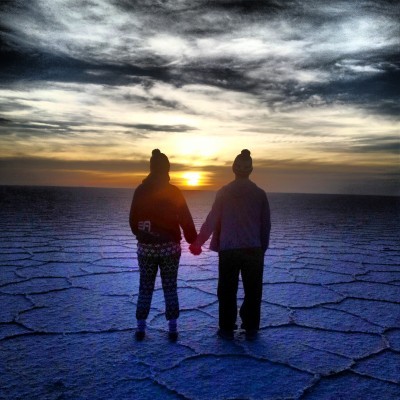 A new day in Bolivia had arisen and it was time to head further towards our destination, warm with the memories of a sunrise marking another day in our south American adventure. The scenery for the next few hours, was that of a video on repeat. Miles and miles of salt flats, with no angles, heights, or corners, just flat surface. It expanded for over 120km across Bolivia, an empty lifeless space almost the height of England. But somehow our next stop was an island slap bang in the middle of the salt flat, boosting an impressive collection of cactus's. We climbed to the top admiring the ancient plants, and looked out onto the salt teranae,with yet again little changes in the scenery,but still with a goosebump growing atmosphere.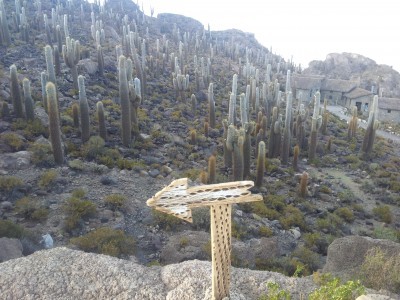 Time has no meaning when civilization is so spare, so we sit down for breakfast after what has felt like a whole day of sightseeing. We eat cake and drink coffee as llamas sniff around for leftovers and cactus offer us shade. Departing from cactus island, excitement rises as we head towards to the ultimate salt flat, to see what many have seen before us, but also that many have never heard of. The sun greets us like a long lost son meeting his father, and has no intention of leaving. We bundle out of the jeep, props in tow ready for pre planned optical illusion photos. The hours whittle away as we marvel at the illusion the salt flats present,and entertain our selfs with as many poses as our Sun soaked brains could think of. Even managing to get a few 'arty' naturalist photos in to the collection.
We leave satisfied that our photos will provoke evny and joy to all those wondering what the hell we are doing with our life. The last leg of the tour, was a battle between sleep and watching sceanary. We drove through collections of workers digging up salt to sell, and a small island with flags from countries of which tourists that had passed were from. Before sleep took over we were ushered out at the final stop, a train cemetery. And really that's what it was. Dead trains, left to boil in the desert heat, only visited by tired tourists using the last remaining memory on their cameras. We jumped on them, in them and around them trying to show them some love in their sorry state. They mirrored those of old travelling circus trains,each carriage with a different character from the next. I liked the thought of being on a travelling circus train, so ignored the facts of them being mineral trade transportation, and imagined tiger's and zebras running free from the open carriages. Travelling really does open up your imagination eh.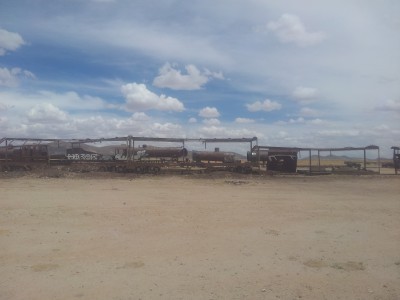 And then there were 6. Ryan Kat and I are joined by Leo (French) Shun (Japanese) and self named 'Mr Lee' (Korean) that we had become friends with over the last few days, and go on search of our first hot shower since leaving Chile, in the small Bolivian town of Uyuni. We find a hotel (how fancy) for less than £3.50 a night, get some food, share photos and watch a movie together. The next morning we leave the rather dull town of Uyuni and head to the capital, Sucre. But of course no new experience can be totally left with a goodbye, so we find ourself with another stragglers on as Leo joins us for the next however knows long! So 2 become 4.
Bolivian buses are not much to shout home about, but I guess what can you expect for a 10 hour trip that cost less than £5. Ryan Leo and I are rudely told to move from our pre booked seats and gestured to the back of the bus in between a couple almost having sex and a Bolivian women almost the same width as the 3 of us put together. We name the Bolivian women Stacey and Leo jokes with the couple asking if they needed another partner. With no room to breath and the only sceanary being that of our own hands, leo and I entertain our selfs by literally twidling our thumbs, which actually turns out to be a lot more fun than it seems.
We sit out the journey and eventually arrive in Sucre, dump our bags in an awesome little hostel and head out in search of well needed alcohol.
Not only did we find alcohol, we found CHEAP alcohol. And not only was it cheap, it was strong delicious alcohol. Massive win.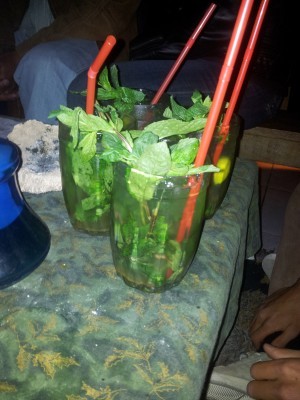 We place our expanded bums on comfy cushions and work our way through the fresh homemade cocktail menu and are pleased to be in a gringo free bar. As time goes on and cocktails are flowing, we look up at our surroundings and notice a guy in leather chaps, sipping his daquiri. Our eyes then revert to some guys the other end, touching each others hands and staring into each others eyes. As the waiter struts up in his YMCA getup, we realise what kind of bar this was, and actually feel even more comfortable. I mean who doesn't love watching the cast of the village people on a Saturday night. Bolivia, I think, will be full of many surprises.
---
Have you guys been to Uyuni? Did you get as sick as me?