Without a doubt the best thing about travelling is the people you bump into along the way. And the Peruvians are no expectation. In fact they may well be some of the most charming, considerate,inviting and Hilarous of them all.
Let's start with Renzo....
New year's eve in the bar in Paracas;
'Oh darling you are staying in my room, you and your boyfriend are so cute, come and have a drink with me sweetie, I have snuck a bottle of whisky in'
Basically how friendships worldwide are formed. With Whiskey.
Our new Peruvian friend who is a self proclaimed 'Absoutley Fablous' addict with half of his English vocabulary coming from their scripts, had planned our next move to Lima before we had even had time too exchanged names.
So that was it, we were to stay at his house and would spend hours in front of the tv watching ab fab and drinking red wine.
'It will be absolutely fabulous sweetie'
Before we headed off to the capital of Peru we spend the night listening to Renzos stories of his 11 years in the states, his wild nights and squirrels in microwaves, only stopping to satisfy his chain smoking habit.
We closed the first morning of 2014 with jaws aching and excitement curdling.
Promises of early afternoon departure dwindled into reality late evening departure and we leave paracas 5 hours after we planned. On the 4 hour bus ride to Lima we double check it is ok to stay at his house for the weekend as he is currently living with his mother. He squashes any doubts and reminds us of the fun we will have in Lima.
Arriving at his apartment his mum has no idea who we are or what we were doing in her house. She angrily whispers to to Renzo in Spanish all while ushering us to sit down as she raids the fridge to fed us.
She sits with us and gives us a frosty reception claiming we can only stay for one night as she has plans.
The whole situation is painstakingly awkward and doubles in tension when she proclaims she doesn't like people with tattoos. Or people with 'that haircut' (my new hobby has been cutting Ryan's hair and he is currently sporting a very fetching mohawk)
We approach the situation the only way we know how and try and charm her with our limited Spanish and British humour. And literally within seconds we manage to break the ice and crack a smile. We then spend the night talking with her in Spanish about the differences between South America and England and the opposites in culture. Main subject being our tattoos after she claims I would be a beautiful girl if I didn't have tattoos.
Her conservative views are actually starting to become part of her charm and we debate late into the evening.
We wake up the next morning to a spread of avocados, eggs, bread and tea and an invitation to be friends on Facebook(which is usually limited to only family) Unfortunately however we still cannot stay another night as her mother who is 96 is coming to stay and will need the room.
So on promises to have an ab fab night soon we leave with Renzo for a quick tour around the city.
First stop; Starbucks.
'I can't start the day without a Starbucks darling. I need a fag in one hand and a Starbucks in the other'
When we are enjoying not so life changing experience in Starbucks we get in contact with Leo the frenchie and organise to pick him up after coffee, as he is stay in Lima for the next 6 months. Reunited (again) with Leo we discuss the task of finding a hostel to stay in that night.
'But first we must go for lunch, I know a really cheap place'
We pick up Javier who was also in Paracas with us and head to an exclusive beach resort district for a bite to eat. As we climb the steps to the restaurant and sit on the balcony with a sea view, we have a feeling it won't be 'really cheap' that and the fact we are given a complimentary pisco sours. Free alcohol is always a expensive menu give away sign. And sure enough the menu was the price of a night's accommodation so we sit and watch everyone else tuck into their seafood,but do pretty well with some samples.
After our 'really cheap' lunch we start the search for the hostel with Renzo refusing to go to the touristy hostelworld one's and find one himself. Easier said than done when his only point of recognition of these secret hostels were they had a flag outside.
FIVE hours later we finally find a secret hostel which is actually just a house turned into a 'hostel' with a lot of beds,but it perfectly homely. So we set up bed and Renzo leaves us with instructions to be up and ready at 9am the next morning.
At 11am he picks us up along with Arno a guy we met at the hostel the previous night and we go to hire some bikes to ride around a district of the city (Lima has 48 districts an is the third largest city in S.A) only to discover there are none for hire so we take the 5k walk instead.
The sun is smothering the park and its is obviously a Sunday in San Borja as women are out in there hundreds dressed in lycra ready to burn away the weekends guilty pleasures. Lucky for them San Borja park offers free aerobic lessons on Sundays with over energetic powerade employees also offering out free samples.
Just watching is tiring enough under the January Sun, so we grab a free powerade and commend those that enjoy the healthy Peruvian lifestyle.
A walk in the park with Renzo is never going to be a normal one. While listening to more of his Hilarous stories we notice a dog on a skateboard.
A dog on a skateboard!!?
Like the ones you see on viral you tube videos.
I had know idea this was something that actually happened.
And he wasn't just sitting on the board. He was riding it. Dodging ankles, skimming trees.
Oh and then there was two. Almost in competition with each other, the new one actually pushing himself along with his right legs like a professional.
Lima is FULL of surprises. I'm officially in love with this city. How can you not be happy when your daily commute includes a skating dog.
The rest of the walk continues to impress us as we walk past free gyms, free tango lessons, free 'spin' classes, dog play parks and unlimited free powerade. The grass is immaculately cut and the trees are exotic rareitys. The residents are very respectable to their neighbourhood and San Borja is a scene of perfection.
After 'a day of extreme exercise' as Renzo called it the obvious next spot was... Dunkin' Donuts.
A cultural highpoint for any foreigner. That being said the frozen coffee was rather good, and went down a treat in the Peruvian heat.
Renzo left us to go to one of his many parties, all be it his nephews, with a linger of 'sweeties' and 'darlings'
So Arno, Ryan and I headed to fufill our tourist quota of the day and visit the parliament square and surrounding areas of Centro.
We whittle away the however talking to Arno about his job, which happens to be where we want to go next; Iqutos, the largest city in Amazonia. His company takes tourists around the Amazon by boat introducing them to the fascinating creatures of the rainforest. Of course we ask for a job (you don't ask you don't get) and he is currently on the case, with offers of mates rates on board if there are no jobs going.
However after talks of deadly frogs, ants and snakes we double check our already useful travel insurance.
The next day we take on our Mother Theaersa act for the week and volunteer at a local Orphange. Well local to lima that has 48 districts, so actually a 2 hour bus ride local.
Pacacmac is a much less built up district with a lot less money and home to Santa Martha Fondation, an orphanage housing 87 youths ages 1-16.
With little information about our role for the day we turn up and struggle to take a breath for the next 24 hours.
As we arrive at the gates and peer through the cracks we see children playing football, climbing on toys and running fearlessly with no worries in the world.
An older kid catches a glimpse of us and invites us in.
We are shown to our room for the night.
Me, the 3-4 year old boys and girls dorm.
Ryan the 8 year old boys dorm.
Which consist of 18-20+ beds, an open communal shower with cold water and toilets.
It's safe to we were well and truly thrown out of our comfort zone from the first moment.
Walking around the basic rooms it was hard not to notice the sheer amount of clothes shoes and toys everywhere. A whole table was dedicated to barbies and action men and a whole wardrobe was overflowing with brand new shoes.
Christmas presents were left unopened and the local panatone cake was a plenty.
With first glance it looked more like a thrift shop than an orphanage, due to the generous donations from unknown sources.
Approaching the playground I was attacked by a ponytail wearing muchkin excitedly yapping away in Spanish. She jumped onto my lap and continued her conversation as if we had know each other the whole 3 years she resided on this planet.
She tugged away my sunglasses and placed them on her head, asking my name and strutting around the playground with them on proclaiming
'I'm Sarah'
She then suddenly hurried away echoing 'wait here' and returned with a 3 week old kitten carrying it like a rag doll.
'Cat'
Throwing it in the air.
This provoked a stampede of Peruvian terrors hurddling towards me at record pace to see the latest attraction .
No, not me, they were used to seeing white foreigners, but the kitten.
As expected this was the girls favourite toy and they clambered over each other to tug at its tail and poke its face.
Poor little thing had no escape and had to take the unusual displays of affection until a new distraction arose.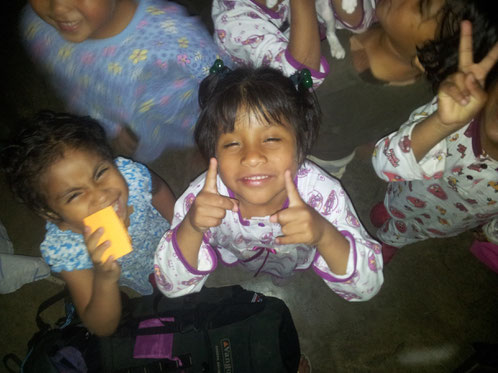 The day was mainly spent comforting crying children who didn't have a long enough time squeezing the kitten, or answering the thousands of questions (of which only 10% we understood) which went a little something like this;
'Do your tattoos wash off?'
'What is that in your nose (nose piercing)'
'Are you pregnant?'
'Can I have your sunglasses..'takes them anyway.
'Why can't you speak Spanish very well?'
'Can I wear yours shoes...' takes them when not looking
'Which one is your bed' all of them jumping on it.
**** Good story alert****
Wendy, a 4 year old charmer who had me wrapped around her little finger.....
'Can I look through your bag.......'
'No Wendy, why don't we go and feed the kitten'
'Ok can you go and find her'
Should of seen the word TRICK in her eyes there and then.
But nooo, I trotted along 'gata, donde es tu'.....
I come back with the kitten and literally drop her as I see the sight before my eyes.
Wendy has not only gone through my bag, but my cosmetic bag and found my scissors.
She stands in absolutely hysterics with the scissors in one hand, a clump of hair in the other and a massive chunk out of her fringe, giving her a 'I just cut my own hair' hairstyle.
My brain ceases to act and I stare at her opened mouth which just provokes Wendy to laugh even harder as tears fall down her cheek from the sheer volume of hilarity she is receiving from the situation.
What the hell am I suppose to do with a Spanish child with half a fringe?! The answer is nothing. It would be to hard to explain to the non English speaking staff what had just occured, so I ruffled up her hair and gave her a new hairstyle of ' I've had such a fun/messy day'
Luckily I have no time to process the last 5 minutes and carry on auto pilot until dinner.
After what seemed like a lifetime the bell finally rang for dinner.
The kids immediately formed a lined and marched to the dining hall with their hands behind their back. Reaching the dining hall they waited until they had been dismissed and found their seat. They then rose to pray and waited patiently for their food.
Their discipline was fascinating. Never had I seen such well behaved children with such pricision and respect.
At dinner they had to finish every bite of their local Peruvian dish and weren't dismissed until their plate had been cleared. Again I watched in amazement as they followed orders as if they had never know or seen disobedience. I wondered if in fact they actually had ever know anything else but to listen and act as expected, and how the children of first world countries would react in this situation.
After dinner they brushed their teeth with little encouragement and jumped into their matching angry bird pajamams. Fortunately for me bed time was 6:30pm and the lights were out within minutes. As I waited for them too sleep I felt 14 little eyes fixtated on me. They lay completely still, but their eyes were those of dancing fairies. As I caught eye contact with them I couldn't help but smile and let them know I knew what they were thinking.
I thought back to the last two summer's I spent in a summer camp in USA and the battles my co' s and I had getting the younger kids to bed. One night it took us 3 hours to get 6 kids to sleep, now sitting in the orphanage I watched 14 kids lay silently even though all they wanted to do was stay awake.
Another thing I noticed was how happy they all were. I don't know what I was expecting, but their attidue was so refreshing. However I put half of this down to the staff and the owners that run a pretty tight ship, as well as the anonymous donors.
By 9:30 we were absolutely exhausted and went to our separate dorms to spend the night with not only the kids but the MOSQUITOS!!!
I kid you not, I woke up with 50 mosquito bites ( I know this because I made Ryan examine each and every one while making a tally)
And obviously some puffy eyes after swatting away the constant buzzing in my ears all night.
And I swear to you these weren't any ordinary mosquitos. These were ones that left extra itchy venom inside you just for laughs.
To top it all of Ryan emerged unscaved with zero bites.
We left the orphanage the next morning with guilt for not staying longer, but with knowledge the children of Santa Martha were some of the happiest we had met so far.
Selflessly I was so grateful for the bed and warm shower back at the hostel. The last 24 hours were a complete whirlwind and one day of childcare felt like the 2 months I had done the previous summer. I slept for a good 6 hours and woke up a itching mess.
The mosquito bites seemed to have double in size and had literally taken over my body. I frantically scratched at a cluster until i couldn't handle the itch on the opposite arm and switched to that one and repeated that process for the next 2 days.
Mid itchness I claimed to a smug (he still hadn't got one bite) Ryan that this case was worse than my eposide in hospital. Obviously not meaning it, but the 50 BITES had become more than frustrating.
Anyway.
Back in Miraflores, we started to plan our way up north, but not before our next fulfilment of Couchsurfing!!
And this is how we met the Gamarra family (especially Janet)
Our third couch surfers of our trip so far.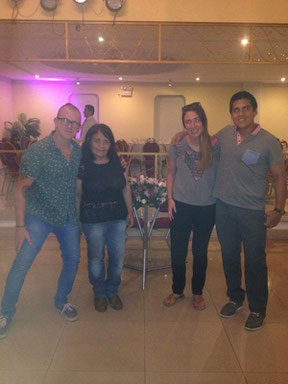 Each time we couchsurf we are faced with the fear of the unknown. Other than the fact that the first interaction with your potienal new friends is via an email asking them if you can stay in there house for free. You also never know if you will get along with them and them with you, and you suddenly become a admiration seeking closed book. The generosity of them putting a roof over your head for free without them knowing if your a serial killer or not makes you want to repay them from the moment you met them.
And luckily for us when we walked through janets door in Callo, Lima, we could repay her within the first sentence.
She greeted us with a room full of roses.. not for us no, for the wedding she was providing the flowers in one hour time.
'Can we help?'
'Oh pleasseee.. have you been sent by God' Janet laughed with a needy tone.
And that's how we became flower arrangers.
We stuck, twisted and poked white roses, red roses and everything in between into neat circular domes with precision to impress. And with Janets praise, and joy in being the first flourist in Peru to have English workers, we were only to happy to keep helping.
Plus we weren't going to miss our chance to go to our first South American wedding.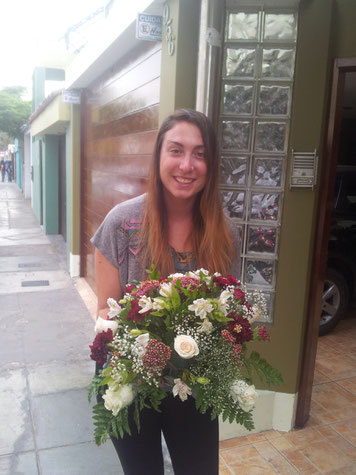 We hurried into the church just in time to arrange the flowers along the red carpet leading to the chapel, before the bride arrived.
The wedding was quite a religious cermeonary and only lasted half an hour, but still it was so exciting to be sitting in a Peruvian church watching a couple on their happy day.
After the ceremony we ran with the bouquets to the party venue round the corner and re set up the arrangements, marvelling on the stunning wedding cake, wishing we could stay for a bite. But our work there was done and we left with a happy Janet and as her 'international workers'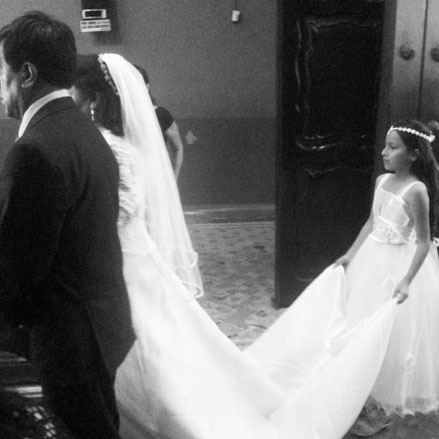 The next day Victor (her son) suggests we take our bikes and ride to the beach. What he forgot to mention was the beach was a 15k ride away, so by the time we arrived home (5hours later) we very grateful for janets homemade soup.
We spent the night resting our backsides and listening to the fascinating life of Janet. This lady is one of the most creatively talented women I have ever met. She must have been in her 60s, but had the memory of a teenage and had the ability to hear a word once and remember it without reminding. So much so she had learnt to sing in 7 languages. Her favourite being Norwegian, which she would recited to us in her warm voice over and over again.
It is hard to describe her presence, but she has a truly admirable soul, and I am so happy to have met her.
I made the family bannana bread and carrot cake and we learnt more about their background from janets husband and her 90 year old mother. But after a wonderful 3 days it was time for us to carry on our travels up the Peruvian coast and say goodbye to the gamarra family.
If it isn't easy enough to fall in love with these new countries, the people just come and completely steal your hearts.
We are so lucky.
---
---
Similar Posts...
---