Colombia... what do you know about it? Drug cartels, murders, violence right?
For this reason it is overlooked by travellers and tourists who choose to listen to the out of date rumours and stay well away.
They don't know what there missing out on.
Slowly but surly it has shaken off its criminal image and cracks of vibrancy are appearing, and those cracks are covered in spray paint and creativity.
***
Up until today Bogota was nothing more than another capital city out of the 7 I had visited in South America so far. It didn't stick out, but it didn't faid away. It was average.
But then I went on Bogota Graffiti tour and I completely changed my view on this city.
Now I kinda have a crush.
A city crush.
I was late, but to Colombians I was early, and the first one there. 
It was a massive group. Maybe 25 people. Strange, but I instantly felt happy for the tour guide as it was a 'donation only' tour.
And wow did he deserve a large 'donation' honestly I think it was the best tour I've ever been on. Sound exaggerated? It's not.
Christian an Australian born, who has street art murals around Bogata, gave us so much information about street art and the meanings behind the paintings that I felt equipt to write a book when I left.
Not only that, but he was incredibly inspiring. Having admired street art for a while now, he turned that admiration into love.
As he showed us some of his favourite pieces I found myself feeling so inspired and seeing a completely different angle to street art than before.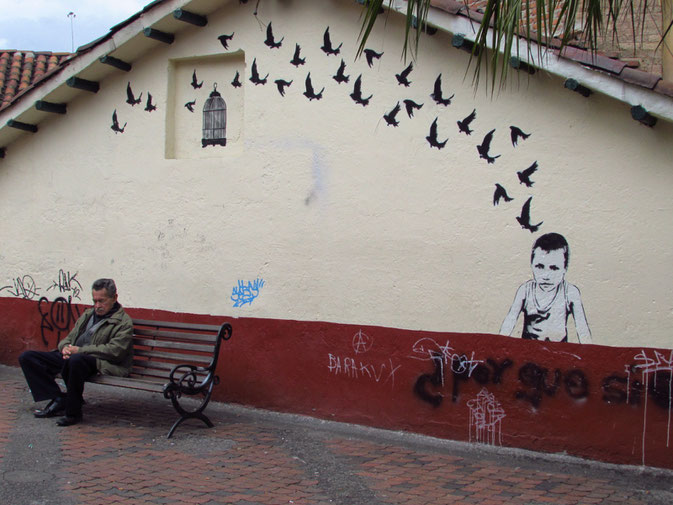 Street art isn't illegal in Bogota, yeah it's prohibited, but actually in some
parts it's actively encouraged.
The bland landscape of Bogota is just an illusion, look closer and the magical colours of spray paints are revealed. Now colombia has recovered from its violent past, it is beginning to gain international recognition and interest from not only tourists but the world's best street artist.
Every one has heard of Bansky, but the less publicised artists like Pez and APC are taking street art to a whole new level in Bogota, with pieces that could rivial any of Banksys work.
Christian explains the different forms of street art such as stickers, tags and murals. Although not illegal, every now and then the government will try and crack down on graffiti and throw around some threats of fines. However Christian says the whole 4 years he has been living in Bogota he has never been fined.
Some artists are more precausious however and choose to showcase there art in stickers to enable them to quickly stick them where they want and even remove them if they have too. A great example of this is Colombian artist that goes by the name 'lick mi' who stamps provocative images around the city.
APC (Animal Power Crew) are a graffiti crew and one of the most heard about artists in Bogota. The crew was started 10 years ago by a guy called 'Stinkfish' the work has now spread worldwide and is amazingly creative.
The meanings behind the art is fascinating and puts a whole new spin on the way you look at them. For example 'Toxicomano' pieces poke fun at mass media and advertising. This image says 'now you can see'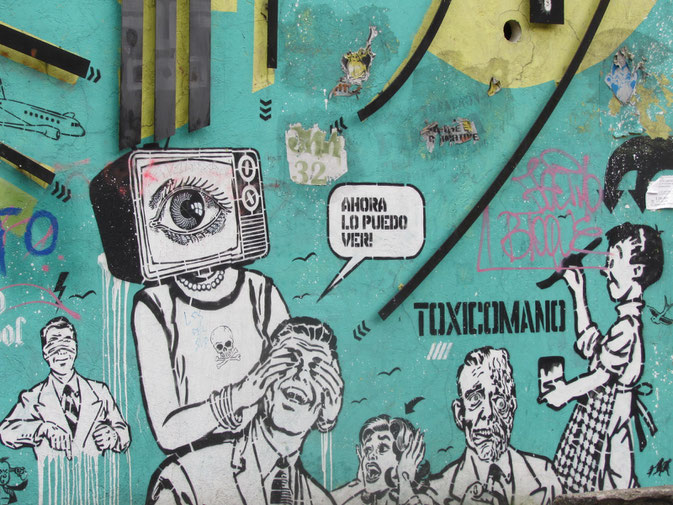 ---
---
My favourite meaning is a piece from DjLu who is well known for his impactful messages that he hopes will open the eyes of the citizens of Bogota.
This piece shows a poor guy giving a rich guy a piggy back as a form of transport in exchange for money. In this hands he holds pieces of string with birds attached symbolizing his attempt to be free.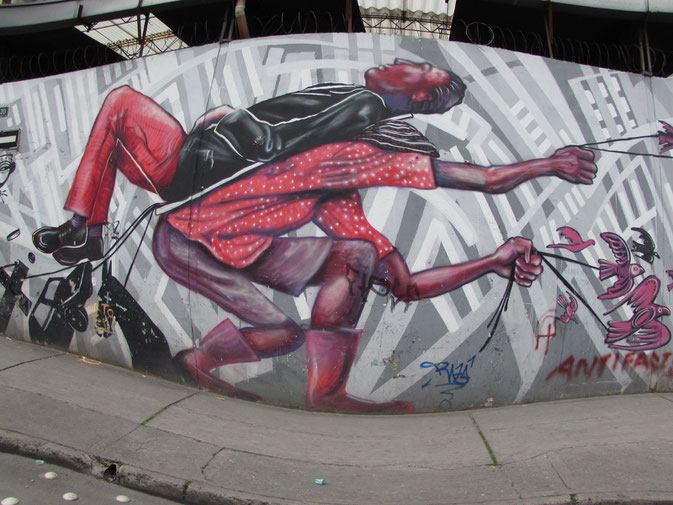 The thing I really love about the street art here is that it is so celebrated. The mayor has even offered grants to artists in need and believes graffiti is a way to 'overcome social segregation'
The artists are respectable and will not paint over others work, and owners of shops and hostels even request murals to be painted on their walls.
I was gutted when the tour ended as I could easily listen to the stories of the hidden hero's of Bogota all day, so I decided to come back and do the tour all over again next week when my friend from England is visiting.
This tour left me with an overwhelming love for Bogota and its residents, each painting was better than the last and the colours and creativity gave me so much inspiration. I even left thinking 'yeah I want to be a street artist' I blameChristains enthusiasm for that.
You can check out some of Christains (CRISP) work here and like his Facbeook
page for regular pictures of new Graffiti being painted in Bogota.
These paintings have too be seen to be believed, so I took lots of pictures for you all to admire.
---
Whats your faviourte city to see street art? Have you seen Bogota's Graffiti? Id love to know if you felt the same as me..
---
---