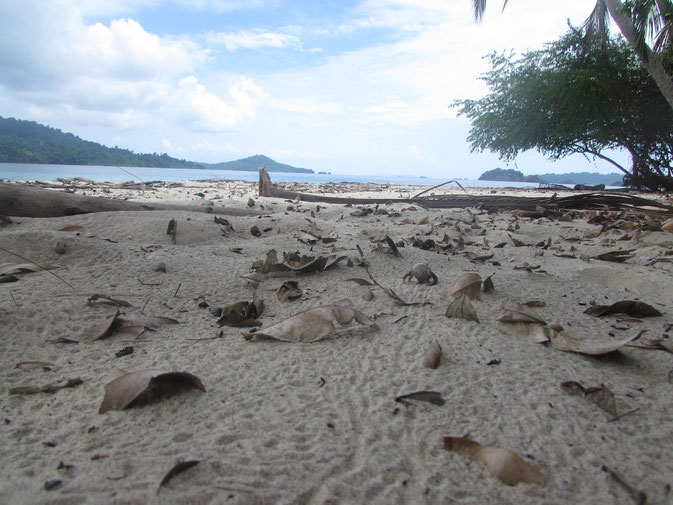 Do you remember those shark sweets you used to eat when you were younger? The ones that are different colour jelly on top with a spongy white bottom?
I used to always choose those ones after my Saturday morning swim as a child. I carefully bite off the bottom spongy layer and then sucked the jelly until it dissolved into a slither off nothingness. But while I so particularly picked at the sweet next to my local swimming pool I wondered if that's what sharks actually looked like? And if I would ever find out?
 I did find out!! And you know what? That's EXACTLY what they look like.
 I walked into Cobia Diving in Santa Catalina and was greeted with a big in your face sign saying ' Sharks Guaranteed'
That was a big statement. This was my dream. Too dive with sharks. So for someone to build my hopes up before I had even entered the shop better had live up to there claim.
$150 for a 2 tank dive. That's more than I had ever paid for diving. But sharks were guaranteed right!?
Also I had purely come to Santa Catalina JUST too dive. Another first. So really I had to pay the price.
Coiba National Park is regarded as one of the top 10 dive sites in the world. It is also a UNESO world heritage site, boasting its own marine life and endangered animals you are unlikely too see anywhere else on the planet. I knew this was going to be a special place.
On the boat to Coiba (11/2 hours from mainland) I was getting goose bumps. I had dreamed of seeing sharks even since I started diving. I have only done 20 odd dives, but from day 1 it was all about the sharks, and each and every dive I hoped for a sighting.
Having been reading 'The Alcemist' at the moment, I was trying to take a 'let fate decide' approach and actually it was working. I was so grateful juts to be on the boat, speeding past un habituated islands staring out to the ocean, still on my one way journey around Latin America.
After my 6 day trip from Colombia to Panama by boat I had a new found admiration for the ocean and was in awe of its awesomeness.
I know Ive been having a lot of 'how did I get so lucky' moments lately, but really just the thought that I might be fulfilling one of my dreams felt almost as good as actually doing it. ALMOST.
Everything was feeling good. I had an awesome wetsuit, the first I had ever found that fitted perfectly. I had brand new boots and good fins. (All courtesy of Cobia Diving). I fell into that water with no problems in the world. The sense of freedom, excitement and adrenaline hit my body with perfect timing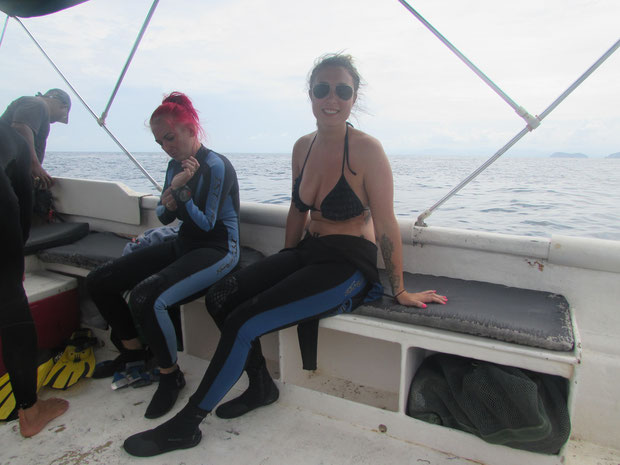 Just checking my mask was working was like popping your head into an aquarium. I couldn't believe what I saw in front of my eyes, and we hadn't even descended yet.
The descent down to 23 meters was perfect, my weights were perfect, the vision was perfect, my ears were perfect. The scene was perfect. Thousands of fish. Thousands. They engulfed us, bumped into us, completely ignored us. This was their home, we were the invades. As they cleared us a path we effortlessly swam with the drift enjoying the warm pacific current.
I couldn't quite take in what I was seeing. I needed more eyes. On the back, on the sides, also a photographic memory, I never wanted to forget this moment.
Schools of clown fish, dancing parrot fish, barracudas, spotted eels, frog fish, seahorses.. and then him….
A white tipped shark about 6ft long.
Just sitting there, watching us, watching the fish. Owning the ocean. My favorite childhood sweet. He looked just like him.
I got a bit emotional. My eyes welled up. My dream. Just there, so effortless. Like he had been waiting for me. It was love at first sight. I got closer, he got further away, but I respected that, I let him swim off already in awe of his presence.
Its hard to smile with a regulator in your mouth. But I managed it. I think it attracted his friends, as almost every 10 minuets another shark appeared, sitting on the bottom waiting for food or sneakily swimming just meters away from us. The feeling of happiness was like nothing I had experienced before.
The water was perfect, it teased you, pushed you and floated you. I closed my eyes just for a second and was in heaven. The only thing bringing me back to reality and reminding me I wasn't dreaming were the tiny jellyfish stinging at my lips.
I never wanted that dive to end. I don't think the ocean wanted us to leave either, as even when we were doing our 3 minuet safety stop a shark appeared, stopped and waiting for us to arrive safely back to surface. I popped my head back in once we had surfaced and watched him slide away back into the deep.
Perfection.
 I wondered how the next dive could possibly beat that, but again tried to just soak up that current moment, and honestly I couldn't wipe the smile off my face.
We stopped at one of the 90 Islands of Coiba national park to pick up some divers doing there PADI course and rested on the sand for a while. As I approached a log to sit on I became away of noises and movements below my feet, as I looked down I nearly committed mass murder to dozens of hermit crabs. They were everywhere. I took a seat and they claimed me as there own. Crawling up my legs, into my bag and enquiring into my camera lens.
Another quick boat ride took us to the wardens park and the 'entrance' to Coiba which housed a visitors centre some hammocks and some local friends. I hadn't even taken a bite out of my sandwich before I spotted a monkey scurrying towards us.
I took a walk to the visitor centre, learnt some interesting facts (for 85 years in was a prison and home to over 1300 inmates and guards) and saw some whale bones. I then walked to the opposite 'bay' to check out the water that looked more like a river or lake. But it was sea. With a crocodile in??
Two eyes came out from no where and my shock aroused locals who started to try and encourage the crocodile out of the water with a stick. It didn't need much persuasion and came slithering onto land with the look of blood in his eyes.
This scared me. A lot.
A wild crocodile, from the sea (!) almost triple the size of me was hurdling towards us showing us a finely sharpened pair of snappers.
I needed a photo though. This was too odd to not be documented, so I threw my camera to a French guy ordering him to quickly take a snap at which I wouldn't be looking into the lense at but at the croc making sure I wasn't his next catch. That turned out a little something like that.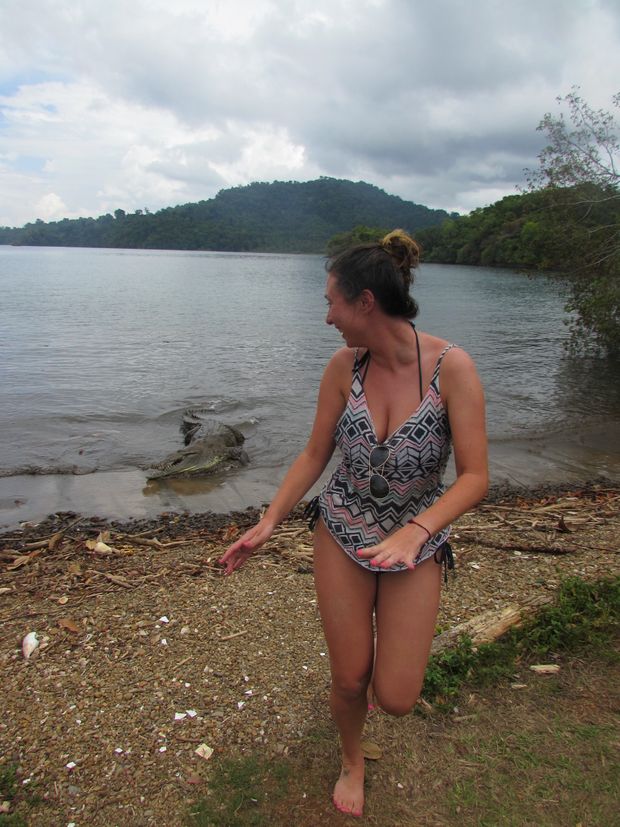 The island was perfection, swaying palm trees, bundles of coconuts, washed up whale bones, and abundant wildlife. If it wasn't for the adrenaline of the next dive I could of happily stayed in the hammock all day.
The second dive was about 10 minuets from the island around a huge reef similar to the last. Again as soon as we entered the fish were swimming around our feet and far off figures of sharks were appearing.
Down to 20 meters the scene may have been even more than amazing than before, I was unsure though as right in that moment I had never seen anything so spectacular. The fish appeared from everywhere, surrounding us again, bumping into each other this time. Parrot fishes chased forage fish, octopus crawled the floor and barracudas hunted above.
As we descended further I had trouble equalizing, I still hadn't completely got over an illness I had had since Colombia so my head was fairly blocked anyway. I had so much trouble with my ears I couldn't equalize at all anymore. I watched my buddy descending future and tried to get his attention to signal a problem. Instead, my head felt like it did a full on spin, a wash of heat came over me and my mind completely blacked out for a second. It felt like being really really drunk and sea sick at the same time. I thought I might have to abort the dive.
Luckily it only lastly for a few seconds and I regained control and attention from my buddy and signalled that I would be staying at a shallower level for a while.
I was slightly worried as I had never had any problems with my head before but it didn't stop me admiring the white tip and his friend the turtle as they both unassumingly swam by.
The dive lasted a full hour and every minuet was better than the last. I couldn't believe what my eyes had just seen and only hoped my mind would remember it forever.
Back on the boat, gear off, it was time to head back to mainland Santa Catalina. The feeling of happiness was mind-blowing. I had honestly never known such a feeling. It was the most perfect day, my dream had come true, I was in Panama, backpacking the world one dive at a time.
So things couldn't get any better, they didn't have too, I didn't need more happiness. But someone was looking down on me that day. We spotted a pod of dolphins close to our boat playing in front of the afternoon sun. Again emotions took hold of me and I welled up with happiness, we sat and watched them dance for us for at least half an hour before the captain signalled we left. They came with us for a while, lapping up every wave signalling the freedom I felt that day.
I couldn't be more grateful for Coiba Dive Centre, not only did they help me fufil one of my dreams, they also made it happen the best way possible. The equipment was great, the staff were amazing and the whole day was perfect. The $150 price tag meant nothing; there was no price you could have put on that day.
One last thought I had when I was on the boat returning back:
Suddenly I loved Panama, when before I wasn't too fused on it, but then I realise it wasn't Panama that I loved, but in fact it was the ocean. So now when people ask where my favourite place in the world is my answer will always be The Ocean….
** Where i stayed in Santa Catalina**
In true backpacker fashion I had to save the pennies somehow, so stayed in the cheapeast accomidation in the town Oasis Hostel. ($10 a night) But actually it was awesome, great rooms and kitchen and i lucked out getting to stay and chill with some fun loving backpackers my whole time there
Have you had a life changing dive? Do you remember the first time you saw sharks? Let me know below...
---
Travel the world and earn money. Become an English teacher (click below to get 30% off your TEFL)

---
You might also like..
---