I remember hearing about the Blue Hole in Belize from my older brother about 7 years ago. He said he panicked and didn't really like it. From then on I wanted to dive the blue hole myself, I wanted to do it and not be scared, I wanted to be cooler than my brother.
So..yeah it was on my bucket list.
It's on yours too right?
All I knew about it was the brief fear of my brothers. But that alone was enough to get me excited. A hole in the middle of the ocean, created in the ice age, teeming with sharks?! No wonder why it's been on my list for so long.
I'd heard you were either blown away or completely unimpressed once you had finished the dive –and there was only one way to find out.. ..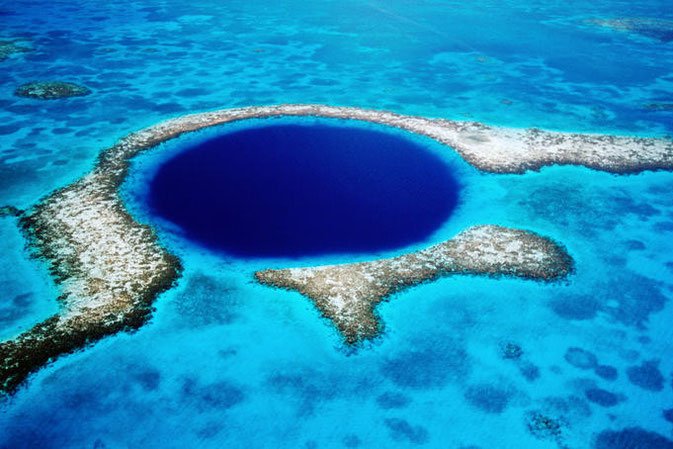 I came to Belize just for the dive and that was it. I knew it was going to break my bank and I knew it could not live up to my expectations. But there was no option. I was going to dive the Blue Hole.
One of the beauties of Central America is every country is so close, so I left Guatemala in the morning and by the afternoon I was drinking beer on Caye Caulker, Belize.
My mind had been so pre-occupied with the dive I hadn't even thought about the island I would be staying on.
But the moment my feet sunk into the sand it was one of my new favourite travel spots... can you see why?
I dropped my bags into an overpriced hostel (Bella's Backpackers) and headed for a dive shop I had been recommended.
"We have one spot left for tomorrow"
And just like that I had parted with $240 and was booked into dive the Blue Hole the next morning.
I didn't quite know how to feel...My dream was about to become a reality. I tried not to hype it up too much in my head, I had heard a lot of disappointing stories and was told to not have too high expectations. But how could I not be excited?!
We meet at Frenchie's (the dive centre) at 5:30am to a breakfast of fresh bread and coffee. The island was even more enchanting at that time in the morning, the sun was just rising but the residents were all still sleeping. The only ones up were those about to fulfil a lifelong dream, it was a perfect scene.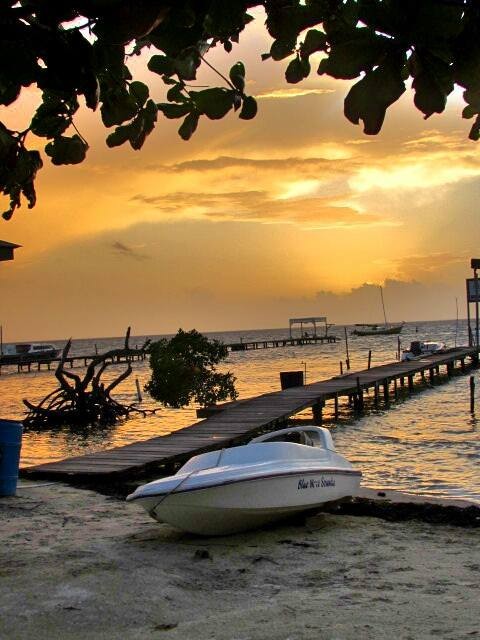 We had been warned the ride would be a choppy one, and a long one at that. It took 2 1/2 hours to get there, all through what seemed like rapids.The captain rode the waves like a surfer but us divers could barely keep upright. (Do not be fooled, even if you have the most hard-core sea legs you will still feel a bit woosy)
The ocean calmed for the last half an hour and changes in the ocean colours started to appear. I was aware we wouldn't be able to see a clear 'hole' but I was surprised too see the outline and the change in colour appearing creating the world famous Great Blue Hole.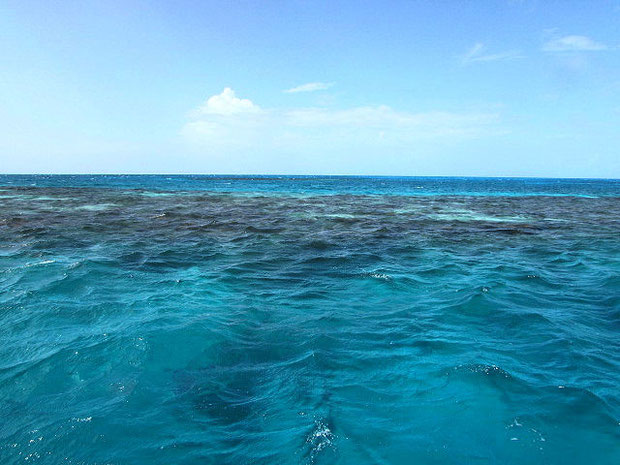 ---
       Don't forget your long term travel insurance                                              (Includes scuba diving)
---
Oh, if you still don't know about the Great Blue Hole now's the time to learn:
Glyn Collinson, a NASA scientist description:
''It was the deepest, deep blue hole imaginable; A chasm that fell away deep into the deep,dark blue. It had been forged out of solid rock as caverns, hundreds of thousands of years ago during the last ice age. For eons, water filtered through the rock and into these great stone cathedrals, breeding multicolored stalactites and stalagmites. Then, one by one they collapsed in on each other, creating a chasm four hundred feet deep. As Earth's swollen polar ice-caps receded, the warm Caribbean ocean swept in to fill the chasm with boiling white hands, the last rays of sunlight struck the chasm's floor. Then, as the limestone broke down, it began to rain tiny fragments of rock, which slowly began to fill the great Blue Hole."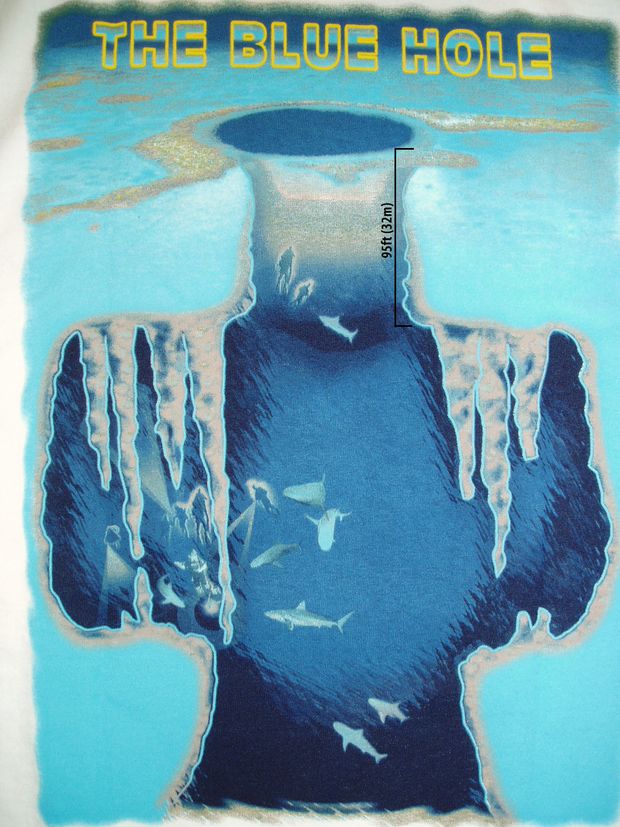 So there you are....
We had a dive brief, which I could barely concentrate on due to the sheer amount of excitement,got our gear and jumped in.
I cleared my mask, put it back on, looked down,back up and signaled 'shark'.
We descending down, passing the shark, and his mates, lots of his mates, and all stuck close together. 
It was a surreal feeling, looking around it looked like any normal dive but the beat of my heart reminded me it was far from that. I was nervous, but excited and overall so happy to be fulfilling a dream.
We were warned we might get narcosis (like a drunk feeling underwater) but really, that was all part of the excitement. We descended pretty quickly, I was too mesmerized by the sharks floating through the darkened water to realise we had reached our 'destination' the stalactites that hang down like huge icicles from the limestone caves.
They were big enough to swim through, and we glided around then in amazement. I couldn't get my head around how old this natural sinkhole was. It felt like time had stopped, I was no longer aware of my body or my movements, my brain had taken me to another level, a level of pure amazement and ecstasy.
We swam into the dark depth of nothingness just before it was time to start our ascent, you could barely see your hand in front of you. The feeling was unreal, the tiniest of sea creatures sparkled before your eyes and the depth started to take its toll. I couldn't tell whether it was a bit of narcosis kicking in or whether it was the pure feeling of joy. I felt like I was in a different world where you were no longer a part of your body and your mind was overtaken by the great ocean.
It was all over too quickly though. Due to the depth we were only allowed 8 minutes bottom time and started a slow ascent up towards the sunlight and the real world. We passed more sharks, and started to spot more colourful marine life.
I didn't want it to end, never did I feel anything but relaxed, I hardly even noticed the extreme depth. It was there and then I decided I want to do this for the rest of my life, I never wanted to lose this feeling.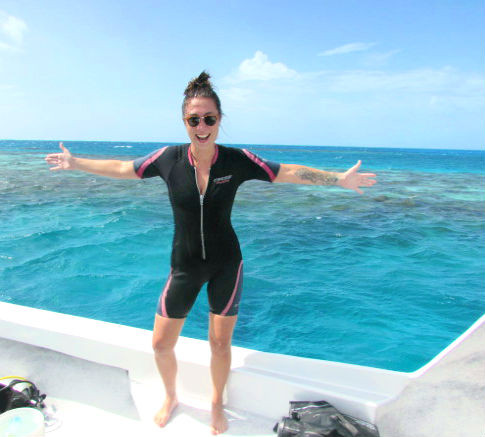 ---
Back on the boat we all shared the same feelings of amazement, all agreeing it was like no other dive any of us had ever done. The fact we still had 2 more dives left kept us in a constant state of happiness.
The next two dives were among the best I had ever done, there was so much marine life that the DM didn't even have to tap his tank to get our attention, you just couldn't miss them.
Sharks swam at you, around you and above you, eagle ray danced by in a mesmerizing glide and barracudas warned you off revealing sets of razor sharp teeth. In fact, one large barracuda took such a liking to us he followed us the whole dive snarling at us at every glance... That was until a shark swam full pelt at him, rushing past us, and scared him away.
You could say it was perfection. The second largest barrier reef in the world was everything you looked for in a dive, site, all while still riding on the adrenaline of diving the Great Blue Hole.
We stopped at a paradise island for lunch and a walk round, mainly to give us some surface time before our final dive, and to enjoy more wildlife of the wonderful Belizean coast. 
There's not really much I can say about the Great Blue Hole and the 2 other dive sites other than it felt like floating in another world. The combination of 3 incredible dives, the scorching Sun, the white sandy islands and ticking off every divers dream, all resulted in a dream world scenario. I could not have felt luckier to have had this opportunity
So what was the verdict? If you hadn't guessed it by now I was one of the ones that was completely blown away by it. In my opinion, it was worth the expensive price tag, the rough journey, and potential dangers. If you're hesitant, just go for it... find out for yourself.
Lucky for me my lovely Dive Buddy Max captured some of our Blue Hole dive on his Go Pro and it went a little something like this.
(Read below video for details on bookings and hostels etc)
The details.
Where I stayed. .
Caye Caulker island: the cheapest island to stay in while doing the blue hole, also an amazing place. This island has so much atmosphere, from the moment you arrive you feel like part of the family. One of the highlights of my Latin American journey. Even if you are not diving it is 100% worth the visit.
. How did I get there? From Flores in Guatemala to Belize city was an easy 5-hour ride Inc border crossing (which was very quick and easy) 160 quetzal approx $20 for bus and boat.
NOTE: they try and charge you to leave Guatemala, this is just a tourist trap. Every single person on my bus paid apart from me as I told them I knew it was free, the guy gave me a knowing look and gestured me to leave once he had given me my passport back.
Don't be afraid to say no. The bus drops you off at the water taxi terminal where you wait for the next boat to Cate Caulker which was included in the bus ticket. Takes 45 minutes.
Where did I stay? Bellas Backpackers $12.50 for a dorm. I can't say I would recommend this place. It's the cheapest on the island but that's all its got going for it. Awful beds and grumpy staff. Some friends stayed opposite at Dirty McCain Nasties for a slight bit more but it Inc breakfast and rum punch.
Who did I dive with?  Frenchies Diving $240 for 3 tanks, breakfast, lunch and ALOT of rum punch. I thought the dive shop was great, the staff were friendly, everything ran smoothly and you could tell how experienced they were. The equipment was great, and they made sure we were all having a good time. Highly recommended.
---
Have you dived the Great Blue Hole? What was your verdict?
---
Start living your dream and work as an English Teacher abroad. (heres 30% off your TEFL course just for you)

---
Liked this post? Check out some similar
---