Today at Semuc Champey was one of those days that blows your mind, that takes everything you ever knew about beauty, crushes it and then leaves you absolutely speechless...
Today was another 'how did I get so lucky' day.
Semuc Champey is one of the most amazing places my eyes have ever seen, and one of the most adrenaline pumping places my heart has ever felt. Hands down the best day of my travels so far.
But, wow was it hard to get too.
Take 3 hungover backpackers pile them on a bus at 5am, drive them through winding unpaved roads and then watch them sweat on a tiny seat for the next 16 hours.
Fact: Guatemala has the worst bus system I have ever experienced.
Through 11 countries, over 50 city's, and over 100 bus rides, never has a bus broken down. Until Guatemala. This country makes up for the rest of Latin America.
Long story short the 8 he bus ride from Lake Atitlan to Lanquin actually took 16. Oh and we survived a land slide.
(Travellers tip: Your bus will break down, there's no avoiding it, no company is better than the other,bring a sense of humour with you as its the only thing that keeps you going)
We arrived at Zephr Lodge hostel in Lanquin after what seemed like driving deep into the most isolated jungle only to be greeted by about 50 partying backpackers. I have no idea how people get here, or get away, but the jungle hides an adventurous kind of traveller.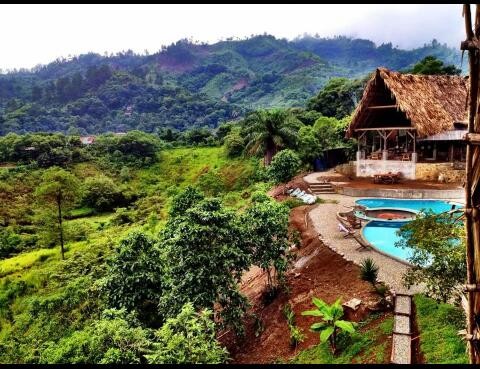 Bundling into a pick up truck we proceed to fall over each other for the 10k journey into the Guatemalan wilderness.
Reaching the first stop we are handed a candle and told too get into our swim stuff but to leave our shoes on.
We were going cave swimming.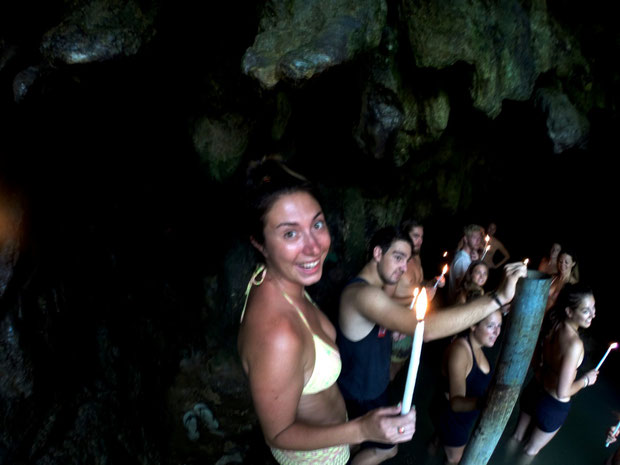 ---
---
When everything inside you tells you what you are doing is dangerous yet you still do it, you know if you come out alive it will be the best thing you've ever done.
And, that it was...
We jumped off ledges into pools that looked liked pools of death, climbed up rocks with peltering water rushing into your face, swam through tiny passengers and up spine tingling sharp rocks, all with a single candle too light your way.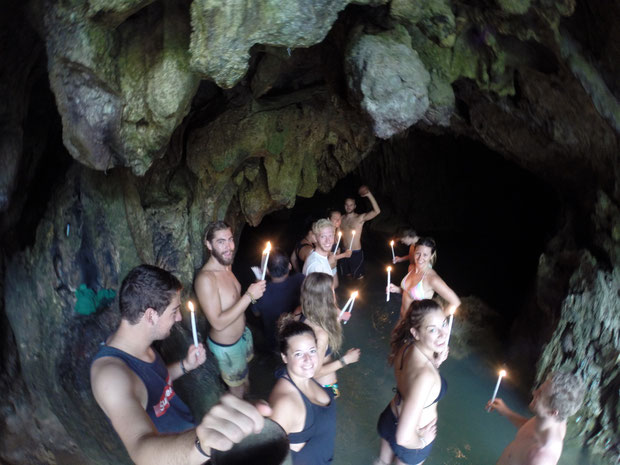 2 hours after we entered light starting to fight through the cracks and sunshine was appearing. Shouts of success and conversations of that being 'the best thing we have ever done' were left as presents too the caves.
It was such an insane experience, I felt like I could take on the world after surviving that, so sights of a rope swing over a plummeting river didn't even take a second thought.
My body had already taken a battering, but my adrenaline healed the pain and I didn't want too stop...
But the next challenge looked maybe even too scary for my 100 mph beating heart.
A bridge, maybe 10 meters high, looking down onto a fast flowing river filled with rocks. It was one of those large industrial looking bridges with a tiny rail you could fit half your foot on until you feel to an untimely death.
We can jump of this???
Yes we can... And so we did. Twice.
I couldn't wipe the smile off my face, I tried too remember a time I had been so innocently and intensely happy. There really is no feeling quite like jumping things. That inner child will never die.
Now was time for the hike, now I don't like hikes, not at all. But how can you not like walking through the Guatemalan jungle after having the biggest adrenaline high of your life and going towards ones of the world's natural wonders.
This is Semuc Champey.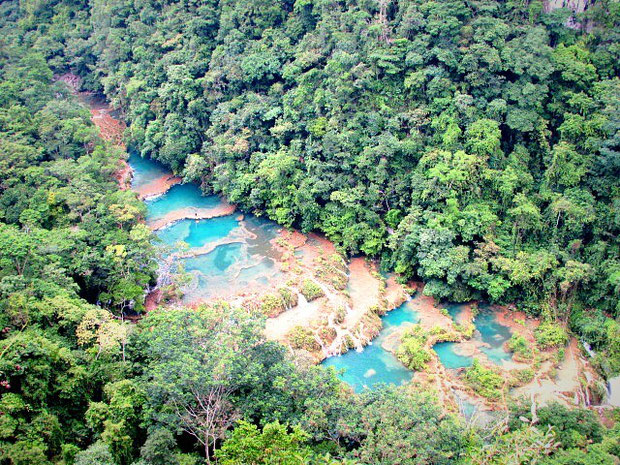 What you can see is a limestone 'bridge' which under flows a river. What a cool bridge eh.
After burning off what seemed like a month's worth of meals doing that hike the pools were even more inviting than even your imagination knew.
We dived in. The water engulfed us. The blue teased at our skin. The green reflecting into our eyes. We were swimming in a natural paradise. Nothing could take away that moment of gratitude.
'How did I get so lucky?'
The day was a day that will be well and truly engraved into my story. Something about that place made me feel so humbled and grateful. It almost took any negative thought I ever had and melted them into the atmosphere and sent them away with the breeze. I don't think the smile has ever left my face since, not even for one moment.
While you're in Guatemala you should also check out the festivals and celebrations going on!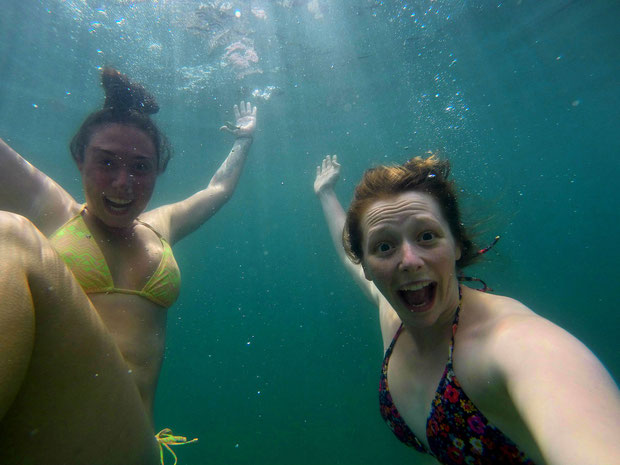 The details. (Prices in Quetzal)
Shuttle from Lake Aticlan to Lanquin 175- 16 hrs
We stayed at Zephr Lodge
.The dorms (70) don't have walls, effectively your sleeping outside, we choose a
private room (80 each) after we saw a cockroach crawling out of the covers.
. Probably one of the most expensive hostels I've ever stayed in, they take
advantage of it being small town with not a lot of places to eat and overcharge
for food.
. Average meal 50 Q
. It has WIFI but only 5 people can connect to it. So it's pretty much
impossible to connect when there are usually 40 other guests. Do anything
important before you arrive
. No kitchen for guests, so you have to eat 3 meals a day there.
. They add a 5% charge on all food and drink which is an non negotiable tip for
staff
. The positive- The view in unreal. The pool is great. The food is good.
There are NO ATMS in Lanquin. Bring cash or you can pay on card for a 7% fee.
Semuc Champey Tour 175
Lunch (sandwich and bannana) from hostel 25
Shuttle out to Flores 125 8 hours
Expect all in to spend around $150-200 for 3 nights.
Expensive. But worth it
---
Sharing's Caring....
---
Have you been to this wonder of the world? Did you love it as much as me? I would love to hear from some fellow visitors. Comment below.
---
Liked this? Check out some of my other posts...
---

---