I woke up from an incredible 4 days on Caye Caulker, Belize and decided it was time to head to Mexico.
I hadn't planned to leave this early, or even spend much time in Mexico, but at dinner the previous night I was told something that would make me travel faster than ever before.
 ' Yeah they're guaranteed '
' It's a fairly unknown island'
' It will be the best thing you've ever done'
They were talking about SWIMMING WITH WHALE SHARKS on Holbox island Mexico.
I had my backpack on before I even knew how to get there.
But I got there.
An overnight bus from Belize city to Cancun, a bus from Cancun to Chiquilla and a boat to Holbox.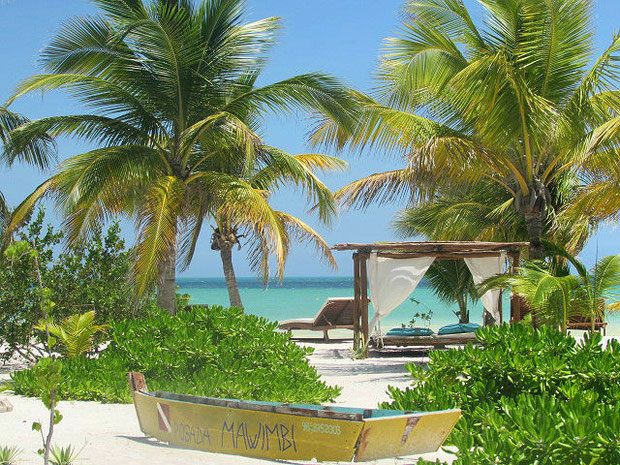 Entering the island the first thing I saw was a picture of a whale shark, then some paintings of whale sharks, and then everylocal wearing t-shirts with whale sharks.
I guess it's whale shark season.
The season only started 2 weeks ago, and everyday since they had not only seen the sharks, but swam with them.
It wasn't a 'guarantee' but it was more than a very strong possibility. That was enough for me. $90 down (have you noticed how much I've blown my budget recently!) And I was going shark hunting the next morning.
All there was too do now was to slip back into island life, jump in a hammock
and obsessively trawl the internet for every single fact on my future
(potential) friends.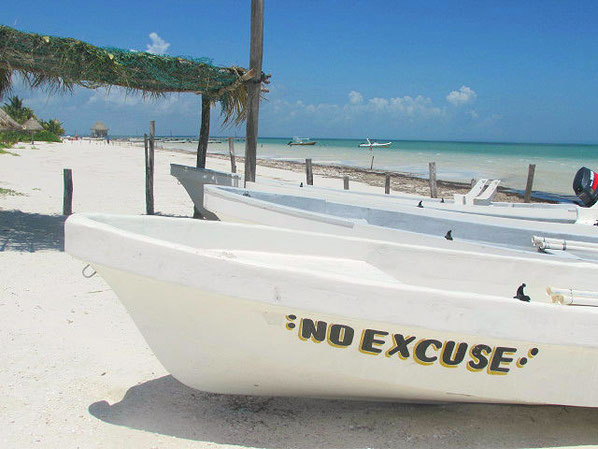 The island was alive at 7am, the fisherman are cleaning their boats ready for whale seekers, and us whale seekers are trying to keep our excitement at bay sipping coffee and eating fruits.
The maximum occupancy of any fishing boat is 10 people, which is great, until you realize there is also 10 boats. This concerned me as I had visions of spotting a whale shark and 100 people all diving in too see him. The captain calmed my concern by explaining only 2 people were allowed to be swimming with the whale shark at once.
But this still confused me as that sounded like a very long winded process. I guess I would have to wait and see..
The boat would take about 2 hours too get to the feeding grounds of the sharks, but it was nothing but an entertaining ride.
The Mexicain open ocean was such a hive of activity, dolphins jumped into the sun, diving higher than I had ever seen, flying fish followed along the boat, and mysterious fins appeared from the waves.
But the best spot... a HUGE manta ray skimming the shore inhaling thousands of plankton. It was easily the width of a car, and almost danced instead of swam.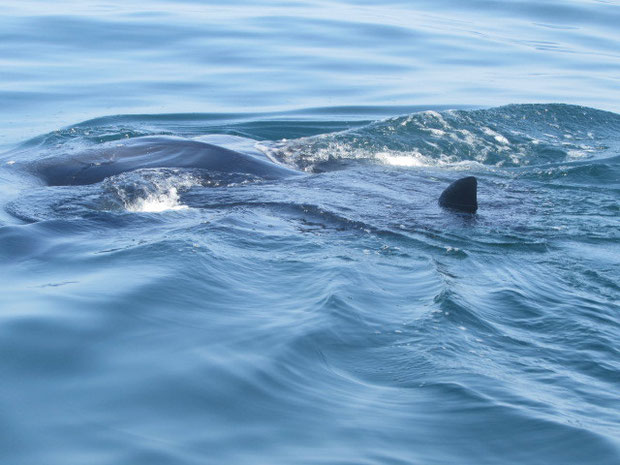 About half an hour later we saw all the boats congregating in one area.
My immediate thought was how I didn't want to jump in with 100 other people and disturb the whale shark in its natural environment.
But then we saw fins appearing everywhere, each time you looked another would appear.
As we got closer their body's started too become visible, and then their heads.
They were huge.
nd there was about 15 of them.
'One for every boat' the captain laughed.
'First two people in'
As much as I wanted to jump straight in I refrained from volunteering as I had noticed there were 4 couples and just me, which effectively meant I could swim with them by myself (apart from the guide who has to come with you) So instead I watched as these giants glided on top of the water opening their enormous mouth, feeding on the plankton. Their mouths looked like they could swallow you whole, yet their dermeaner was so peaceful and the movements so relaxed you could tell all they were interested in was the plankton.
It was finally my time to jump in.
I could feel my heart in my throat, I didn't know whether it was nerves or adrenaline but I knew something amazing was about to happen.
I swam faster than I had ever swam to reach him and when I did I felt like I was in a dream world.
We were in touching distance of each other and his eyes met mine, but he didn't care.
I watched as his gills filtered out the water and as his tail cut through the ocean. He swam decisively fast, I was finning at full speed. My eyes could only see a proportion of its body I had to keep cranking my neck backwards and forward to try and take in its size.
But with one strong flip of its tail he was off.. I watched as its spots dissolved into the water and only a rip tide was left.
The feeling was indescribable, I'm afraid i just wont be able to put it into words
The only thing I can compare it too was the feeling of Sky Diving. When you had finished you knew it was awesome, but it was like your adrenaline had washed away the memory and you actually wonder if it had actually happened.
Although they were all still around us it seemed like a dream, and I hated my brain for not remembering every little detail.
Luckily the captain shouted ' Round 2' so within half an hour I was back in with a different shark.
This time I vowed to take in every single feature of the shark and cement it in my memory. By Round 3 it defiantly felt real. It's spots were fascinating, it was such a beautiful creature, one of the sharks actually had coral growing on it and a school.of fish following its every move. It's eyes were tiny, almost invisible, but they were eyes of a warm creature. Never did I feel intimidated by its presence. I was aware with the size it was it could easily hurt a human, but if it did it would be without intention.
In Round 4 I was so busy watching the way it was swimming that I must of got too close, it gently touched me with its tale and swam off into the blue. The interaction made my heart skip a beat with both fear and love. These fish really were th gentle giants of the ocean.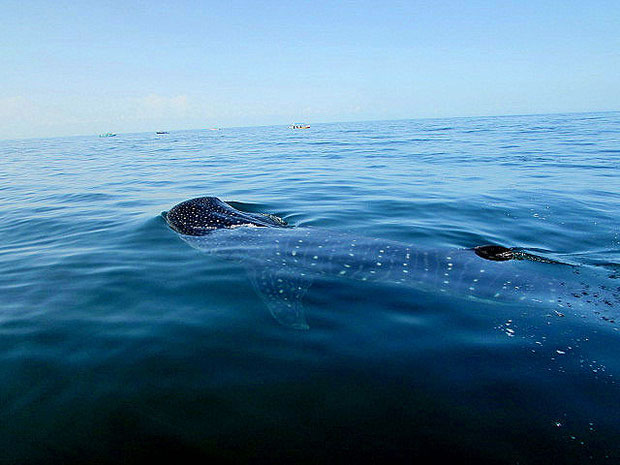 We were the last boat there. The others were long gone, but we stayed until each and every whale had descended into the deep.
By around 11am the water starts getting choppy and the plankton no longer sit so calm so the whale sharks go to deeper waters to continue there feeds.
The experience felt like a dream, a fantasy. It felt too easy. I envisioned hours of searching, sightings of maybe one fin and a disappointing snorkel with whale sharks in the distance. Never did I imagine being touched by a whale shark, looking into its eyes, and seeing it open its mouth.
At times it felt like it had all been set up, you know like when you visited sea world as a kid and you could touch the dolphins. It felt like they had been put there and told too swim with us. But it couldn't be further from the truth, these were free animals, choosing to allow us in their ocean. They came and went as they pleased and could easily disappear if they didn't want us here. It has been proven the whale sharks enjoy the human presence, and the locals of Holbox island adhere to strict rules of only 2 people at a time as too not overwhelme them. It never felt like the sharks were unhappy or actually even slightly bothered by us being there. In fact it felt like they enjoyed it, slowing down to let us swim at their speed.
The rest of the day was spent sailing around neighbouring islands, snorkelling with green turtles and watching flamingos. I was so taken a back by the sheer volume of wildlife the Mexician coast inhabits. It was like working in one of David Attenborough's documentaries, but without having to wait day's and days for the right footag
This last week has been a whirlwind of happiness, diving the Blue hole, free diving with sharks, eating the finest lobster, living on tropical islands and now swimming with Whale Sharks.
I feel incredibly humble and lucky too have had these opportunities and will never be quite able to explain how life changing these moments were, but I hope you can get a little snippet from following my blog and some inspiration to do it yourself!
The details
Holbox island (pronounced Holbosh) Mexico In USD .
. Night bus from Belize city to Cancun 7:30pm $50 11 hours
. $17 Belize exit fee Free to enter Mexico .
. Local bus from Cancun to Chiquila $7 2 1/2 hours .
. Water taxi from Chiquila to Holbox (the bus drops you at the dock) $7
I stayed at Ida y Vuelta hostal Dorms 125 Mexican ($9 per night)
Amazing little hostel with cabins, GREAT kitchen, great bathrooms,free water, incredibly clean, lots of hammocks and a very friendly owner.
Whale shark tour.
I booked it through the hostel 1100 Mexician (just less than $90) Inc breakfast of fruit bread and coffee Snorkel equipment Sandwich lunch Cervici Soda and water Free cocktail once back.
Have you ever dived with Whale Sharks? Comment below..
---
Like this post? Check out some similar
---