Recovering from an epic night out in Bogota with a group of 8 Colombians an American and Raj an I, my final day in the capital was a long one. But a productive one at that.
We had managed to convince two of our new Colombian friends Ricardo and Sandra to take the trip to the coast with us the following day.
Another reason I love Colombians, they are so spontaneous.
So we booked our flights ($50 through viviacolombia.com) and enjoyed a final farewell meal with some of the friends I had made in the last few weeks.
I was gutted to leave Bogota. The city had taken me captive for a few weeks and I could have quite easily stayed for a few more.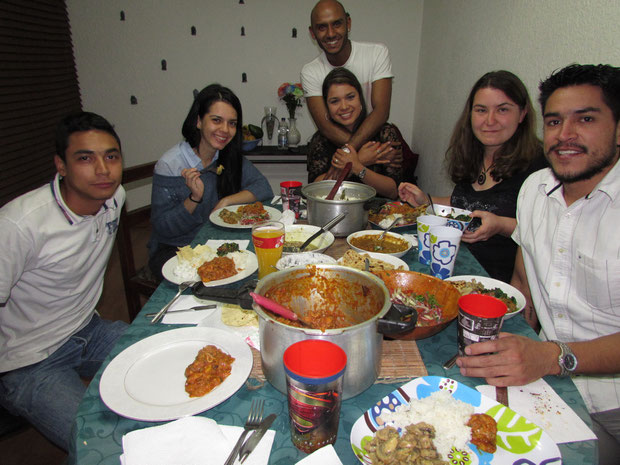 As I left though I knew I would return one day, no city has taken my heart quite like this one, I will leave a part of it there until I come back.
As we boarded the flight (that we only just caught) the sensation of being on a plane felt odd. This was the first time in 7 months I had set foot on a plane. I felt an overwhelming sense of achievement.
6 countries in 7 months, all by bus. What a journey. The familiar feeling of excitement returned when the plane flew off. I felt like I was going on holiday.
A holiday while travelling.
I liked this.
I agreed with myself I would treat it like a holiday and forget about the budget and the backpackers lifestyle.
And as soon as we landed I was straight in holiday mood.
Raj suggested we got a car.
As that's what you do when you go on holiday it fitted in with the image.
Let's do it.
Hiring a car in Spanish is HARD. I caught about 60% off what the dealer was saying, but never the less we ended up with a 4 door Kia that would take us along the coast and back. Turns out the 40% I didn't understand was basically 'watch out for the police'
Now either it was Rajs erratic driving, or the cops sharp eye, but we got pulled over almost immediately. And this is where we learnt the secrets of 'How to dodge paying of the Colombian police' aka playing dumb.
One preconception of Colombia that IS true is that the police are corrupt. As soon as we wound down the window they almost immediately asked us for money. Turned out we had turned left into a forbidden road. Really???!! I can't see why there would be forbidden roads in a main town with no signs?
They demanded we paid $50 for 'breaking the law' and at that point was when I decided to 'no entendio' the way through the next 10 minutes.
He kept asking for money which I kept replying ' sorry we don't understand' You could see him getting frustrated and ready to give up, but he tried one last trick.
He got in the back of the car and as asked us to drive him to the car rental place so he could talk with the owner.
Ermm Ok. Hop in.
So that was nice... We drove him there with more 'We don't understands' and eventually he gave up and left mumbling a few curse words.
Wahooo we beat the system!!
Laughing our way along the coast we arrived in Cartagean old town and tried to battle our way through the traffic. That was until Raj decided to go through a red light.
Whooops.
And then got stopped by the police again.
Round 2.
We are soooooo sorry.
We don't speak Spanish.
We don't understand.
This time he was asking for cash, passports and everything in between. We played along with the dumb tourist act and he gave up a lot quickly than the last. He sent us on our way with a stern 'be careful' and some directions to a hostal that I convienantal understood now we weren't getting in trouble ;)
The next morning we were back at the airport picking up Ricardo,, Sandra and some Juan Valdez coffee. We started the 6 hour road trip to Santa Marta only stopping to indulge In the famous seafood of the Colombian coast.
Arriving in Santa Marta was like arriving in a live bidding auction. Men stood on every corner trying to sell you everything and anything.
Unable to avoid them we joined them and took one guy up on his offer of an apartment to rent for the few days.
So for less than it would cost in a hostel we got a private apartment with 6 beds and 2 bathrooms overlooking the sea.
Now all we needed was beers.
And Santa Marta provided them with no problem. We drunk at local dives, cocktail bars and on the beach. Soaking in the coastal atmosphere and laughing our way through the night. In fact that's mainly what we did for 4 days. Laugh Love drink and eat.
We took a boat trip to Playa Blanca, hired out a tent, swam in the Crystal clear waters, stopped for lunch, ate red snapper and took a ride on a bannana boat. It was everything a vacation should be.
However the other reason we came to Santa Marta was to scuba dive. Raj and I shared an obsession with the under water sport and couldn't visit a coastal town without doing it. So we headed down to Tienda Buceo on Santa Marta seafront a family owned dive shop and met the son David.
I mainly choose my dive shops by the vibes and attitude I receive on first interactions with the staff, and David was no exception to this rule. He was so personable and enthusiastic about diving there was no need to even shop around at other shops for prices.
We paid $85 for 2 tanks including equipment and snacks, and our friends got to come along with us and snorkel for an extra $5 each. Our first dive was at Playa Blanca at about 10 meters. It was an easy dive with lots of coral and different kinds of fish however nothing to write home about.
The main excitement for me was being back in the deep though. It had been about a month since I had lasts got the tank on, and I was loving every second. Also diving with Raj is always fun. As he doesn't have the chance to speak he portrays his personality in a special underwater fashion, rolling backwards, hidding above me and generally doing whatever the hell he wants. This makes for a very bad buddy but always a fun dive. The second dive was at about 18 meters and hard work. We were swimming into the current, causing a lot of finning and not much moving. Again we didn't see anything you don't see on a normal dive except raj spinning upside down and back to front.
Overall the day was great, we stopped at a beach to relax, eat snacks and swam in the enchanting waters. Another perfect day in the best country in the world (in my opinion anyway)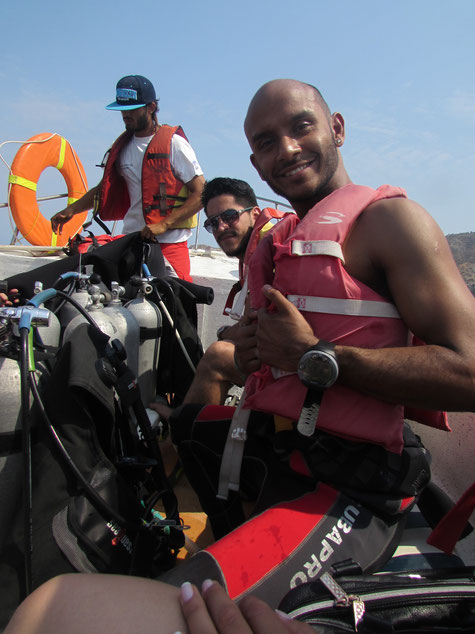 The next day we met up with Nick (the guy I worked with on the El Capo shot) who coincediatnally was heading to the coastal town of Santa Marta too. It was Saman Santa (Easter weekend) in South America, so hoards of holidaying Colombians were about to hit the beach and party all weekend.
Nick was joined by 4 other friends who we unsuccessfully sneaked into our apartment to 'couchsurf' them for the night. Security were on to our game though and charged them an extra $25 to stay the night. Our holiday had come to an end at 4am that night and we (well Raj) had too drive back to Cartagean to catch a flight back to Bogota (I was staying in Cartagean)
My body had rejected the last few days and I had become ill over the last 48 hours which then lasted for the next 6days. My second worst illness since being hospitalized in Peru. So I took the backseat and slept almost the whole way there.
That was until we got stopped by the police again.
Round 3.
This time we were at a disadvantage. We had Ricardo with us. Round 3 was a 'randomly' selected stop. Which was just perrfffeeccctt timing as Rajs driving licence had gone with Sandra the previous day to Bogota (this is a great example why guys shouldn't ask girls to put their stuff in our handbags)
So it all came again; give us money, you've broken the law.
Blahblahblah.
Ricardo fought the price down from $100 to $10 which raj and I bugrudgling handed over knowing without a Spanish speaker we could of gone away scot free. The other condition to our 'release' was that I drove (as I had my driving lesson) My body just about moved its self to the steering wheel, round one corner and back into my sick bed.
They might have won this time... but not completely.
Raj and Ricardo left me in an awsome Mamallena hostal in Cartagean old town with an emotional goodbye. It has been so great having my best friend with me for a few days, and even better that he got to experience a slice of this amazing country.
I slept, tried to recover and went to enquire about the trip I had been waiting for for a few months now.
The epic 6 day journey from Colombia to Panama. On boat.
As soon as I walked into the shop there was no question about it. This voyage was once in a lifetime. Not too be turned down. And the fact that it was leaving the next day even though I was
still unable to eat or construct much of a sentence was not an issue.
Panama was calling. The ocean as calling. I was off........
---
Like this? Check out some similar...