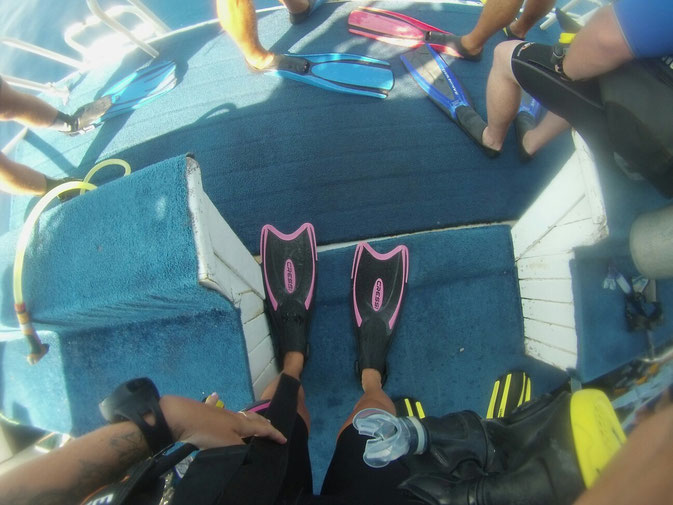 I've been diving now for a few years and used A LOT of different equipment along the way, aside from a diving holiday in Marsa Shagra and my Dive Master Internship in Turkey I have always dived while travelling and therefore used hired equipment.
This in fact, I think is a good thing, as its helped me choose the equipment I wanted to buy, the bits I definitely won't be and the gear I can recommend to you.
So I've put together a list of all my favorite equipment that have all been tried and tested in all 3 major oceans.
Let's start from the top
*UPDATE: Click here for a full list of female scuba diving gear*
Mask & Snorkel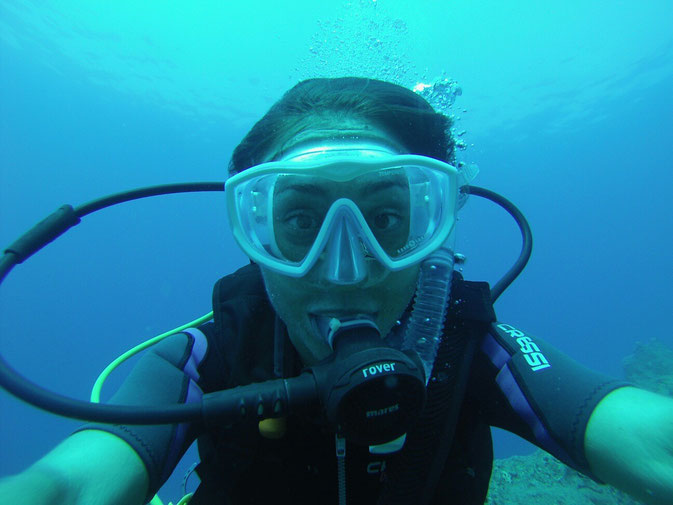 Now this is a controversial one. I LOVE my mask,( Agua Lungs Sports Diva) but I do not get on with my snorkel, well not the actual snorkel, just the clip, and the masks clips. It gets stuck in my hair every time I remove it. I really didn't want to get another mask, (It really is the most comfortable mask I've had minus the bits that get trapped in my hair)so I thought I would write to the people at Aqua Lungs about my problem.
I felt like a right girl saying '...but my hair keeps getting stuck, and it hurts, and it messes up my hair' I presumed they were going to reply with 'tough luck' or 'man up' but actually, they couldn't have been more helpful. They showed me their new mask the Aqua Lungs Linea which has a new   "Comfort Buckle System" that solves what so many women have asked for – a tangle free buckle!' 
They sent me their new one, and its great, it looks even better than my old one, and it really doesn't tangle your hair!  So I now use the Linea when diving and my Sports Diva (pictured) for snorkelling.
---
Wetsuit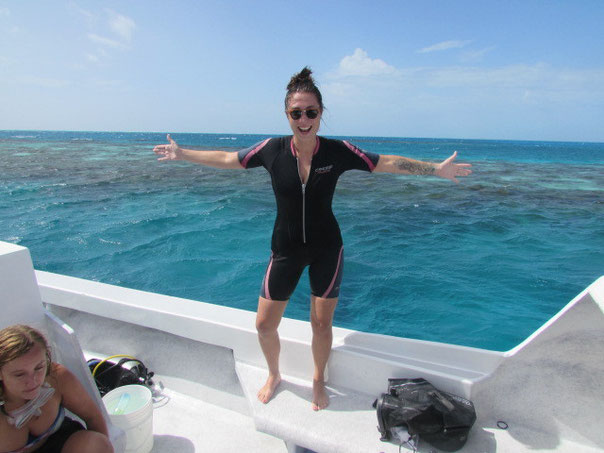 When it comes to owning your own wetsuit or renting one, even when traveling, there's no real argument. Own one. A shortie at least. The thought of somebody urinating in the wetsuits (oh come on we've all done it) and then passing onto the next customer (that could be you) makes me feel a bit sick. Saying that, I have only just this year bought my own wetsuits, but that was more down to money than anything else.
For me, a bad wetsuit can ruin a dive. It can be too tight, too lose, too cold or rub. I remember diving in Ecuador with a hired wetsuit way too large which kept filling up with water completely off balancing me and my buoyancy. Through a lot of trails and tribulations, I have found 2 perfect wetsuits that fit the bill for me.
Summer:
Cressi Playa 2.5m. (Pictured)
The reason I love this so much really is; the front zip. I've never got on with back zips, I mean who really has? Having a front zip made getting in and out of it easier than I thought possible and even allows you to undo it a little if you start getting hot. I have been known to easily undo my wetsuit underwater and just dive with the shorts on when it gets too hot. It is also so lightweight, it fits in your luggage like any other item of clothing. Last but not least- it looks good!! Every girl needs a splash of pink to her scuba gear eh!!
I've even dived in the men's version which was as comfortable, still with the front zip, the only thing missing was the pink.
And the great part? They are so cheap. Cressi is up there among my favourite budget scuba brands, I find their equipment very reliable and incredibly reasonable priced. 
---
Winter:
So comfortable, fits perfectly. Not much else I can say about it.
Cressi Playa
The same as my shortie, but full length, still with front zip, again so easy to put on and off, and I still think they look more 'attractive' than other wetsuits?!
---
BCD
Usually the most expensive bit of gear, so you have to make sure you are buying the right one. I have only just bought my own BCD, again it came down to money, or lack of it, as to why I hadn't bought one before.
I bought a Scuba Pro Glide 2000 off of GumTree for £70. Bargain. I chose this BCD again after many trials and tribulations. I find Scuba Pro have the best BCDS. I'm not into their wetsuits or even their regulators, but I do like there BCD'S. If money wasn't an issue, I would have bought a women's BCD like the ScubaPro 'Bella' designed just for women. They are brilliant. This will defiantly be my next purchase. Expect to pay anything from £200-£500 for a brand new Scuba Pro BCD. If you have the dollar, its worth the investment.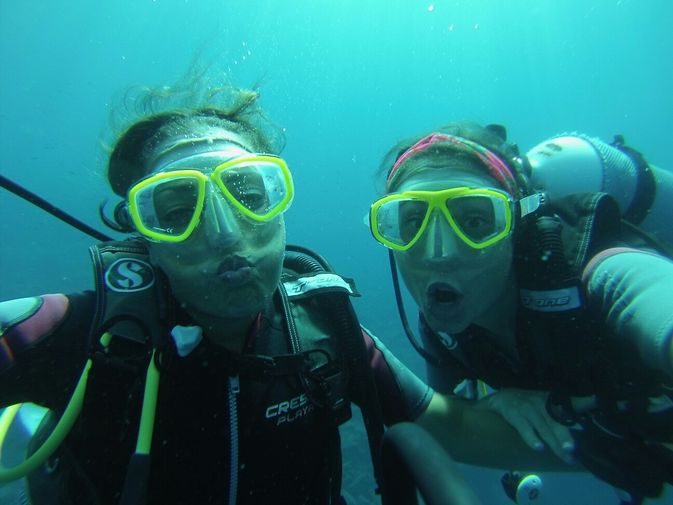 Regulators
I have an old set of regs which were given to me that I'm not all that happy with and  am planning to buy a new set before I head off my next trip – either a Mares or Apex.
I find ScubaPro regs to be a bit small, although it is hard to generalize with regs as you can replace hoses and mouthpieces so I may have just had some old sets in the past.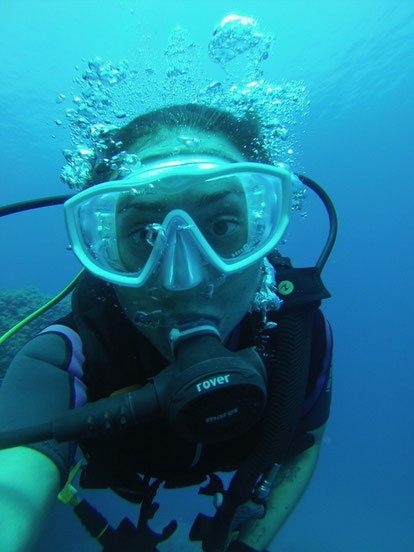 ---
Dive Computers
Wow, diving is an expensive sport eh? Just another essential item that will set you back a few bob. And you can't really escape paying that 'few bob' when it comes to computers. They start from about £110 and range up to thousands. I bought my first computer this year which was an Aeris XR1 Nitrox/Air for £120. Now I wouldn't rave about it, but it does its job, it's a good first computer. Sometimes it doesn't log some dives, and sometimes it misses information out, but when underwater it never fails. A downside is it only logs 12 dives. I can't find a link to it anywhere so I'm guessing its been discontinued (but the Mares one below is very similar)
To be honest as soon as I get some extra cash I'll be upgrading to a Suunto D4i. That's the dream dive computer. When looking for computers important features they should have are: safety stop countdown, depth, and large dive log capacity.
If I win the lottery... or if you have?
---
Fins
The price is getting ridiculous now right? But you can get cheap,decent fins (you can also get very expensive decent fins) experienced or non-experienced diver, we've all worn those faded blue aged fins that are two sizes too big, they're the cheap NON-decent ones. But actually, for just £10 more you can find good quality. And we can thank Cressi again for those. I have the Cressi Palau Fins (in pink) and they are awesome. So light weight,impossible to rub because of the quick release buckle and so easy to fin in! I have people wear them that own fancy Oceanic or Scubapro ones that say these ones are better. They are also excellent for teaching as they are so lightweight (for hovers and fin pivot)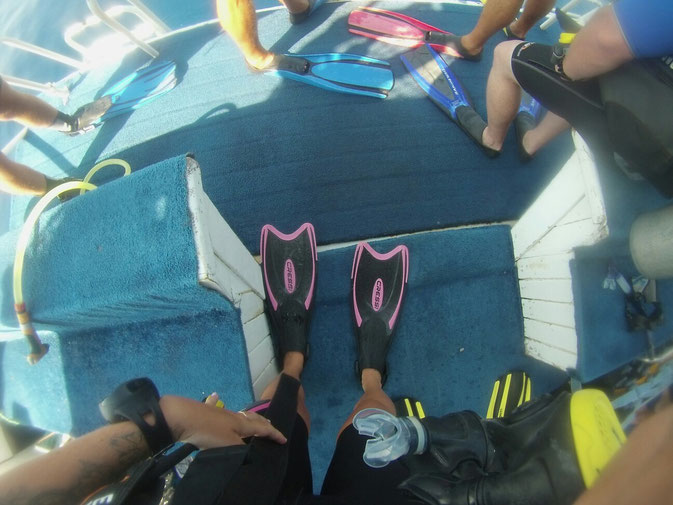 ---
The list could go on and on. Scuba diving is a hobby and for some of us a job, and buying the gear is all part of the fun, but for me it's going to take a fair few years to collect all the gear I want. But I'm fine with that, it definitely is all part of the fun. I hope this guide can help when choosing equipment for the first time and you too can enjoy spending the pennies as much as I do (when I actually have them).
Happy Diving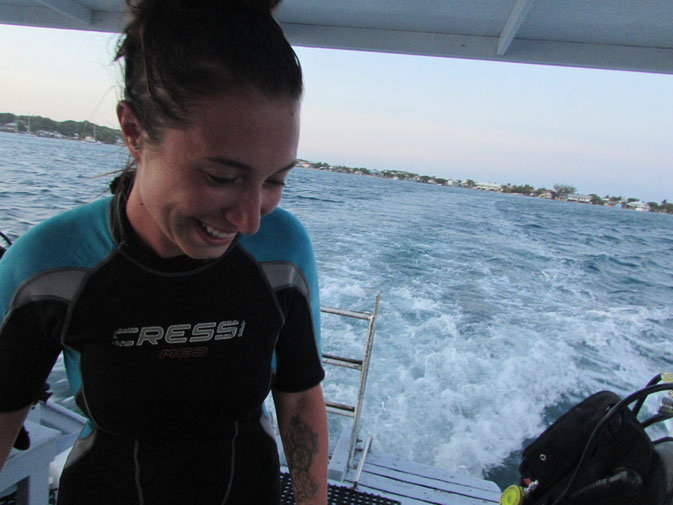 ---
Do any of you have any recommendation's on budget gear for travelers?
---
You may also like....
---