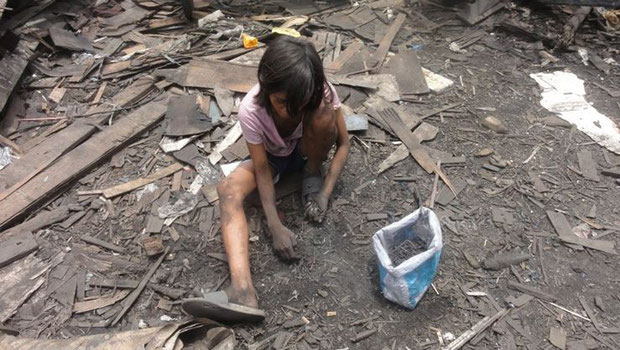 Manila, capital of the Philippines is home to some 20 million people. And boy don't I know it. You can't get anywhere fast, life is a constant rat race, people trying to get to and from work or school, politely pushing and shoving, fumes engulfing your lungs and car horns ring in your ears.
Manila is full of poverty, everywhere you look, yet not even subtly placed large American food chains conquer most streets, providing those who can afford it, their everyday fuel. Manila is fairly clean though, none of those McDonalds wrappers are littering the streets or Starbucks cups in the walkways. And that's because over 4 million of Manilas residents live in slums on the outskirts of the city. Their main job?
Sorting through the trash.
---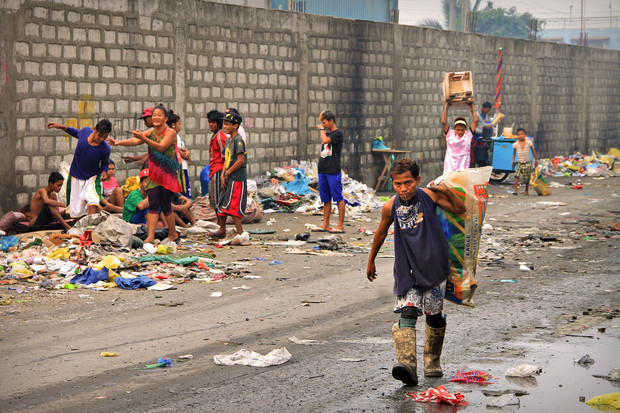 ---
I had heard about Smokey Tours through another Travel blogger and I wasn't too sure if I liked the sound of it? Surely it is not morally right for your days sight seeing to be visiting people who can hardly afford to eat, people who don't have electricity, live in waste and exist only by putting their life at risk every day. And you pay for this tour? ?
However after more research I discovered Smokey Tours give a large proportion (minus tour guide allowance and public transport,everything else goes to their chosen foundation) of your 750PHP (approx $15) back to the slums to help with livelihood and wellbeing, and that the tours, being maximum of 6 people a day, are respected in the community and the residents enjoy your company.
So I did it. I got on a train to take me to the outskirts of Manila where I would meet my Tour guide Remy, who lives in the Slums.
As we got further away from the city more people got off the train, less people got on. I was very aware I was alone, travelling to an unknown place, in my pre-conceived ideas; a dangerous place.
I didn't see another white person from the moment I left the city.
Arriving at the arranged station poverty hit hard straight away. The traffic was heavy, the fumes more powerful. I felt completely vulnerable. I felt scared. 
---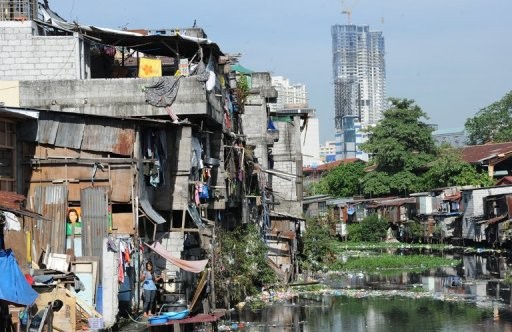 ---
But I was here now, I had to shake myself inside and persuade myself to trust this complete stranger who was taking me to one of the most impoverished/ densely populated places in the world: The Manila Slums.
Arriving by the slums I couldn't see much of the journey. Being about double the size of most Filipinos I fail to see out of the 'windows' of the Jeepney (like a chicken bus) and spend the journey in the eyeliner of the rusty roof. But reaching our destination didn't come as a complete shock. I have visited poverty-stricken areas before, and this looked just like some towns in South America I had travelled through. A local market, pigs heads, chicken feet, unknown sausage meat.
I could see Remy's plan… Ease her into this.
We made our way to the Pasig river which runs through Manila providing residents of the Slums their work, materials and waste disposal.
And this is where the reality hit. Thousands of families illegally made home by the river bank, with planks of wood and metal barely raising them above the toxic river flow. Families here really had nothing. In slums terms these were the poorest. Their job every day: To pick floating derby from the river in hope of finding something useful/ able to sell. They can work up to 10 hours a day and earn on average $1.50 all while putting their health at risk riding the toxic river in homemade Polystyrene boats. They are called River Scavengers.  
---
---
We entered into a dark alley of the slums, of course, no electricity so there was no way to see even the light of day. I couldn't help but feel uncomfortable and wary; women sat in alleys breastfeeding new borns, dogs were scrounging for food and the smell of human waste was overwhelming. My shoes were getting covered in the unknown and drips of water (?) would splash on my head. Yet again I was all too aware I was by myself in one of the poorest places on earth with a stranger I had put all my trust in. I really wanted to get out of that alley. 
As soon as light filled the slums again I felt relieved and a bit of an idiot for being  so scared. A child ran up to me, with no shoes, dirt all over his body and a cut elbow:
"Heloooo, what's your name?"
I warily looked at Remy, she gave me a smile and the reassurance I needed. 
"Sarah" 
The kid gently took my hand and put it to his head and ran away again beaming.
"That is a gesture of respect here in the Philippines" Remy explained.
I could have burst into tears there and then.
---
---
The more we got into the slums the worse it got. The ground was made up purely of rubbish mixed with human and animal waste, it had turned into a grey/blackly substance which covered every man, woman and child's feet. If they owned shoes, there really was no point in wearing them. 
We got to the heart of the operation; an abandoned factory block which housed nearly 8000 families. The surrounding outside areas were split into sections. On the East men scrambled through mountains of plastics separating the colours and debris, the South; a water station where you could buy a container for 3 peso to wash you and your family in and the West which had a dozen or so children playing/working at washing plastic to sell.
It was a devastating sight.
Something you had only seen a glimpse of on TV, yet standing there none of it seemed real. I had a fleeting thought that if you were to create a film set of what you thought a slum would look like this would be completely correct.
It was poverty to the most extreme level.
---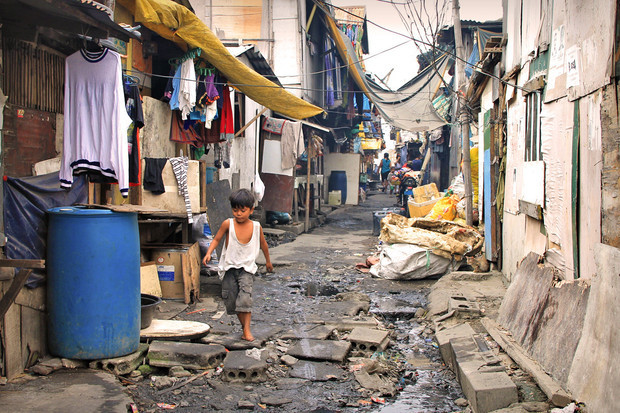 ---
Yet I couldn't help but notice, after my initial shock, the smiles first hidden to the westerners eye.
As my senses came back I also heard music coming from inside the factory and watched the men sorting the plastic who I originally saw as glum now singing along to it. The kids I first thought were working washing plastic were actually teasing the adults and splashing them while they worked then running to hide when they got caught.
Remy was talking to me trying to explain how they make money but I just couldn't concentrate on her speech. 
Before I came to the slums I had read how 'the children were full of smiles' but I really didn't believe that. I thought that was a writer's way of trying to capture an audience. But astoundingly that couldn't be more correct.
As they caught my eyes the kids would come running over. I wondered if they were coming over to ask for money. "Hello, hello, what's your name" each one would beckon then proceeded to grab my hand and place it on their head.
They would then ask Remy lots of questions about me wanting to know which country I came from. One child thought it would be funny to play hide and seek with her friend which involved scrambling under my t-shirt in hysterics at her new found hiding place. 
The adults smiled too, although you could see the smiles had faded over the years with the monotony and exhaustion of life in the slums, however, their eyes told a million stories and were warm and inviting.
---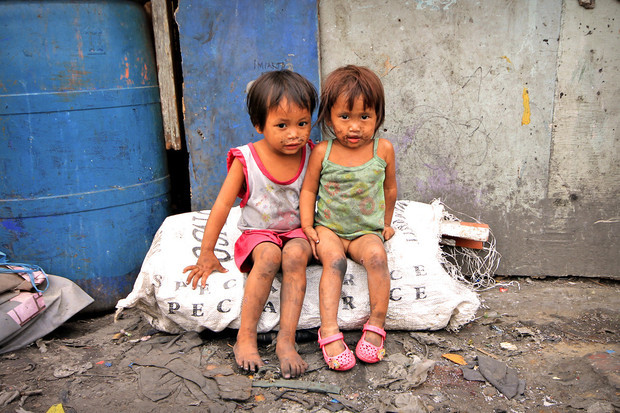 ---
We continued onto the 'food processor' of the slum; where young adults would sit by burning animal fat and scavenge through the trash shaking off ANY food stuck to packaging and collect it in a bowl. They would then mix this together deep fry it and sell it on to hungry slum workers. 
The average age of death here in the slums was only 40 years old, the pollution, poor sanitary and lack of nutrition claimed lives before they had even really begun. Remy explained how children knew they had no future outside the slums and there was no means to an ends, however, they preferred to live in the slums than on the streets as there was more work for them here and more friendships to be had. 
That hit me hard; imagine living a life knowing you can't change it even if you really wanted to. I felt unbelievably privileged just to be in their presence as everyone here could still smile and laugh while living in devastating poverty. It put life into perspective.
---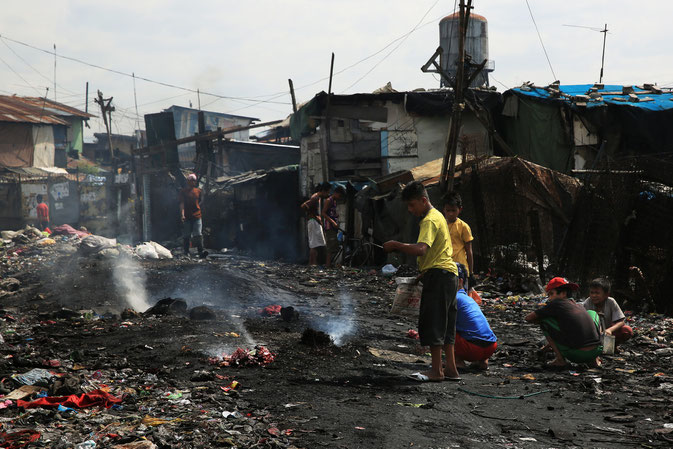 ---
Slowly we walked through the rest of the slums, stopping to high-five children, to chat to the oldest citizen (76 years old) and to watch kids dance to One direction and Taylor Swift (yes, really!!) I barely noticed my body covered in flies, the dirt climbing up my legs and the smells embedded in my hair.  
Honestly, I didn't want to leave, I wanted to stay there and play with the kids, I wanted to see their hiding places, meet their parents sing karaoke with them for 5 peso's and let their innocent happiness influence me.
---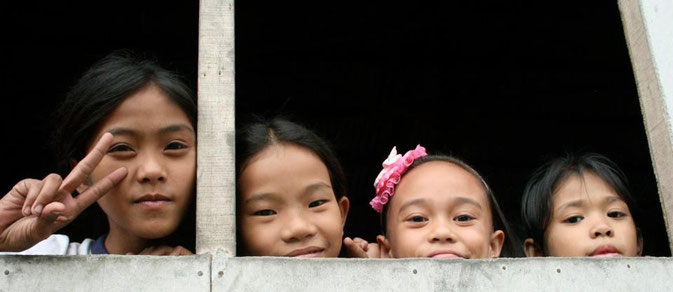 ---
Become an English Teacher in the Philippines :

---
As we left the slums and got back into the heavy traffic of Manila I no longer felt vulnerable. I looked at the streets in a different way. Now I didn't see beggars or homeless people, I saw hard workers and courageous parents. I wasn't scared anymore, I felt calm inside and actually not shaken up or nervous but in awe of people's determination to live and their ability to smile.
In no way am I saying the slum is a nice place, it is devastating, the conditions they live in are life threatening and I am all too aware that behind their smiles are years of pain and suffering. I wish we as westerner/ people living in 1st world countries had the determination to go and change this all but the truth is it cannot be done in one go. Education is the key, these kids need to be educated and to told that they can make something of them self and be believed in. The adults need to be taught more about birth control and helped with sanitary care in order to live longer. Poverty is a real and major problem hidden to those who chose to stay naive.
---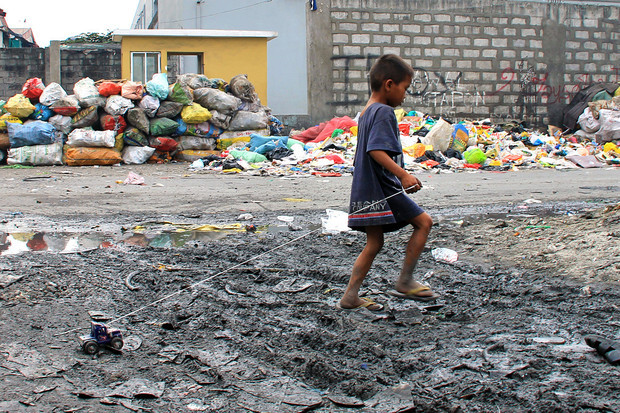 ---
However, there is light at the end of the tunnel in Remy and the NGO Smokey tours.
Remy CHOOSES to live in the slums, she could live outside as she is a teacher and computer technician as well as a tour guide. But she lives in the slums and volunteers to run a daycare for the kids, keeping them entertained and educated.
Her presence among the community is huge. Having the privilege of being the only one that turned up to the group tour with Remy I could see first hand how much she helped the people of the slums and how much they appreciated her. She explains the residents don't mind foreigners coming in as they are aware of the tours and how our money goes directly to helping them, but mainly it is because Remy has built up such respect over the years the people trust her to show us the truth.
She is one of life's unsung heroes who is more than happy to stay that way. The slums are her life, and she admits she wouldn't want it any other way.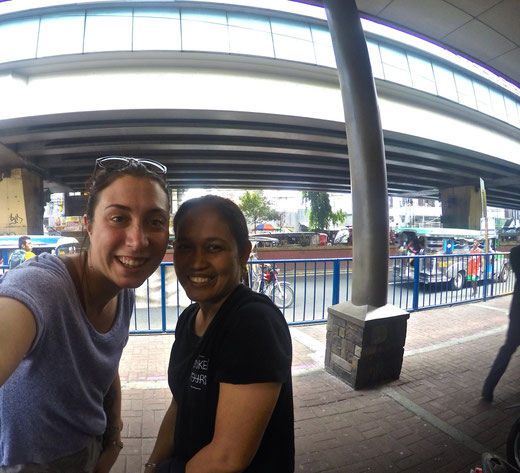 Explaining the Manila slums and the people that live there is a tough job and one I've struggled to convey. Most of what I saw can simply not been explained.
Life seems very unfair, I really wish there was not such a huge divide on this planet of rich and poor. But from this experience I take away so much, and mostly the ability to smile in the toughest times and that happiness really has nothing to do with how much money is in your back pocket. 
I feel completely and utterly grateful for all I have and a future that I can hopefully make my own decisions in. I hope through this post and the pictures I have been able to explain and bring forward an issue we are all too unaware of/ neglect to accept.
Lastly, a HUGE Thank you to Smokey Tours for opening our eyes and their doors to the tourists on Manila. They are a fairly new organisation and have been going for 3 years however only started getting tourists interested in the last year. I was the only one on the tour that day however they are getting more recognition and enquiries each day. I think people just need to know this is a safe and ethical tour.
You can find out more on their website www.smokeytours.com and their Facebook page here 
If hearing about the Manila slums has made you want to help you can donate to Smokey Tours here who distribute the donations between feeding programs, health checks, and education.
Statement from Smokey Tours 'All the profits of the Slum Tour goes to our beneficiary foundation but not all of the Php750. From the Php750, we deduct the tour allowance of the tour leader and the tour expenses (public transportation). Tour allowance to the tour leader is not per guest but per tour. The more guests there are in one tour, the more we get to donate to our chosen foundation. This year, we are choosing a new beneficiary foundation to support after having done it with Bahay at Yaman ni San Martin de Porres for a few years.'
Please note photography was strictly forbidden in the slums and by no means was I going to disrespect that. Smokey tours have provided me with images to use for this article along with Travel Blogger Sabina from Justonewayticket.com who I heard about the slums from on her blog. Although these aren't my photos everything you see is exactly how I saw it, even down to the same children. 
If you liked this article please share and help Smokey Tours reach out to more of the residents of the Manila slums
---
About the Author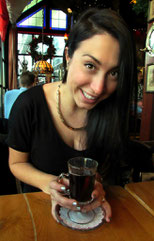 I'm Sarah, a twenty something Global Gypsy, Scuba obsessed, Travel Blogger originally from the UK. Follow me on my travels around the world blowing bubbles, taking photos and drinking coffee. Find out more about me here and keep up to date on what I'm doing and where I'm heading on my Facebook page 
---
You will also like:
---
I'd love to hear your opinions...