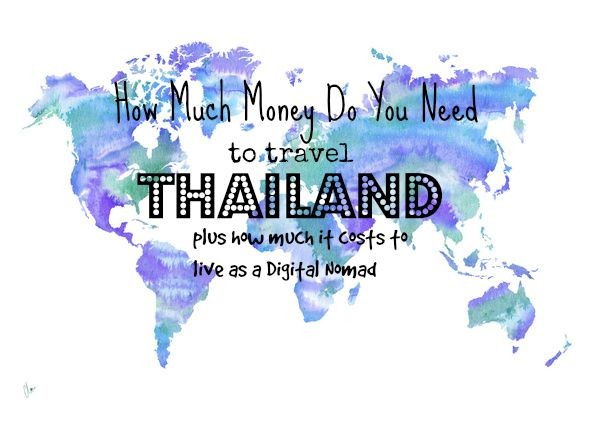 Who knew how much people loved having a nosy at what you spent while you traveled hey? My last post 'How much money do you need to travel South America for 6 months' has proven to be one of the most popular that I have written. Aren't we all such inquisitive creatures?
From that, I have now decided not only to write another post, but to actually start a new series on 'How much do I need to travel...'
In this series, I will be letting you into the real price of travel from me and fellow travel bloggers, to help inform and prepare for your next trip.
This next post comes from Nina over at Where in the World is Nina? She tells us how much it costs to travel (and live) in Thailand..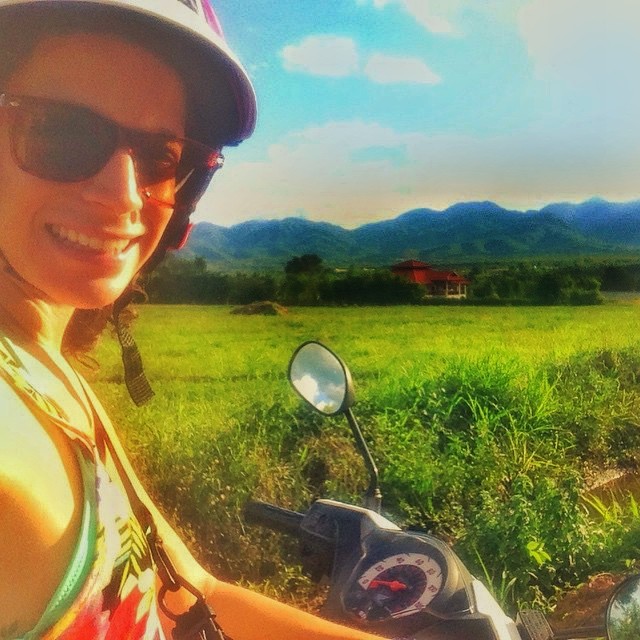 To those budget-savvy individuals who like to wisely plan out their money so they can make sure they get the most of their travels, here is what you can expect while visiting Thailand. I've been living around Thailand on and off (mostly on) for the last four years. I've broken down costs for each of the main categories, transportation, food, accommodation, and fun, and provided examples. Are you planning on hanging out for long term? Are you a digital nomad, like me? I have extra information for you as well! Check out how much money you'll need to travel Thailand...
(All prices listed in USD)
Transportation
Budget $2-$25 per trip  depending on distance
Estimate about $13-$25  for a bus or train ride. It depends how far you're going and what class you book yourself for.You can find a bus from Krabi to Bangkok for around $17.Bangkok to Chiang Mai is around $20-25+ for the overnight sleeper train.(Prices also depend where you're buying from. Buying directly from the bus station is cheaper.)
Tuk-Tuk - depends where you're going and how good your negotiating skills are. I would recommend leaving this mode of transportation as an option just for the experience or if you don't have another option.
Motorbike- You can rent a motorbike for about $10 a day. Please be careful, make sure you know what you're doing, expect the most unexpected things to happen/jump out in the road, and wear a helmet. 
Fee for not wearing a helmet, if you get caught, is about $6-$15.
A full tank will run you about $2.50
Minibus -  Anywhere from $2-$10. It depends how far you're going. Bangkok to Ayutthaya is a one hour drive and costs $2. A three-hour windy journey from Chiang Mai to Pai will run you $5.
Transportation in Thailand is fairly cheap overall. If you don't have a lot of time, check on flights with AirAsia.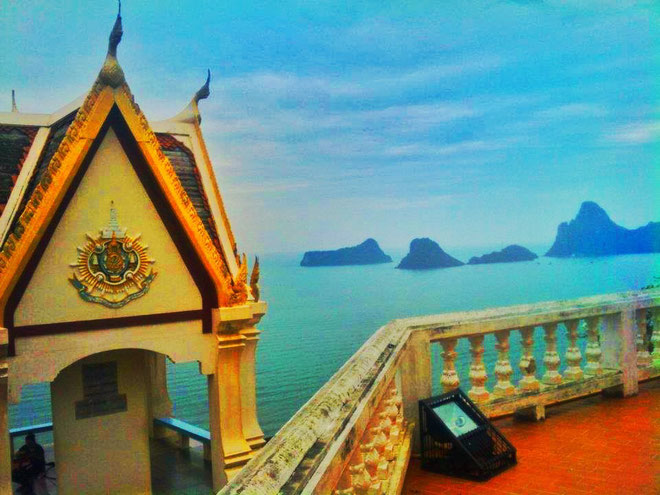 Accommodation
Budget: $5-$20+ per night depending on needs and location
Are you on a tight budget? You can find dorms and sometimes individual rooms for as little as $5. You'll get a bit more if your budget is around $10, like an en-suite. If you plan on visiting during the high tourist season, or to the more touristy destinations, expect less bang for your buck.
One of the cheap places, not on the beach, at the ever popular Railay in Krabi runs about $15 for a very simple bungalow with a mozzie net, a mattress on the floor and semi-outdoor shower. That same $15 will get you a nicer bungalow on a river with aircon in Pai.
Food
Budget: $1-$7 per meal
If you eat locally, you're going to eat for a $1-3. A pad thai at the market will run you around $1 and if you want to add on a satay, a hot bun, a fruit shake, and a packet of cut pineapple, that will run you a grand total of $2.50-$3 extra, and you'll be more than full! 
If you're craving a meal from back home or want a western style breakfast, you're going to need to dish out more money. A western breakfast with eggs, toast, fruit and coffee is around $5+.  A burger or spaghetti meal can run $5-$7.
Fun Stuff
Budget: $0- $300+ per activity
This one is difficult. What are you into? Here are some sample costs for you to get an idea:
Temple wandering around Chiang Mai- $0
Rock Climbing in Krabi with instructor and gear- $30 
Getting certified to dive in Koh Tao - around $300+
General national park entrance fees- These fees are increasing for foreigners. You can expect to pay upwards of $10 depending which one you go to. The popular four island tour in Krabi will require a $13 fee and the fee to roam around the Sukhothai temple complex is $11. (They change these prices often, double check at the time you go.)
4 Island hopping tour in Krabi without the park fee included- $13 (lunch included)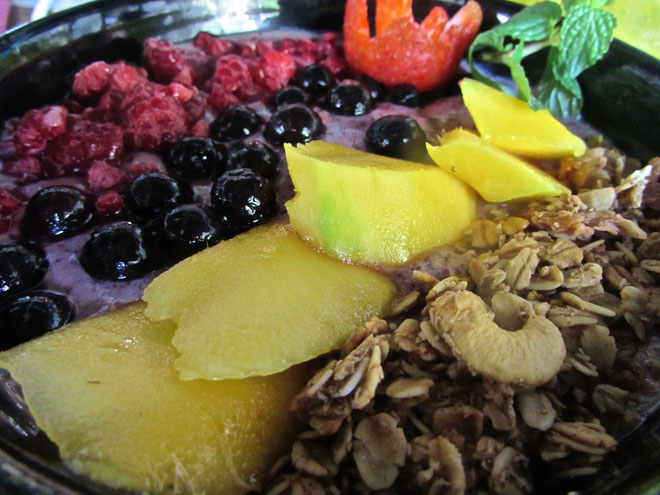 Digital Nomad / Long term stay in Thailand Information
Do you plan on staying a while? You might find this useful…
Accommodation:
Prices are much cheaper when you stay put, and that still proves to be true in Thailand. You can get a lot more for your money when you rent a house or an apartment. Here are a few examples so you have a good idea on what you'd get and for how much… (examples are in the South, North, and Central, Thailand respectively)
Krabi
I had an apartment in the center of Krabi Town. This apartment came with a huge bathroom, it was furnished, but I had to "make my own kitchen" (I bought a fridge, hot plate, everything. I sold it when I left and recoup a good chunk of the money) This cost, averaging in my electricty cost ( I used a fan only, no aircon, despite having the option available), was about $180/month.
Pai
I had a house here. It had two stories, kitchen (fridge and gas stove), furnished with what I needed, and was only 1.5 km out of town. For this, including my average electricity usage (no aircon), I paid $135 per month.
Ayutthaya
I lived in a portion of a house here. There was a fridge and some furniture. It was in a good location and was a good size. I paid, averaging in electricity cost without using my aircon, $140 per month.
If you're not a digital nomad, and don't want to rent a place, just staying at a guesthouse for a month will bring you a greater discount. You will need to pay up front, but hey, it's done and paid for, the rest of your cash is for food and fun. You'll pay less and get more.
Contract information: In all of my experiences with living in the country, I've sign a contract a grand total of two times. The contracts are not strict like they are back home. I was able to break it whenever I wanted. I just made sure not to be rude and gave them some notice. I've never had a problem with getting my security deposit back. Don't be afraid to get a house or apartment for this reason. It's very much worth it if you stay longer than a month or two.
Wifi Information for fellow Digital Nomads:
Wifi is decent in Thailand. Are you going to get the fabulous internet you need at your hostel or hotel? Eh, probably not. Will it be alright?  It depends where you stay. My tip is to find a place that has very few rooms. Fewer rooms means fewer people using up all the internet! But the best piece of advice, especially since you'll probably chilling out somewhere for a while, is to just get a long term place. A house with wifi will offer up much better speed results. If you're desperate for better wifi before you find a house, cafes are usually better than guesthouses. Just shop around for "your spot." Make sure to scope out if they have a comfortable seat near a plug, and some good coffee! 
Do you think it is possible to travel in South East Asia on $2000 for 6 months? We do!
Want to earn some extra money while in Thailand? Become an English Teacher and earn while you travel:
Haven't got your TEFL yet? Click here to get 30% off your course. Already got it? Click here to check out all the latest vacancies for English Teachers in Thailand
---
About the Author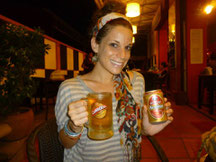 Nina is the intrepid gypsy behind Where in the World is Nina? She's a digital nomad slowly traversing the world looking for spontaneous journeys and fellow weirdos. She has the insatiable desire to see everything this planet has in her lifetime and plans on completing her lifelong dream of being a well-traveled person. Join her on her adventures by following her on Facebook and Instagram.
---
Work in Thailand as an English Teacher, get 30% off your TEFL course below:

---
You will also like:
---
---