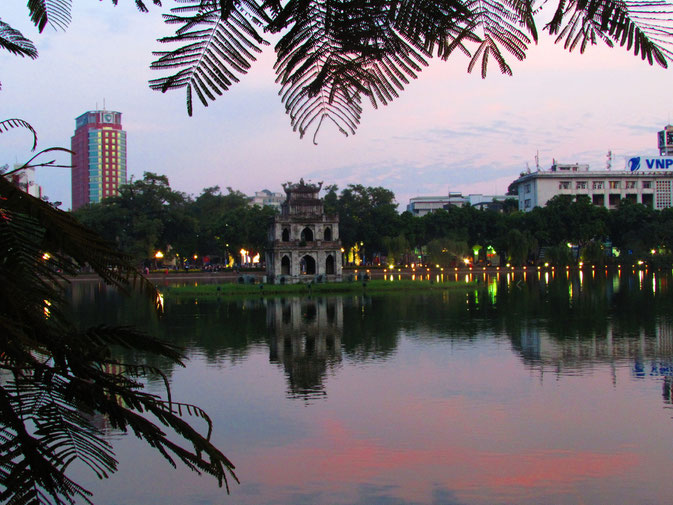 I'd never been to Vietnam before, which was strange as I now lived so close in Hong Kong. It was always a place I wanted to visit; its history intrigued me, but I guess the right time had never come. Until Travolor challenged me to an adventure I couldn't refuse
Living and working in Hong Kong is a crazy lifestyle. 'Work hard, play harder' is a phrase thrown around a lot. Expats here work long hours but still find the time to socialise and enjoy living in the best city in the world (personal opinion, but if you've ever lived here you know what I'm talking about) But that also doesn't give us much time to travel. Some employment packages only include 10 days vacation time a year, so when you get the time to go, you have to go BIG.
I got talking to the guys over at Travolor, a new Hong Kong-based travel company that try to help Expats with just that. Fun, action packed trips that only take up a few days. As more of an experienced long-term traveller, I have been known to spend weeks in one country and still not get round to hitting the best spots. I liked the idea of a more scheduled trip, a trip that I could spend seeing the best of the country all in a few days; one that didn't cost me much money, but more importantly much time. And you all know me by now, I was up for a challenge!! I wanted to leave HK on Monday afternoon, take a look around Hanoi then get up to Sapa, see the sights, relax, get back to Hanoi and then land in Hong Kong in time for lunch on Thursday.
Challenge accepted Travolor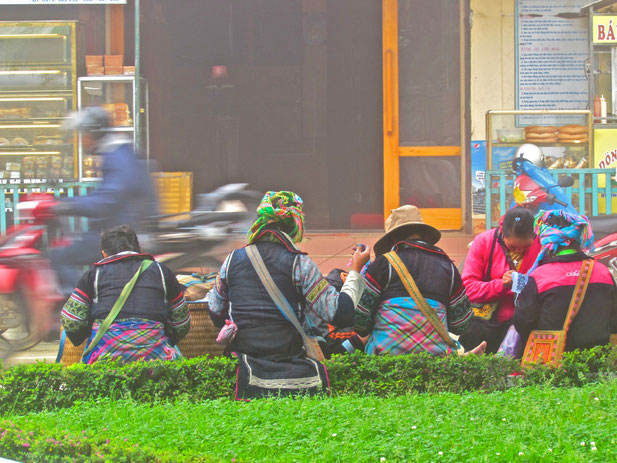 I left Hong Kong at 1pm. Perfect; I could have a lie in, get breakfast and not have to rush around. A swift 2-hour flight saw me in Hanoi in the afternoon and ready to explore.
My tour guide picked me up from the airport and took me into the centre, while taking a few detours to show me some sights and expalin the history behind Hanoi along the way. He then dropped me off with instructions to explore and a time to meet back up. I was off...
My first priority was to just sit down with a drink and observe my surroundings. I find whenever I go to a new place I just need to stop and take in where I am.. And for any of you that have been to Hanoi before, you know that 'stopping' isn't all that easy
---
---
The hustle and bustle was exciting, all be it a tad intimidating due to the sheer amount of motor bikes coming from all angles! I was keen to see if there was a place I could escape the traffic, within walking distance and hidden from view. Another thing I do best when in a new country is walk; I just keep walking until I find something that makes me stop (think Tom Hanks in Forest Gump, but not the running part) 
I reached Ho Hoan Kiem, also know as 'the Lake of the Restored Sword' and stood to take in its beauty. In such a busy city it was (literally) a breath of fresh air to come across such a peaceful surrounding. Locals were exercising, tourists were laughing and kids were playing.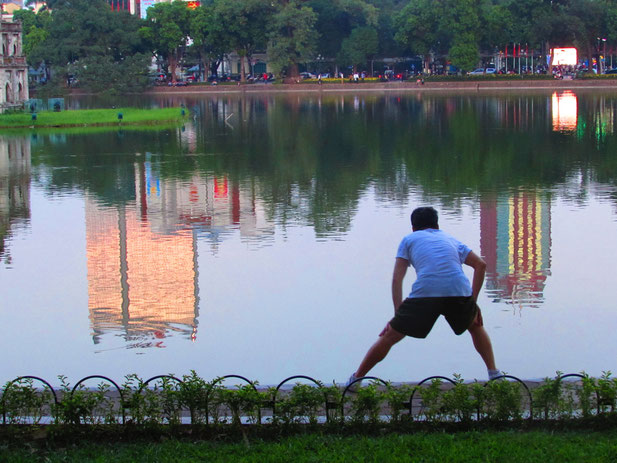 To walk the whole way around the lake at a slow pace takes around an hour, but stopped to take photos more times than I can recall; it turned out to be a perfect place to capture Hanoi at its best. (and therefore took me about 2 hours)
Half way around I then discovered my favorite part of Hanoi: Den Ngoc Son 'The Temple of the Jade Moutain' visible from most sides of the lake its bridge catches your eye first. In the mid afternoon sunlight the legs of the brige reflected softyly on to the lake and created mirror vision otherwise only seen in photos. I think I had found my hidden place to escape the traffic.
Once you walk over the bridge you enter the temple which is full of interesting artifacts and religious sybomls. The best bit for me however, was a small opening in the lake just behind the main temple. For some reason there was a old boat pulled up to the shore and the branches of the trees fell perfectly to create a little hide out. I sat her for a while blissfully alone and watched the lights of Hanoi come alive.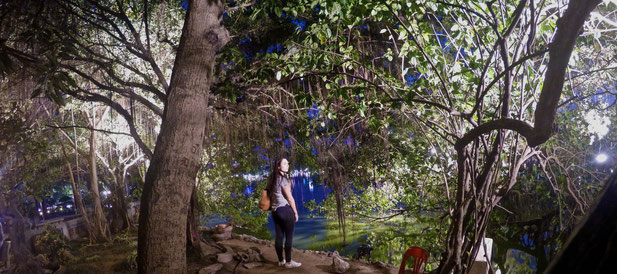 The temple is open from 7:30-5:30 and costs $20,000 to get in (less than $1 USD) 
Now the sun had completely gone and the lights were taking centre stage. It was nearly time to meet back up with the drive so I headed for a quick bite to eat before my next journey began. Getting aboard the Victoria Express to Sapa...
Stay tuned for part 2 where I get on a luxury overnight train and head up north to Sapa to see what else I can explore while in Vietnam.
---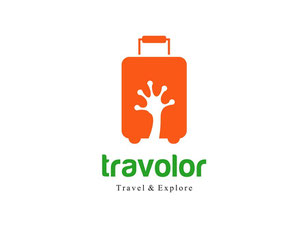 This tour was organized by the fabulous guys over at Travolor Hong Kong. With a mission to save Hong Kong-ers time and money their taylor made packages do just that. Find out how you can book my trip and many more here

---
---
You will also like:
---