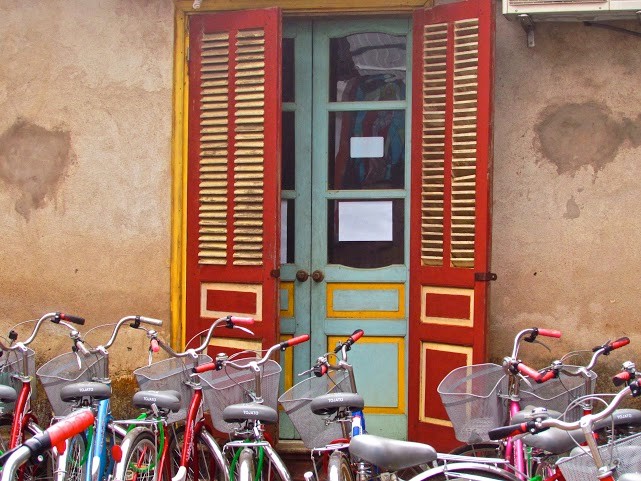 I had only been in Vietnam for a few hours and I was already heading 9 hours north to Sapa. Usually, a journey of this length would not excite me, however, I was about to board a luxury overnight train with my own private cabin!
As part of my tour with Travolor, I was getting on the Victoria Express, a luxury train that takes you from Hanoi to Sapa. It has a dining carriage  and accommodates up to 52 people. (However there were only about 15 when I was traveling) perfect for those backpacking in Vietnam. At Hanoi, Victoria Express have their own private waiting lounge where you can sit while you wait for the train to depart, which has views from above the city.
The cabins are cozy and clean and even have WIFI! There's not much you can do for 9 hours in the night, other than read a great book and fall asleep to the rattle of the train. And that I did.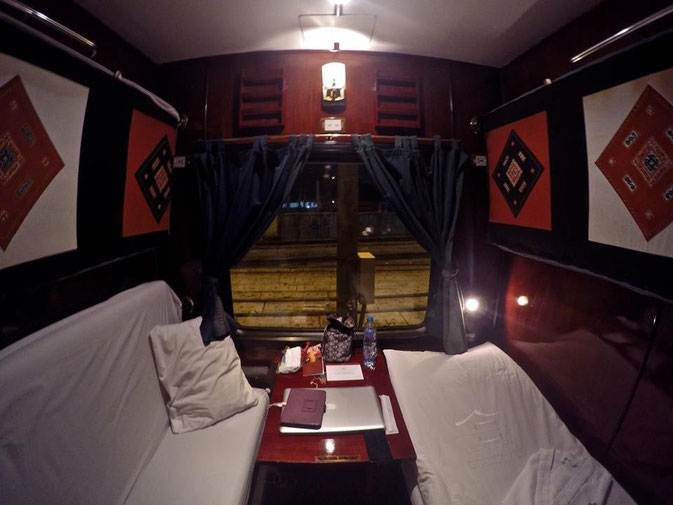 The train left Hanoi around 10pm and arrived in Sapa at 6am. There were a few stops along the way, but I barely noticed the train stopping and starting, throughout my sleep. The staff work me up by knocking on the door about 40 minutes before we were due to arrive, when the sun was just coming up above the Vietnamese country side. It was a completely different view to the one I left in the city. Green fields, animals, and rice fields. It was almost as if I had been transported to another world in those short few hours.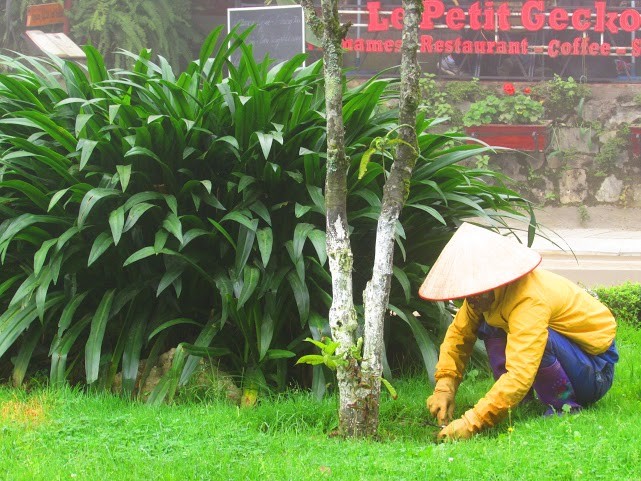 A driver was waiting outside the terminal for me, and I was in a private car on my way to the Victoria hotel, just minutes after stepping off the train. The drive to the Victoria Hotel was about an hour, and the driver started to tell me the history behind sapa while we drove through rice paddies and countryside. We arrived at the Victoria hotel just after 7am, I had early check in so I put my bags in my room and sat and enjoyed the space.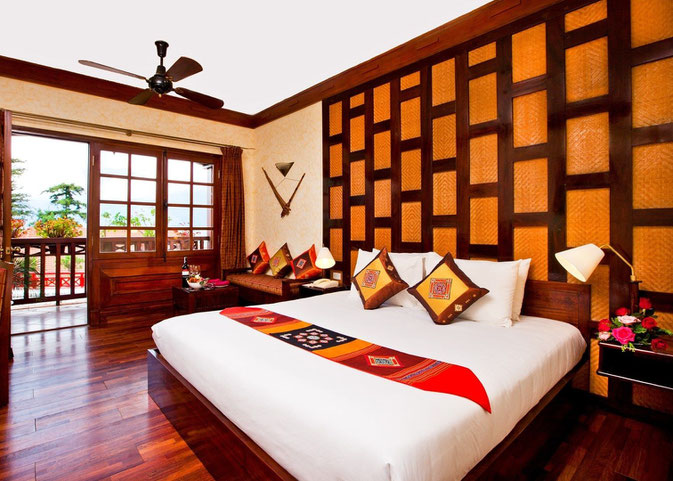 Breakfast was probably one of the best hotel breakfast's I have had in a long time. A mix of western and Vietnamese food, with fresh juices, coffee and tea. It was fairly cold in Sapa compared to Hanoi, so I sat by the open fire, ate more than I could handle and dazed out the window. I had no activities planned through the Travolor tour, so I decided to go and take a walk around Sapa and see what I could explore.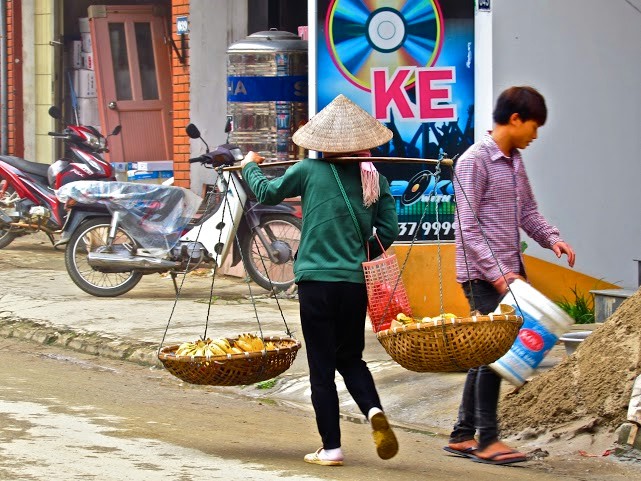 Sapa is a sleepy little town. Don't expect the hustle and bustle of Hanoi; it is anything but. This obviously is part of its charm. There is a great deal to do around the town itself, however, the reason you come here is to head further into the villages and rice paddies. So that day I just walked around, taking in the peace and quite, and even went for a massage (which set me back the equivalent of $100hkd) The food in Vietnam is wordly famous, take a look at my post here to find out what you should be eating on your visit.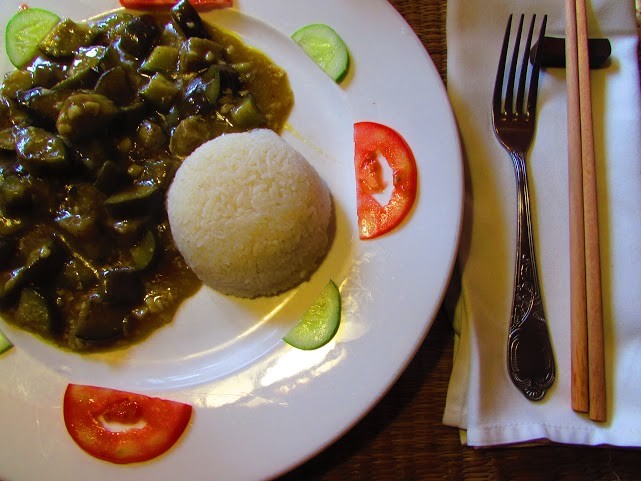 The next morning, after another awesome breakfast my tour guide was waiting in reception for me to take me into Giay village of Ta Van, in the breathtaking Muong Hoa Valley. This village is the home of the traditional Black H'mong people a generation of families who have lived in Vietnam for hundreds of years. This was definitely the highlight of my whole trip. I wasn't expecting the tour to be so authentic. I was worried it may be one of those group tours where you invaded  the locals home and made them feel uncomfortable. However, this was quite the opposite. It was just the tour guide and I, and the locals happily went about their everyday routine while smiling as we passed.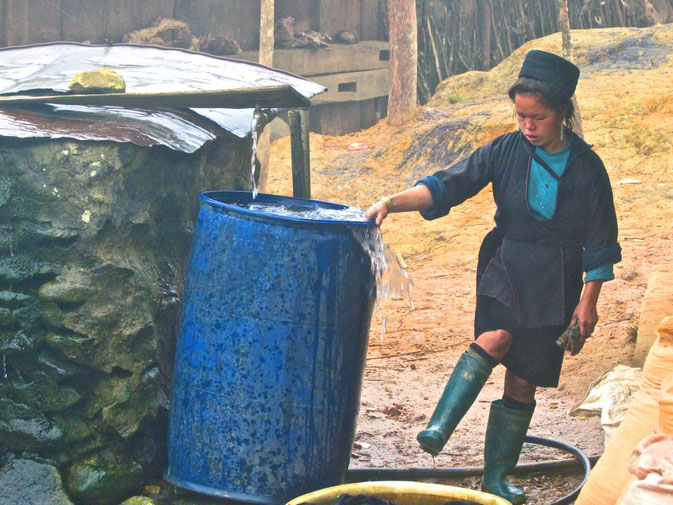 The tour really touched me. Seeing kids sitting on wooden chairs, being taught by a teacher using a blackboard, seems so innocent, and so right. This is how we all used to be taught, before technology took over, and although some may have seen poverty, I saw hope and passion. The women dying the clothes, may have looked over worked and under paid, but in fact they seemed happy and to be enjoying continuing the tradition. Everything about the village was peaceful. Even when we walked past a dead pig being slaughtered. I had never seen this done before. 27 years of my life, and I hadn't seen anything like that, then again why would I? But there were kids barely 4 years old watching and learning. It made me take a step back, appreciate what I had, and think about changes I could make to live less of a materialistic life, and more of a simple one like the Black H'mong people.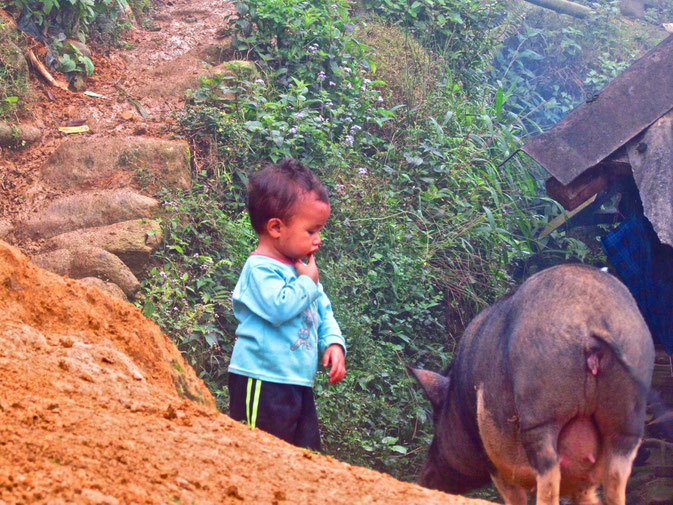 Overall the tour took about 2 1/2hours. A car picked us up and took us back to the hotel, where I had a few hours to relax by the open fire and wait until it was time to board the Victoria Express again. 
While warming up by the fire, I had time to reflect on how much I had seen and done in a short 3 days. Usually, I would have hardly scratched the surface in that much time. However, I never felt rushed. I was even looking forward to getting back on the train to watch the world go past again. 
Another 9-hour train journey and I was back in Hanoi, met by the driver and taken back into the city. It was 6am and Hanoi was alive with people. This is the time locals come out to do their exercise, and the city was buzzing. We walked around the lake and watched with a smile at the energy of the city.
---

---
You will also like:
---