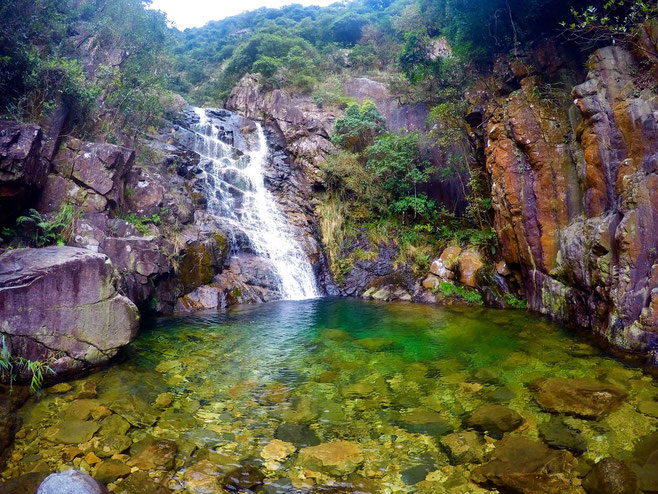 If you thought Hong Kong was all about the concrete and skyscrapers, you are so wrong. There is so much to do outside of the city, from coastal walks to beach hopping, hiking and waterfall jumping. You've just got to know about it. Lucky for you I spend my weekends exploring Hong Kong – away from the skyscrapers. Here's a list of the best things to do outside of the city
Go Hiking
Yup, Hong Kong is full of greenery waiting to be explored. You wouldn't believe how good this city is for hiking – in fact, it is home to the world's 'best urban hike' aka Dragon's Back. Only a hop skip and jump away from Central lie these beautiful (and worldly renowned hikes)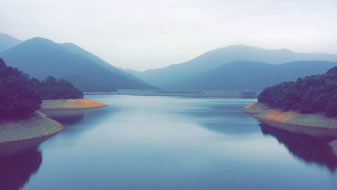 Tai Tam Reservoir  
 This is one of my favourite hikes; it's easy and the view all around is stunning. It's also only a 10-minute cab from central to the start.
Take a cab to the cricket club and get off on the lay-by on the gas station. Or take #6 bus to Wong Nai Chung Reservoir Park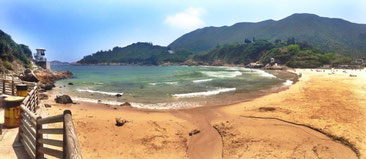 Dragon's Back
The famous 'best urban hike' in the world. Deserved of its title, don't visit HK without doing this hike.
Take the MTR to Shau Kei Wan, Exit A3. Take NWFB bus #9 towards Shek-O, stop at To Tei Wan on Shek O Road.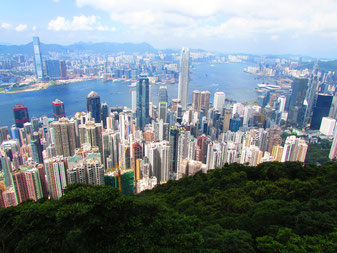 The Peak
Ok, not necessarily outside of the city, but still up in the greenery and (fairly) fresh air. Hike up from Caine Road and avoid the tourist trap of the tram.
Old peak road, mid-levels
---
Chase Waterfalls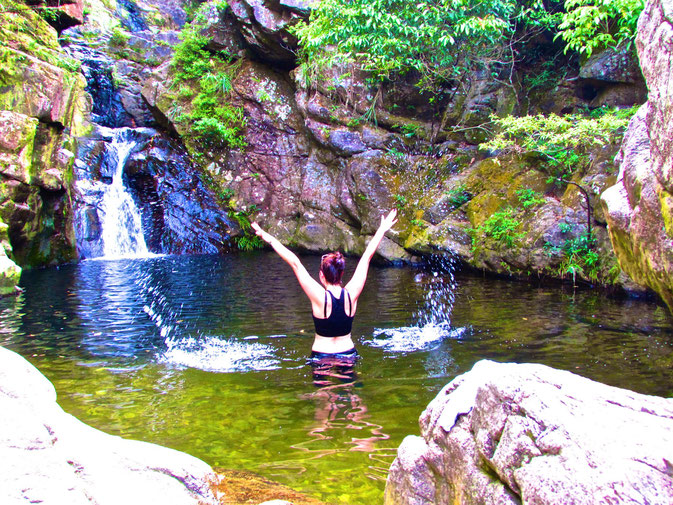 Because in Hong Kong, this is an actual activity! Get your water shoes on (I don't think that's an actual thing) and prepare to get wet as you discover the fresh flowing mountain water of HK.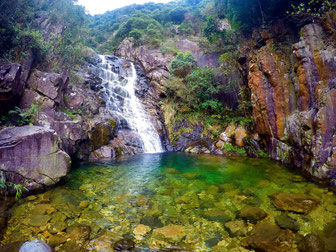 Yellow Dragon Waterfalls (Lantau) 
So, so, much beauty. But nothing this pretty ever comes easily. Bring an open mind, some shoes with a lot of grip and some friends – this one is not recommended to go alone. From Tung Chung MTR get a cab to the start (as that alone is a 45 min walk) and then start your climb up the wet slippery rocks. Honestly, I would recommend taking a guide. Wild Hong Kong are the best guys for this. This is probably one of the best hikes I've been on.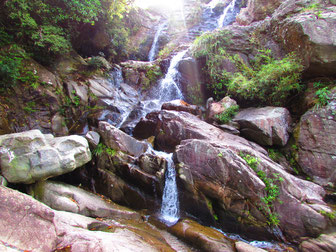 Ping Nam Stream
Another hard hike – but who's got time for anything less than an adventure – with some equally as stunning views and even some hidden infinity pools that look over to China. You need a whole day for this as it is quite far away from Central. But, trust me when I say it is worth it. I've written a whole post on this hike and how to get there.
Get Wild 
Who would have thought Hong Kong was home to one of the magical sea creatures around; Pink Dolphins. We've also got monkeys, wild pigs and porcupines.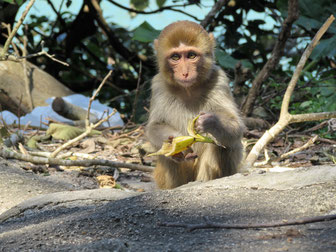 Kam Shan Country Park
Monkeys in Hong Kong? Yup. Lots of them too. Everywhere. Not going to lie, they are pesky little buggers, so don't have anything hanging out of your pockets that you don't want to be stolen. And certainly don't enter with food. There is also a lot more to Kam Sham Country Park than the monkeys. It's got a really nice easy- medium trail around the reservoir with views out over Kowloon and onto Hong Kong island. It is also so easy to get to and only takes about 30 mins from Central.
MTR to Prince Edward, then #81 bus to Kam Shan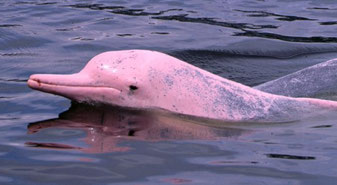 Pink Dolphin Watching
As if? Pink Dolphins in Hong Kong. I wish I knew that before I went all the way to the Amazon Rainforest in South America (jokes, you should definitely still go to the Amazon) Hong Kong dolphin watch organise boat tours around the waters of Hong Kong and beyond in search (of course in a protective way) of these magical dolphins. They are also the 'pinkest' pink dolphins in the world... if that's a thing?
Go to the beach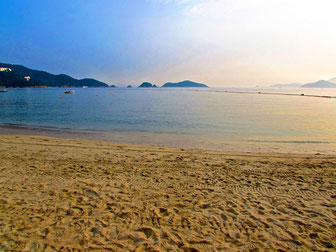 Repulse Bay
The closest beach from Central, with the added extra of white sand and coffee shops galore. Repulse has come into its self in the last year, and is now home to a thriving community with shops, bars and restaurants popping up at a phenomenal rate. Come here if you are looking for a beach day with lunch and a wander. Not if you want seclusion and to spend hours sun- bathing
Buses regularly leave from Exchange Bus Terminal from Repulse. #6 is most frequent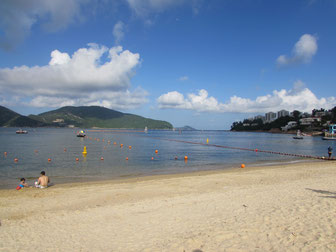 Stanley
Just a few miles on from Repulse is the fishing village of Stanely. Less touristy (only a tiny bit) but still with all amenities. The annual Dragon Boat Race is held here every year and it is quite the hangout for family and married expats
Most busses to Repulse also head on to Stanley. Again, catch one from Exchange Square in Central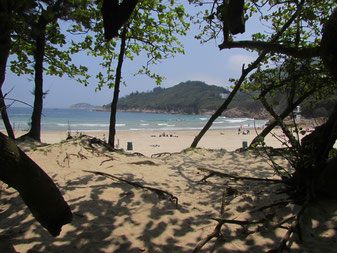 Big Wave Bay
The closest thing to surfing in Hong Kong you are likely to find. When the waves are right locals and tourists rent a board, and spend the summer months catching a wave. The rest of us lounge on the sand and buy ice-creams from local food shops. Big Wave Bay is most popular for a relax after you finish the Dragons Back hike.
MTR Island Line to Shau Kei Wan Station exit A3 then from nearby Shau Kei Wan Bus Terminus take number 9 bus
Wander and Explore
The list really could go on, there is so much to see beyond the skyscrapers. 
---
Sharing's caring
---
Become an English teacher in Hong Kong
---
---