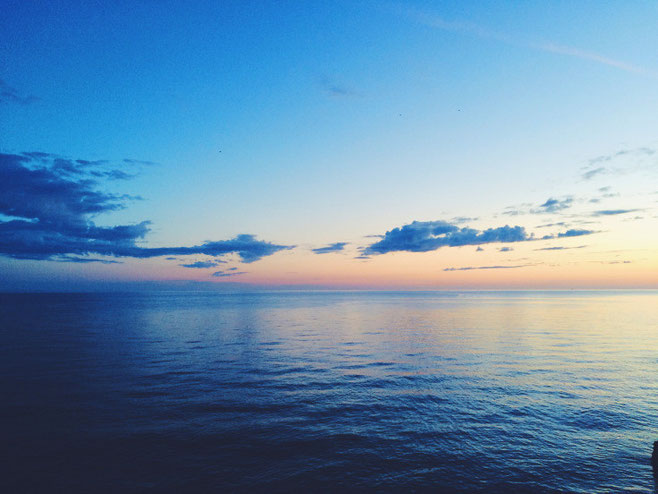 Croatia is the next in the series of 'How much money do you need to travel to ...' a collection of articles from myself and other travel bloggers highlight how much it really costs to travel the world.
Ines of atlasenchanted.com brings you the next one; a detailed view of how much money you can really expect to spend when visiting Croatia.
***
It was early 2015 and my best friend and I hadn't seen each other in almost a year (she lives in Germany, I live in Portugal). We wanted desperately needed to get some quality BFF time on the cheap, so we started planning a fun girls trip in Europe. With so many places we wanted to go, we finally settled on Croatia. Being the planner that I am, I started scouting for cheap flights and accommodation straight away. And, of course, I wrote it all down in my travel planner. So now I can tell you exactly how much I spent on my 8-day trip in Croatia.
Croatia is so vast and diverse; I knew right away that 8 days wouldn't be enough to see the whole country. So we focused on the Dalmatian Coast and decided to explore Zadar, Split, Dubrovnik and Hvar Island. If you want, you can check out our full itinerary here.
For one week, I discovered UNESCO World Heritage Sites, relaxed on the beach, climbed up lots of bell towers, experienced the island life and saw incredible scenic landscapes. And I did it all for less than €600.
Let me show you how I did it!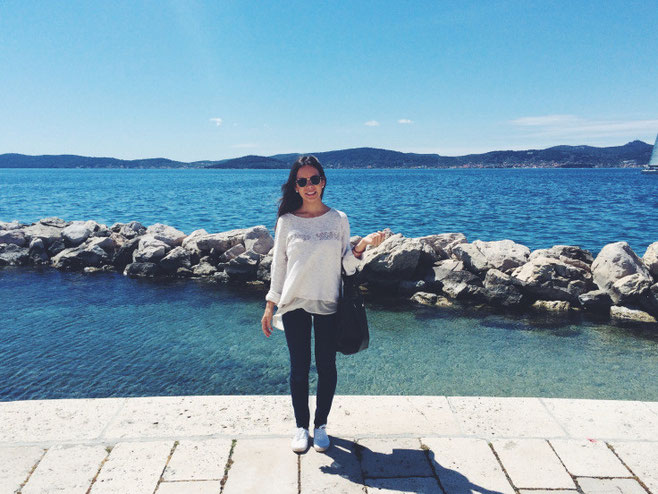 Flights
Flights are usually what make up the bulk of most people's travel budgets. But on this Croatia trip, my flights were one of the smallest expenses I had. This happened for two reasons.
First, because I chose to travel to Croatia during the low season. I was there between 28 April and 6 May, just before major nightclubs opened and the party scene hit most of the places I visited. 
Secondly, my flights were cheap because I was flexible with my travel dates and flight company. I didn't have to leave on a particular day so I was able to choose my departure date based on the cheapest flights available. And because EasyJet doesn't have direct flights to Croatia (or easy connecting ones) from Lisbon, I spent my days browsing through RyanAir's Fare Finder looking for the cheapest flights available. RyanAir also doesn't fly directly to Croatia from Lisbon, but I was able to fly first through London Stansted and then to Zadar.
In the end, I ended up paying just 70€ for my flights. While my first layover in London was just a few hours, my second one was an overnighter so I chose to spend the night in the city and do some sightseeing the next day before boarding back to Lisbon. 
Accommodation
Next up on the agenda was booking our accommodation. Now, let me just tell you: I'm not a backpacker – but I'm also not luxury-seeking tourist. I will pay a little extra for some comfort, but I generally stay in budget-friendly accommodation. In Croatia, I opted for hostels and self-catering apartments right in the city center. Sometimes, I paid a little more for the location – but that also helped me save a lot on transportation. (In fact, I never took a public city bus once.)
Zadar: I spent two nights in a private twin room at Old Town Hostel for €19 pppn. Located right in the heart of the old town, I couldn't have been better located. I walked everywhere – even to the bus central outside of the old town. 
Dubrovnik: Here, I opted for a small apartment in the old town. I expected things to be a little more expensive in Dubrovnik due to its popularity with tourists and Games of Thrones fans. Still, for a double bed ensuite apartment complete with a fridge and a small seating area, I only paid €26 pppn at House Tereza. The best part was how close I was to the action: restaurants were at my doorstep, the main attractions were a couple of blocks away and I could reach a few fun bars within just 5 minutes.
Split: I knew I was going to start missing my home-cooked meals soon enough (hey, I can't help it if I'm a great cook), so I wanted to make sure I stayed in at least one self-catering apartment. And Split was the perfect place to book it. I stayed at Beach City Pearl Apartments, just a 5-minute walk from Bacvice Beach and 15 minutes from the old town. It was still cheap (€15 pppn) and I saved even more by cooking my meals.
Hvar: On my last night in Croatia, I wanted to have a good time and meet other travelers. So I booked a private ensuite twin room at Hvar Out Hostel – a popular hostel for its great location and party scene. It wasn't the cleanest hostel room, but for 18€ pppn I was enough. The hostel receptionist also organized a night out with everyone and we got some pretty sweet deals at nearby bars.
In total, I spent roughly €123 on accommodation.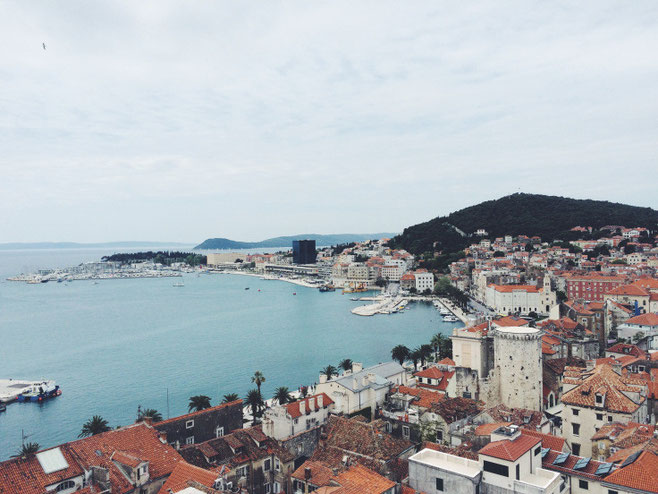 Getting Around
Like I said, I never took a single public city bus during my trip through Croatia's Dalmatian Coast. But I still had to get to and from the airport, hop from city to city and reach Hvar island somehow. So I did end up taking my fair share of taxis, buses and ferries.
Taxi: I'm sure I got a little ripped off, but I ended up paying a total of €30 round trip on my taxis to and from Zadar airport. It wasn't a long trip, but I did take one taxi at night so I'm sure it evened out in the end.
Bus: Buses were one of the main expenses on this trip. I wanted to hit up a lot of cities along the coast and the best way to do it was to take a bus. The six-and-a-half-hour trip from Zadar to Dubrovnik cost roughly €26, it took four hours and €16 to get from Dubrovnik to Split and another three hours and €13 to get from Split to Zadar. I'll also note that I never booked any of these buses before arriving in Croatia. I would usually purchase tickets one day in advance, but this is only advisable if you're traveling in the low season.
Ferry: The roundtrip ferry from Split to Hvar was the cheapest. Because it was the off season, there were only two daily ferries I could choose from. In the summer months, I think there are up to five daily ferries that run this route. For €10 – and with only purchasing my ticket 30 minutes before departure – I got from Split to Hvar and back in under an hour.
In total, it all came to about €95 on transportation, including taxis, buses and ferries.
Food & Drink
Now, I didn't write down exactly how much I spent on each meal I had while traveling through Croatia. But I know I spent roughly €250 on food and drinks during the 8 days I was there. I can divide it like this for you:
Restaurants: At a sit-down restaurant, an average meal cost me between €10 and €12. I didn't do this often, mainly because I was in full vacation mood and generally ate more throughout the day. In Dubrovnik the prices were a little higher, but still acceptable, averaging €15 to €20 per meal. (And God, was the food delicious! You have to try some mussels while you're there.)
Snacks/Quick meals: This is mostly what I ate while I was in Croatia. Baguettes and sandwiches were my best friends, to be honest. I snacked throughout the day, drank glasses of wine at 3pm, and ate lots of gelato. Because vacation, that's why. This was also relatively cheap: sandwiches and baguettes could go anywhere between €5 to €8.
Groceries: I had to do some research for you on this one because I'm not sure exactly how much I spent on groceries. But according to these guys, cost of living in Croatia in general is about 3% lower than in Portugal (and 33% lower than in the United States) which means things like groceries were a lot cheaper here. Yay!
In total, I spent about €250 on food and the occasional drink.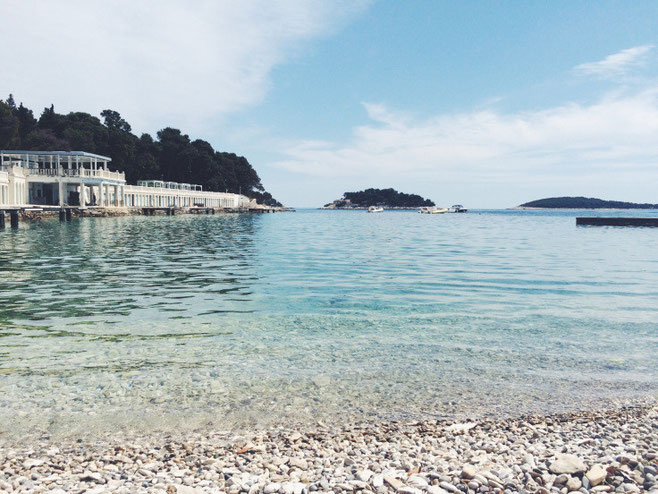 Nightlife
One down side of traveling to Croatia's Dalmatian Coast is that the night scene is pretty much nonexistent. The most popular clubs (like Carpe Diem in Hvar and Tropic Club on Bacvice Beach) are still closed, but that doesn't mean there aren't fun bars to explore.
I actually never set foot in a nightclub while traveling to Croatia but I did spend some evenings and nights in local bars (and even an Irish pub once!). Like I told you, I also randomly drank wine at 3pm some afternoons – again, because vacation. So, in all, I spent about €100 on alcohol while I was in Croatia. Here are the average prices for the most common drinks:
Glass of local wine: €2-€5
Glass of international wine: €5 and up
Domestic beer (0.5L): €7
Imported beer (0.33L): €7-€12
Activities
If you've checked out my itinerary, you know I did a lot of sightseeing while I was in Croatia. I wanted to get to know as much of the country as possible, and I didn't mind paying a bit more for that. While I generally love just walking around and people-watching, Croatia was a country I knew nothing about so I felt like I had to get to know its history a bit better. In every city, I visited a couple of historical sites. The most expensive (and touristy) thing I did was take the cable car from Dubrovnik to get a scenic view of the walled city below. The cheapest thing was taking the free walking tour through Hvar.
Here are all the attractions I visited and exactly how much I paid for each:
Zadar
St. Anastasia Cathedral and Bell Tower: €2
Sea Organ: Free!
Sun Salutation: Free!
Dubrovnik
City Walls: €15
Cable Car: €15 (roundtrip)
Split
Underground Chambers at the Diocletian Palace: €2.5 (with student discount; regular price is €5)
Bell Tower, Cathedral, Temple of Jupiter: €6 (combined ticket)
Hvar
Walking Tour: Free!
Hvar Fortress: €4
So, in total, I spent €44.5 on sightseeing. Not too shabby!
Summary
Croatia completely surpassed my expectations. From its incredible history to its glamorous islands, beautifully preserved old towns and gorgeous sea views everywhere – it was everything I wanted and more. The laidback vibe was perfect for my girls getaway and, best of all, it was incredibly cheap. I had a super fun time on Croatia's Dalmatian Coast. I did everything I wanted to do, saw everything I wanted to see and spent just €588 doing it. What more could I ask for?
---
---
You will also like:
---