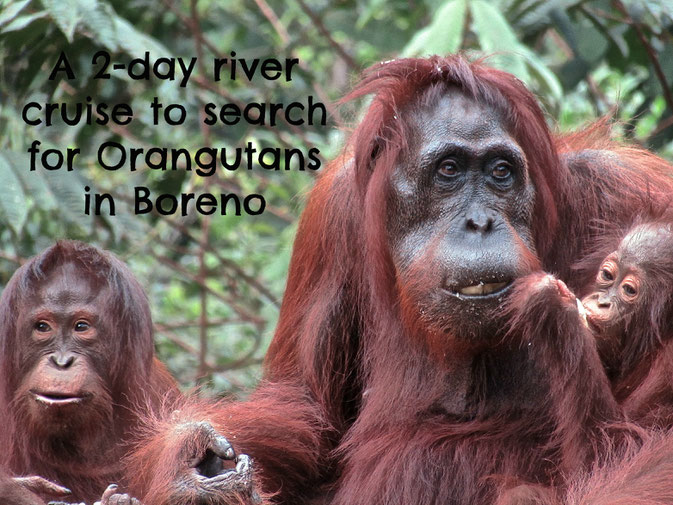 Borneo is the third largest island in the world, one of the most biodiverse, and 3/4 of it lies in Indonesian territory. So really, no trip to Indonesia would be complete without a visit to this natural wonder. Surrounded by rich waters and teeming with wildlife it's beauty is obvious, but what dominates this island is almost 400,000 square kilometres of ancient rainforest. And calling this rainforest home is one of earths most endangered species – the orangutans. So take 25 travellers send them to Tanjung Puting National Park, 4 boats and a lot of bug spray and what do you get? An epic 2-day boat adventure that's what.
How to get to Borneo Rainforest/ Tanjung Puting
The best way to reach Tanjung Puting National Park, Borneo is via air from Jakarta to Palangkun airport, for me, coming from Hong Kong, this total journey was only 5 hours. From here, the only way to get into the rainforest is by boat – and you have many companies to choose from. The place you want to go to see the orangutans is called Tanjung Puting national park.
---
---
Best Time To Go
March to December is the dry season, so you are likely to experience smaller amounts of rain. This is the peak time, and also the best time to see orangutans in the wild.
The Klotok Boat Cruise/Itinerary
There are day trips, overnight trips and multiple day/night trips to Tanjung National Park, but bare in mind that you will be sleeping on a mattress on a wooden 'klotok' boat – so if that doesn't make you feel comfortable, I'd go for the day trip. We chose to go for the 2-day and 1-night trip, to really get the full authentic jungle experience and give ourselves more time searching for orangutans. The first day was spent getting into the rainforest, during this time we got served a home cooked lunch and got to marvel our surroundings through the open-sided top deck. Boats can hold up to 10 people, but ours only had 5 of us (not including the staff) this gave us ample room, and a much more comfortable experience than some of the neighbouring boat. The river is narrow at the start, so only one boat can go along at a time, setting a slow pace and giving us the opportunity to look out for wildlife while enjoying a break from the pounding sun. It gets HOT in Borneo during summer, sweltering hot. The kind of hot that is hard to enjoy, this is why a boat trip makes so much sense. The breeze makes it all that more bearable and provides a constant shade from the sun. All meals are provided on the boat, as well as bedding and water. You will need a few more supplies, but let's get onto the main event first.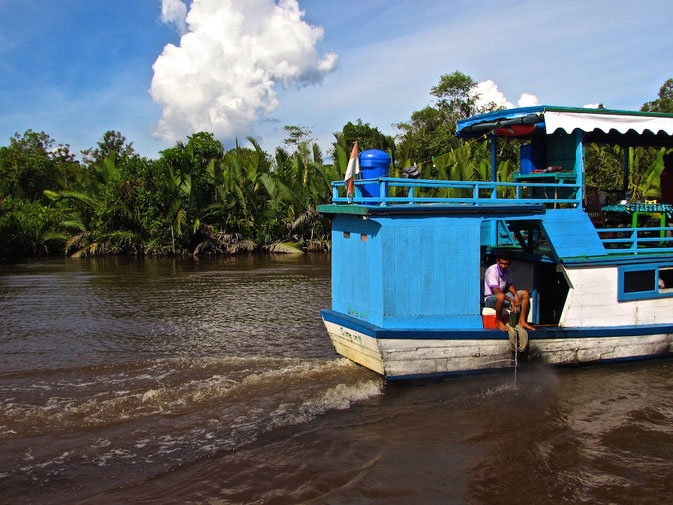 ---
---
Orangutans in Tanjung Puting National Park
The largest tree-dwelling animal in the world and known as the 'man of the forest' orangutans have long been an object of mystery and intriguement, and I have to admit, I didn't think I'd ever have the opportunity to see them in their natural habit. These apes are entirely designed for life in the trees, feasting on fruit, leaves and insects with the ability to be as sociable as unsociable, so sightings are not guaranteed. These skilled climbers have arms that span two meters and share 97% of our genes with certain traits being completely uncanny. Orangutans used to be found across South East Asia but now Borneo is one of their last refuge. We went to Camp Leaky – located in the Tanjung Puting Reserve (now National Park) in Central Borneo to watch these amazing creatures in their natural habitat. Camp Leakey was established in 1971, here orangutan, proboscis monkey, gibbon and leaf-eating monkey behaviour and ecology are studied, as well as orangutan sign language abilities and cognition, leech behaviour, and river system ecology. This is one of the only place in the world you can observe orangutans in their natural habitat. The young spend the first 9 years of their life under the watchful eyes of their mothers, and we managed to see dozens of babies clinging firmly on to their mothers. Camp Leaky is home to a few hundred orangutans and during our two days we must have seen over 20 or 30 swinging from trees, eating bananas, and playing around. This is something impossible in any other parts of the world and we were very lucky to see these amazing creatures in the wild.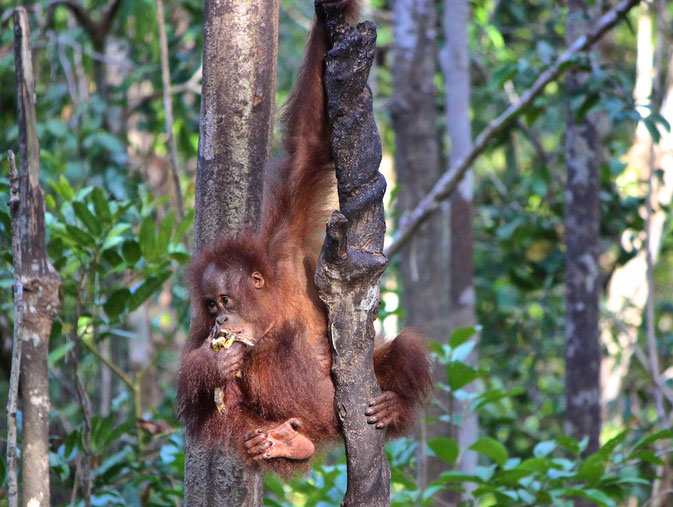 How much does it cost/ what you need
The klotok boat experience, including entrance fees, food, beverages, cook, guide and boat captain for 2-days and 1-night costs 4million Rupiah (Indonesian) which is approximately $300usd. We booked through Orangutan days, who I couldn't recommend enough. They catered to our every need and supplied us with an abundance of fried bananas – which is a must for any rainforest boat adventure right?! Take a look at a more detailed itinerary here. Please note, that price is for a minimum of 6 people. If there are less of you the price will be higher, or you may want to look at doing a one day boat tour.
Make sure you bring
Insect repellent

Sun cream

Trainers/hiking shoes

Water bottle

Warm clothes for night

Towel

Baby wipes/dry shampoo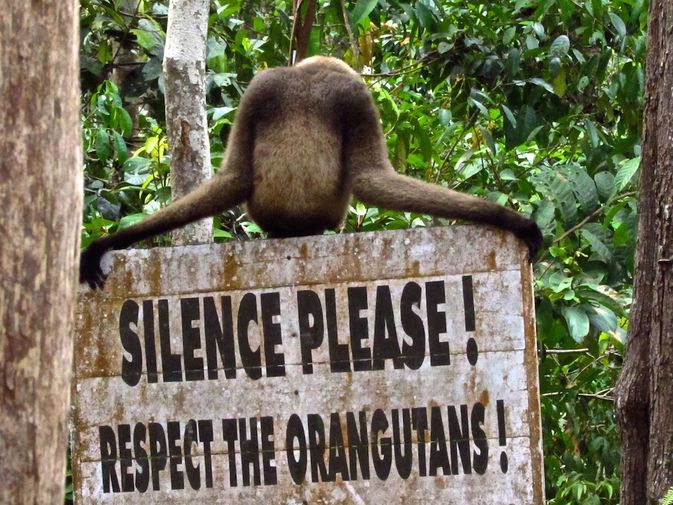 A massive thanks to the Indonesian tourism board for sponsoring my once-in-a-lifetime orangutan adventure. You guys rock! Take a look at the hashtags  #TripofWonders and #WonderfulIndonesia to see some more of my photos and the 25 other awesome bloggers I took this trip with.
---
See more photos of Borneo over on Instagram
---
Want to be an English Teacher in Indonesia? Get your TEFL here

---
You will also like:
---