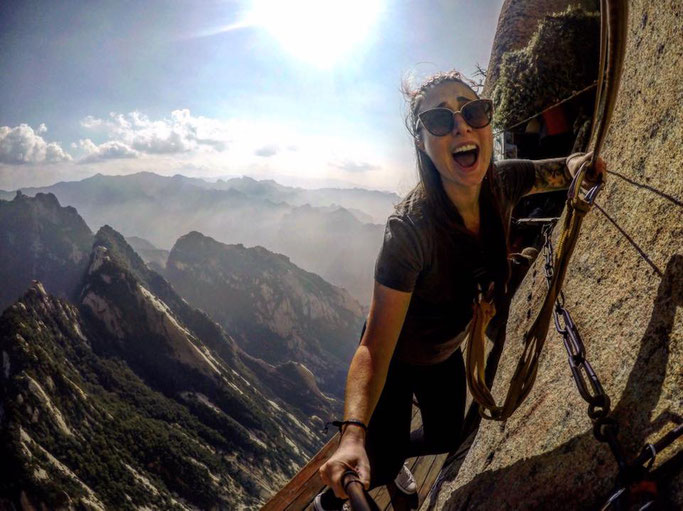 Every now and then I find myself hanging thousands of feet in the sky with just a rope and a eroding plank preventing me from plunging to my death. And I can still take a selfie. All in the life of a solo female travel blogger hey!? 
I'm glad you've found this article, because you really need to hike the world's most dangerous hike in China and here's everything you needed to know: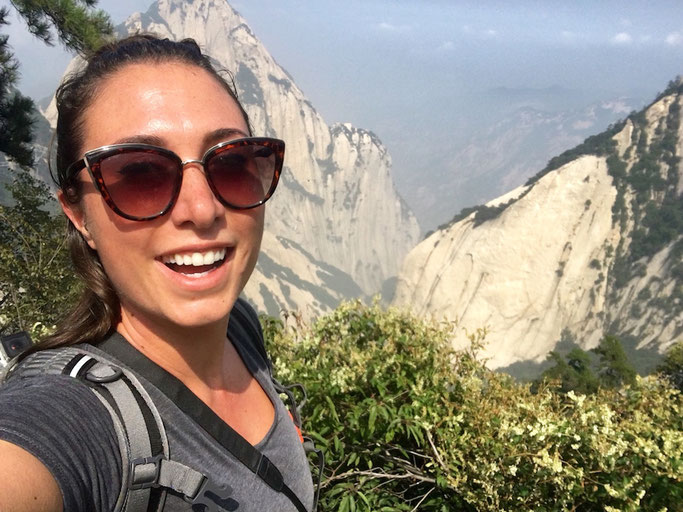 Tell us about Mount Huashan...
The 2154m tall Mount Huashan is considered to be one of five sacred mountains in China, and locals know it as the "most precipitous mountain under heaven". Pilgrims, monks and nuns have inhabited the mountain and the surrounding area using a network of dangerous and precipitous trails to access the five summits. The paths have been reinforced due to a recent influx of tourists, but they are nonetheless dangerous and carry a reputation for fatal falls.
In some places, the locals have carved stairs into the mountain, in others, there is little more than an iron chain to secure yourself from falling. It is now known as the 'plank walk in the sky' and flocks of adrenaline seeking tourists come here from all over the world to attempt to hike on the eroding planks that soar over 2,000m above the ground. Just look at the pictures, I think you can see why it's the most dangerous (terrifying) hike in the world!
Is it scary?
Hell yes is it scary! It doesn't hold that terrifying name for nothing. BUT, it's exhilarating, exciting and just about the best thing I have ever done. There is nothing to prepare you for the sheer about of adrenaline and sense of achievement you feel once you have completed this notorious trail!
Will I die?
No. Although no official statistics are kept, some say that the number may be as much as about 100 fatal falls a year. However, rumours circulate that this may be more because of selfie sticks than the actual mountain. Note to self. Put your GoPro on your head.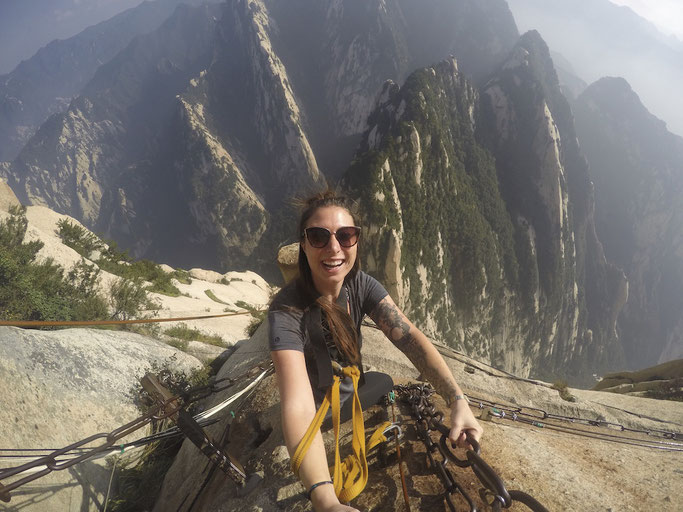 How long does it take?
An ancient Chinese legend states that there is only one true path up Mount Huashan – the 12km trek rising 1,800m that took 3,000 years to build. This is where you begin; however, many of the locals opt for a cable car up. For the adventurers, walking to the top makes it all the more rewarding! We walked from the start and it took around 3 ½ hours to get to the "plank in the sky" with a lot of rest and photo stops. Once you are on the plank you will most likely have to wait in line for a while. It's only a one-way system, so those that go across must also come back. This is where it gets real dangerous. You have to literally climb over people, on a single plank, to get back to 'safety'. The plank walk, depending on the people, will take another hour.
Then you've got to get back down. There is an option to take a cable car if you are feeling tired, but believe me, once you have finished that plank walk you think you can conquer anything, and I kid you not, we pretty much ran down the rest of the mountain. Give yourself a whole day for this, take it slow, enjoy the view and take in this once in a lifetime experience.
What do I need?
I'm not one to plan trips very well as I love going into the unknown and actually prefer to do no research at all. Which, until now, hasn't done me too badly. But when about to embark on a potentially life threatening hike this is not advised (if only I had someone to tell me that before I decided to go in blind). So see me as your fairy godmother and learn from my mistakes! Tip number 1 – DO NOT do the hike in Converse. Although maybe I proved that you can, I highly recommend you don't. You'll also need:
Good physical and mental health
Good hiking shoes
Backpack
Water bottle
Suncream
GoPro
---
Become an English teacher in China

---
How do I get to Huashan Mountain?
You're going to need to get a flight to Xian and then take a high-speed train (30-40 minutes) from Xian North Railway Station to Huashan North Station. There are green minibuses picking tourists up outside the station to the mountain for free. Or take a normal train (1.5-2 hours) from Xian Railway Station to Huashan Station. Take bus 608 to Baoliandeng Square (Huashan Shengtai Square), which is near the entrance. Alternatively, you can arrange private transfers from your hotel.
What else do I need to know before I go?
You need a visa to enter China. Apply at least 10 days in advance.
China blocks A LOT of websites you use on a day to day basis (Facebook, Google etc), but you can get around that by downloading a VPN before you go. Make sure you do it before you go though, as VPN websites are also banned.
Ladies, toilets in this area are nothing short of horrific. Take toilet roll with you wherever you go, and practise those squats.
Few people speak English. Hire a local speaking guide if you want to take more off the beaten track routes.
Make sure you also visit the Teracotta Warriors while in Xian and the Muslim Street market
Now watch exactly how I did it..
---
Share with anyone you want to do this hike with
---
---
You will also like
---