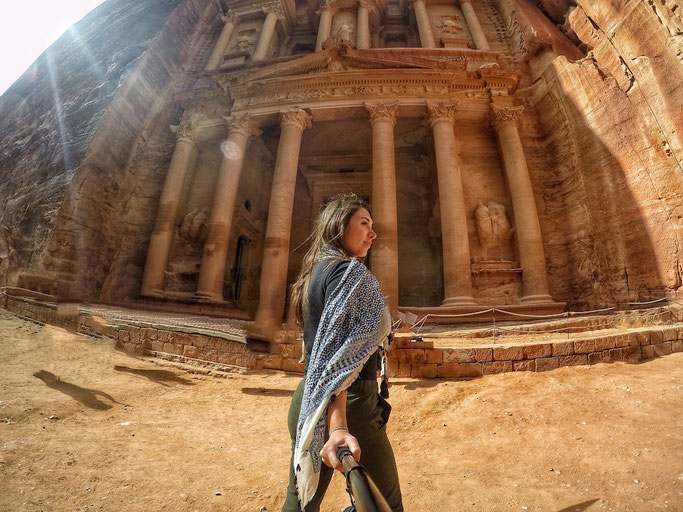 The lost city of Petra in Jordan should be on everyone's bucket list. As voted as one of the new 7 wonders of the world, I went along to see if it lived up to it's hype (spoiler alert it REALLY did). I opted for a 3-day tour leaving from Tel Aviv and touring through Amman, down to Petra and Wadi Rum. Here's everything you need to know before visiting the world-famous PETRA, from how to get there, whether you should take a tour and tips for when you're inside.
You need a visa for Jordan (and it'll cost you)
Everybody needs a visa to enter Jordan. Most nationalities can get one on arrival but some will have to apply in advance. Check if your nationality needs to apply in advance here.
REMEMBER:
You can obtain the single-entry visa on arrival at any point of entry into Jordan, except at the Wadi Araba border crossing and the King Hussein (Allenby) Bridge on the border between Jordan and the Israeli-occupied West Bank. No Jordanian visas are issued at these crossings (apart from to Israeli tourists), and if you attempt to cross without one you will be turned back by Israeli immigration officials before departing Israel. To enter Jordan at these border crossings you must hold a Jordanian visa obtained in advance, either from a previous visit or by contacting the Jordanian Embassy in Ramat Gan (Tel Aviv).
Single-entry visa on arrival: JD40 (around £40GBP)
However, there is a way to get around the visa payment:
The Jordanian Government has waived visa fees for all non-restricted nationalities coming through Jordanian tour operators whether travelling individually or in groups. The visa fee is waived on the condition that the traveler/travelers spend a minimum of two consecutive nights in Jordan.
For this trip to Jordan, as I came through a tour, I didn't need to pay for a visa from Allenby. You cannot obtain a visa at Allenby if you are coming without a tour group. This should be considered when deciding the next point....
ALSO. You will need to pay an exit tax of 100 shekels when leaving Israel. No way out of that, so make sure you have enough shekels left. (You also need to pay 10JD when leaving Jordan if you are returning to Israel).
To tour or not to tour
Whichever way you look at it, it isn't cheap to visit Petra. The entrance fee alone is 50JD (£50GBP). But you do have a choice whether to make it more affordable,or not, by taking a tour or going at it alone. I took a 3-day tour with Abraham Tours in Tel Aviv which cost $488 USD. This included:
- Full transportation to all sites
- Full Guiding
- Visit to Jerash
-  Driving tour of Amman
- Entrance fees and Visa fee
- 4x4 Jeep tour in Wadi Rum
- Accommodation in Bedouin campsite
- Meals (lunch and dinner on first day,
breakfast, lunch and dinner on second day,
and breakfast and lunch on third day.
 How much does it cost to get into Petra?
A one-day ticket costs JD50 (about £50) per person, a two-day ticket is JD55 and a three-day ticket JD60. If you're on a day trip and not staying overnight then the price is JD90. 
So, can you save $$$ by not doing a tour?
No. Because you will still need accommodation and food, as well as transportations. HOWEVER. If you are not bothered about going to Wadi Rum and Amman then going solo to Petra will be ALOT cheaper. But remember,again, you can't get a visa at Allenby, and you will need to pay it if not coming with a group.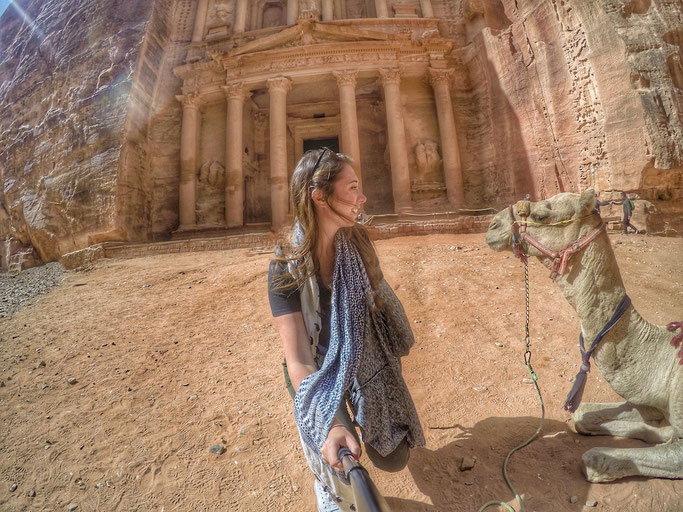 Get there early to avoid the crowds
When is Petra open?
The ticket office is open from 6am to 6pm in the summer and 6am to 4pm in the winter, and Petra closes around sunset. 
When should I get to Petra?
As early as possible! Try and be there for when it opens and be the first one in. Come on, you can deal with the early morning. If you REALLY can't, get there just before it closes around 3pm and get the last hour there, although you will miss the rest of it and only be able to see the treasury.
Give yourself AT LEAST 6 hours. And hike to the Monastery!
People, do not rush Petra!! Give yourself the whole day, but if you can't do that, give at least 6 hours.
Should I hike to the monastery?
YES. YES. No doubt in that. It's worth every sweaty step. You can always take a donkey or camel up if you can't face the walk (but I don't agree with the way the animals are treated personally). 
It really isn't that hard. Make sure you have some good walking boots.
Petra by night
I didn't actually do Petra by night, as by the time we got back to our Bedouin tent it was past 6pm and getting very cold, so we chose to sit by the fire and drink tea all night. Petra by night is a collection of candles set up by the Treasury illuminating it in the most spectacular way! It starts around 8:30 and lasts around 2 hours ( the walk to and from the Treasury is around 30 - 40 mins) and costs 17JD. For more information on Petra by night check out my friends over at Getting Stamped.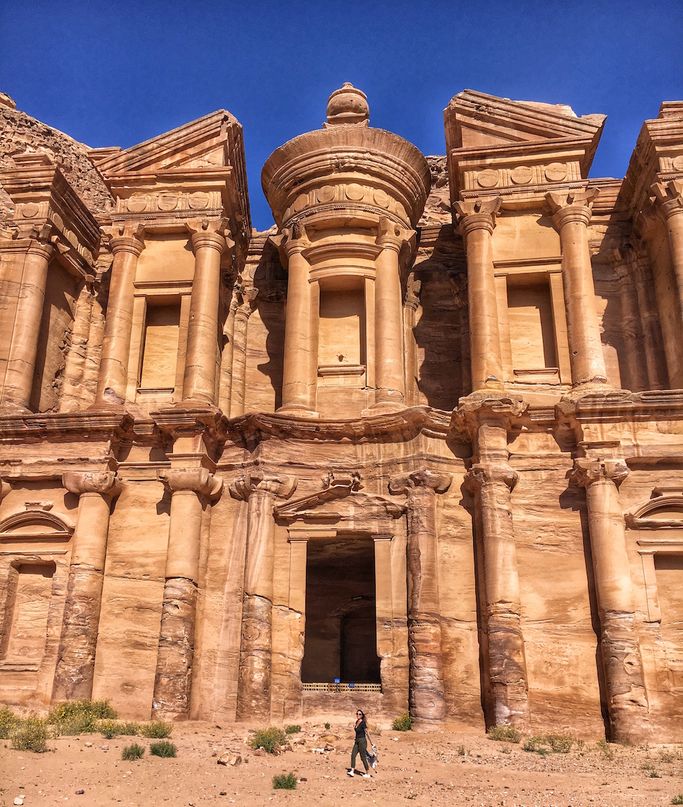 Explore the rest of Jordan
Jordan has to be one of my faviourte countries in the world. There is nothing about it I don't love. I got extremely fat while travelling Jordan as I just couldn't get enough of the food. I mean, hummus for breakfast, DREAM! But a common question I always get asked is "Is Jordan safe for solo travellers?"
The answer? YES. I feel so passionately about it I wrote a whole blog post on it here.
Amman is such a cool city, and was nothing like I expected. The cafe culture there rivals many other 'trendier' cities. I spent days exploring pretty much every coffee shop I could in Amman and was seriously impressed.
Then you have Aqaba in the South of Jordan, one of the best places in the world to scuba dive! You could spend weeks in this cute seaside town relaxing diving and eating. And of course you have to head back to Tel Aviv at some point and do a walking tour of that amazing city!
Jordan, I've just scratched your surface. Expect me back many, many more times!
Oh, and Tel Aviv you are an awesome city too! There are so much to do in Tel Aviv!
But that's just a few of my tips. See 10 more here:
---
Share the Petra love
---
You will also like