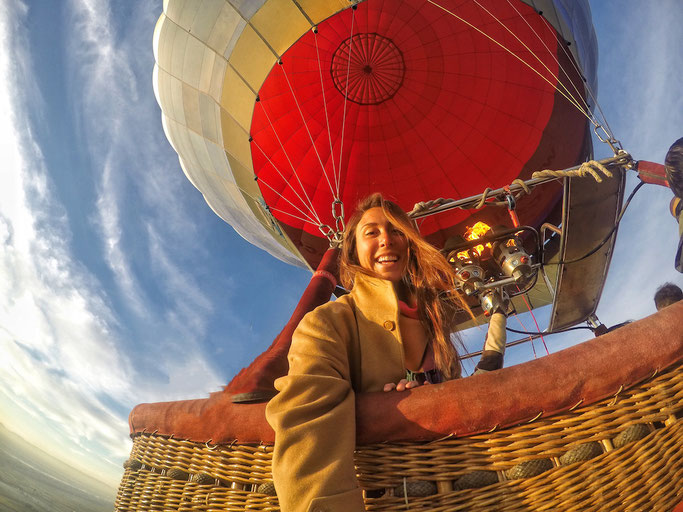 Luxor is an absolute must visit on your trip to Egypt. I only got to spend 24 hours there, but still managed to cram in all the top sites (you're going to have to wake up early guys). While I would have loved to have spent more time there I was impressed at how easy it was to get to all of the tourist hot spots without taking an over-priced tour. Here are my recommendation on seeing the best of Luxor in just one day!
Take a hot air balloon ride
Start your day in Luxor the most magical way; on a hot air balloon! There are only a few places in the world you can float above the clouds with such spectacular views (this one comes close to Cappadocia) and there is no where in the world you can get a birds eye view of centuries of history. A hot air balloon ride in Luxor is a must do. Prices fluctuate from season to season (welcome to Egypt) we paid 1000LE for our ride (approx $50) but they can go as low as 300LE. The package includes a boat ride along the nile, transportation to the site (and back) where the balloons take off and a 40 minuet balloon ride. You will be picked up from your hotel at 6am and be back around 8:30am just in time for breakfast!
Price: Between 300 - 1000 LE
Walk to the Luxor Temple
If you are staying alongside the East bank Nile side you have a lot of history just footsteps away. After a fair few cups of coffee start walking to my faviourte temple in Luxor: The Luxor Temple. Built in 1390-52 BC the temple has been in almost continuous use as a place of worship right up to the present day. The temple is one of the best preserved of all of the ancient monuments with large amounts of the structure and  carvings still intact, making it one of the most impressive visits in Luxor and all of Egypt.
Price 60 LE
Catch a ride to Karnak Temple
It is about 10 minuets between Luxor Temple and Karnak Temple by car - or you could take a leisurely horse and carriage ride there instead? Karnak Temple took over 2,000 years to build and a majority of it stands tall and proud today, centuries later. Second only to the Gaza Pyramids in popularity, Karnak Temple wows thousands of visitors a year with its history and preservation. The largest temple in Egypt, you cannot come to Luxor without visiting!
Price 80LE
Ride along the nile to the valley of the kings
It's time to hop back on a boat and ride along the Nile to the West Bank. You can haggle with the boat captains for a cheap price, or even a package. We managed to haggle a price of 150LE for a ride on the boat there and back and a car to the Valley of the Kings who waited for us outside to then take us back. A pretty good deal I think. The Valley of the Kings is most famous for housing Tutankhamun corpse and coffin as well as a royal burial ground for many more pharaohs. To be honest, I found it quite under-whelming after the magic of the Luxor and Karnak temple. Tutankhamun's tomb is small and it is hard to imagine how it really looks now there are wood platforms everywhere protecting it. However, it is still worth the visit to appreciate the sheer love and power these pharaohs received and  walk around the valley. If you are going in summer it gets HOT. I visited in January and it was already getting very warm. I cannot imagine it in summer.
Price: 80 EGP  Tutankhamen's Tomb: Regular: 100 EGP 
Eat a camel burger
Yup, you read that right. CAMEL BURGER. Some of you may not agree on this last activity but I caved into my curiosity and gave it a try. All in the name of research. We headed to Al-Sahaby Lane Restaurant that was recommended on Trip Advisor in the evening to reful on some Egyptian deliciousness. Unfortunately, the camel burger was pretty awful, and just tasted like dry beef, but luckily the rest of the food was great and we enjoyed a local feast. Check out my vlog on the experience here
Price 150 LE for a feast
To tour or not to tour?
To be honest, I'm not too keen on tours in Egypt. While they can be good value for money they are rushed and packed. I came to Luxor to see a friend and we preferred to take our time, and stop for MANY coffee breaks rather than rush from one place to another. We still managed to get everything done and more than we would on a tour, and really enjoyed our own pace. Make sure to haggle with the boat and taxi drivers (not the entrance to the sites, they are fixed). Luxor is a truly magically place and I know you'll have an amazing time whatever you do. Let Egypt surprise you.
Check out more Instagram photos of my day in Luxor here and follow along at facebook.com/coffeewithaslice
Watch 24 hours in Luxor here
---
You will also like