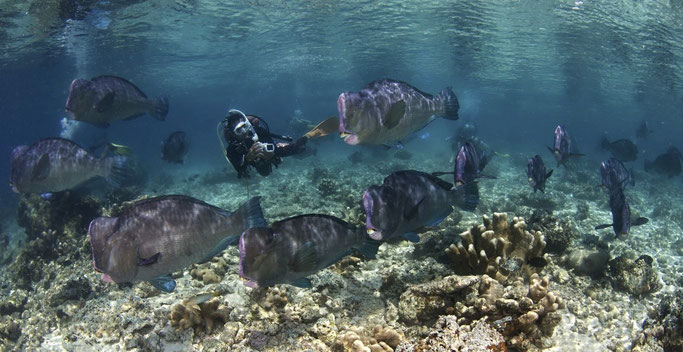 If you are anything like me, you have a scuba dive bucket list, and I'm pretty sure Sipadan in Malaysia is quite high on that list! I'm right, yes? Thought so! I remember when I first heard about Sipadan and spent hours researching about this underwater heaven. My research, however, lead me into a black hole of confusion. How the hell do I get there? What are these permits you talk of? So, I thought I'd compress all the CORRECT information, along with the help of my friends at Asia Diving Vacation, so you can get to your dream dive destination smoothly!
Best Time to Visit
The best time is during the dry season which is from March to October. High period is in July, August and first week of October. Temperature is around 26°C - 34°C (78°F - 93°F) during this period.
Can you travel to Sipadan solo?
Of course, you can! But really, the question should be can you go scuba diving solo in Sipadan? Then obviously that answer is a no. You should never go diving alone, so you will need a dive buddy. However, this doesn't mean you have to travel with one. All dive shops on the island will buddy you up with one of their staff, and boom, you've found yourself with a new underwater friend. 
For more tips on solo travel take a look at my tips, tricks, and secrets here
What can you see underwater in Sipadan?
Sipadan is a frogfish lover's paradise, with giant, painted, and clown frogfish seen on a daily basis. Then you've got leaf scorpion fish, dwarf lionfish, and crocodile fish. Also stonefish, stargazers, devil scorpion fish, and flying gurnards. Pipefish are common finds, from mushroom coral to many-banded to harlequin ghost pipefish. Oh, and don't forget pygmy seahorses
Also home to one of the greatest populations of hawksbill and green sea turtles on earth, you're likely to bump into one or two on your trip.
And if you're looking for big schools, expect tons of jackfish, barracudas, groupers, and bumphead parrotfish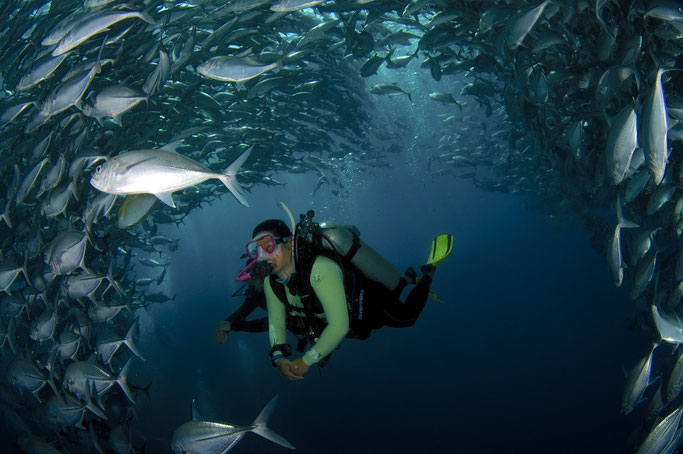 IMPORTANT: Permits
Diving at Sipadan Island requires a permit. This is what Asia Diving Vacation say about permits:
 There is no other way to dive here without the permit! There is a quota of 120 permits issued daily by the government authority.
These 120 permits are allocated to 12 resorts operating in the area based on the size of the resort. The permits are not allocated to individuals directly. Application of these permits is through the resort that you are staying at and the resort will assist with this.
The "big 4" resorts that have the biggest allocations are listed below. 
Sipadan Mabul Resort and Mabul Water Bungalows
Sipadan-Kapalai Dive Resort
Borneo Divers Mabul Resort
Sipadan Water Village
*Diving at other nearby islands will not require these permits.
For more information on Sipadan, like how to get there and what dive resorts to dive with, I'm going to hand you over to my buddies at Asia Diving Vacation who are the experts when it comes to everything Sipadan. They've created a handy guide to visiting Sipadan Infographic which you can download, and is FULL of information on diving and the island!
So what are you waiting for?
---
You will also like