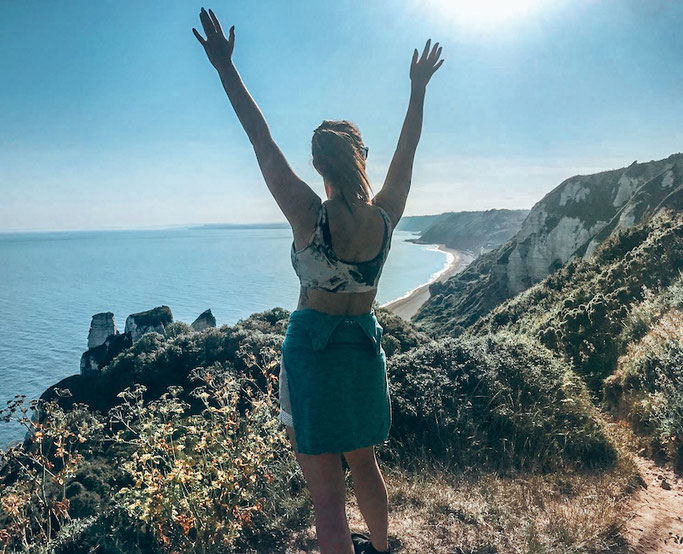 Devon in the UK, has some of the best walks in England with some incredible costal views and paths. I'm so excited to share with you all the best walks and places to go in Devon. Staring off with an amazing walk from town to town, Branscombe to Beer.
Read also: Valley of the Rocks Walk, Devon
Beer and Branscombe Villages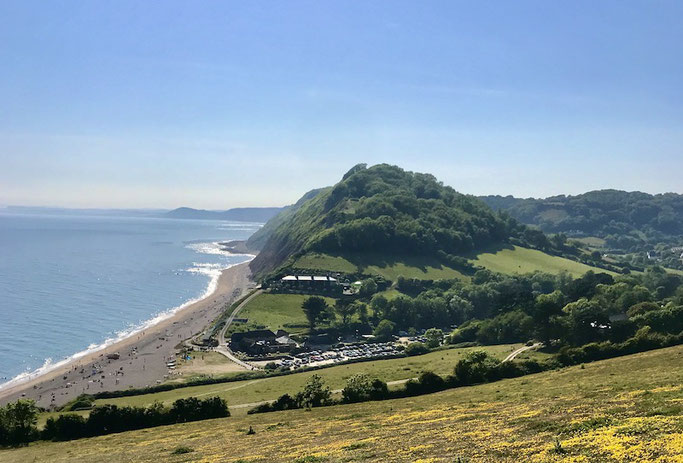 These two beautiful towns are best seen by foot along the costal path with soaring cliffs, sparkling seas and a few cows along the way! In parts of this walk you won't quite believe you are in England as some of the views rival the Caribbean - trust me!
Branscombe is a village tucked away in a valley that runs down to a beach on the famous Jurassic Coast, there is a timeless magic about this old village that will suck you in and make you want to stay!
Beer village (nothing to do with the alcoholic drink) has been recognised as the "best village in Britain" - a quintessentially English place for spending holidays, weekends or just a day away from the hustle and bustle of the outside world. 
Branscombe to Beer coastal walk
 The walk is well signposted across the whole trail so it's hard to 'go wrong'. From the car park head upwards with the sea on your left and the holiday park on your right, then you're on the right path!
Continue along the Branscombe Mouth footpath to the sea front and then take the 'Coast Path Beer 2m'. Continue along the public footpath towards Beer. Pass through the gated cattle pen and across a field. You will see Beer come into view from above.
Sit on the beach at Beer, relax and have a swim! Then when you are ready to walk back there are 2 options:
1. Take the route back you just came from
2. Walk along the beach back on yourself from where you just came (towards Bramscombe) and after about 15 mins of walking will bring you to a small opening in the trees in the cliff. You have to look carefully for it and it is not sign posted. It is impossible to walk around the whole of Beer Beach, so don't continue if you cannot find it. Make sure you are walking against the cliff rather than on the shore so you can find the opening! This is a beautiful path and leads you on a under-cliff path and up towards  the cattle pen gates eventually to finish off the walk to Branscombe car park!
Start: Start: National Trust car park, Margells Bridge, Branscombe
End National Trust car park, Margells Bridge, Branscombe
Distance: 6 miles (9.6 km)
Time: 3 hours
What you will see on the walk from Branscombe to Beer
An amazing walk and sceneary! Definitely one of the best things to do when in Devon!
---
---