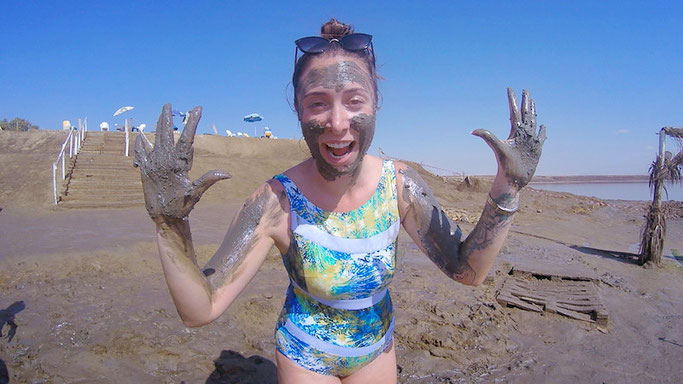 I've crossed the border about 4/5 times from Eilat in Israel to go onto Egypt - from Dahab and beyond and each and every time has been different, but here is what usually what happens when you cross the Israeli border toe s get over to Egypt landing in Taba and what you'll need.
Getting to Eilat/Taba border
Presumably you are staying in Eilat town and you already know the border isn't all that close to where most of the hotels are. It isn't far, but it's not walkable distance. It will take around 20 minuets from the town to the border via taxi and will cost you between £14 - £17. Alternatively you can take the line 15 bus which will take 30 minuets and cost just £3. The bus leaves from platform seven at the central bus station on the hour from 8:00 am to 9:00 pm weekdays, until 3:00 pm on Fridays and 9:00 am to 7:00 pm on Saturdays, according to the Egged website.
Once you are at the border
You will have to walk through Israeli exit side - get checked, a lot of times and pay an exit fee of 100 ILS + 5 ILS surcharge. There is no avoiding this, so make sure you have enough cash on you. You will get a receipt once you pay. Keep it.
From there, you will continue to another window where border agents will ask you where you intend to go and how long you plan to stay in Egypt before they waive you through to the duty free.
When it comes to Israeli exits/entries, this is one of the easier ones, it is NOTHING like the airport. You will be asked a few questions, but usually they don't have much interest in what you want to do in Egypt.
Arriving into Egypt/ Egypt visa
Once you've been allowed into Egypt it is smooth sailing. You'll have to go through security all over again, but with less questions and less checks, you will then have to fill out a visa form and hand it to the staff. Visas are free for 14 days if you stay within Sinai. So no further South than Sharm -sheik. Basically if you are staying within Taba, Nuewbia, Dahab and Sharm.
You will get a entry into Egypt stamp, saying entry point Taba. You have to get this stamp. Some people have asked whether it shows you have come from Israel and therefore counts as an Israeli stamp (some nationalities aren't allowed into some countries with an Israeli stamp) and honestly I'm not sure at all. I haven't tried to enter a country where a Israeli stamp is not allowed.
If you want to go out of Sinai you have to get a Egyptian tourist visa which you can only get from the Sharm el-sheik airport. It costs $25 which must be given in USD. You can go and get it any time of the day/night. It is a single entry visa vaild for 30 days. There is continually talk of Egypt creating an e-visa to make this process a lot easier, but as of now there still isn't officially one.
Getting to Dahab
Now you have finished with security you are in Egypt! Welcome to one of the best countries in the world. But how can you get to Dahab? Well, you want to have pre-arranged a taxi! You will have arrived into the sleepy port of Taba where no taxis wait around for the few visitors that arrive each day, and there are very few irregular busses that leave whenever they want. To me, a public bus was never an option. Taxis are cheap and safe. Bare in mind I travelled Egypt alone.
Arrange a taxi from the hotel you are staying at in Dahab. It should cost you around $25. If you aren't staying in a hotel that offers that service join Dahab news & talk Facebook page and ask in there and you'll get a ton of offers. Make sure you pre-arrange though, there aren't going to be taxis waiting around. 
The journey from Taba to Dahab will be around 2 1/2 hours. There is a small exit fee when travelling in a taxi around 100LE (subject to change. Because: welcome to Egypt)
Staying in Dahab
Dahab is CHEAP for tourists. You can get a nice double room in a hotel for $15 a night! There are plenty of hotels and hostels. I usually stay in Red Sea Relax which I really recommend as it is big, clean, has a pool and right on the beach ready to dive right in!
Is it safe to travel to Egypt as a female?
---
---
You will also like
---