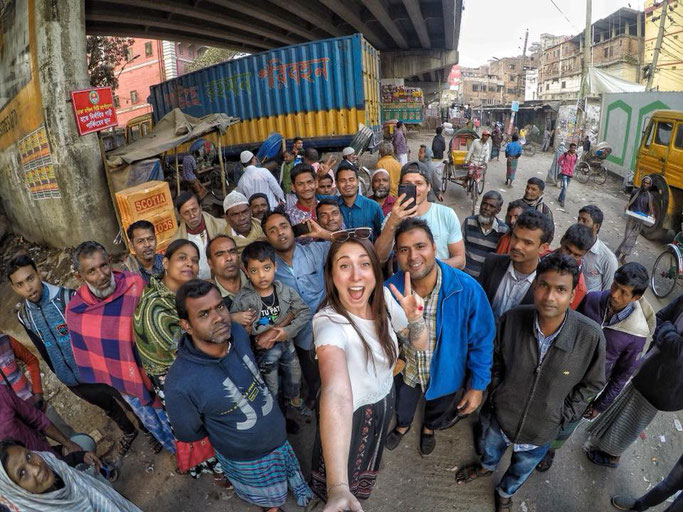 And is it safe to travel as a women?
Bangladesh is not known as a touristy destination, in fact, Bangladesh is not known for anything to do with travel. It's neighbours India (who, at one point were part of the same country) seems to get all the tourists. But why not Bangladesh? Do people think it is dangerous? Not worth travelling to? Is Bangladesh safe?
Well, I guess there was only one way I was going to find out if Bangladesh is safe. It was time for me to travel to Bangladesh.
For those of you that don't know me, I'm a white British travel blogger, who mostly travels alone. However, for this trip I joined Tom, another travel blogger, to explore Bangladesh with. Would I still have gone alone if he couldn't make it knowing what I do now? 100% yes. 
I felt incredibly safe in Bangladesh as a female and never once intimidated or uncomfortable. I have travelled to many countries, and I'll be honest I felt more un-safe in my home country at times than I did in Bangladesh. 
The people are Bangladesh's biggest asset; they are so incredibly kind and caring.
Not many tourists come to their country, so when they do, the only thing they want from you is a selfie. We never got asked for money unlike in many other poor countries I've travelled too.
Not everyone talks English in Bangladesh, but those who do, you will know about it. They want to come up to you and practise their English, which most of the time is just "Hello, how are you?", however you will find a lot of more-educated Bangladeshis who do speak very good English; usually they will be working in the hospitality industry in and around Dhaka (the capital city). Those are usually fluent in English. 
Like most large countries there is a big contrast from poor and rich. We saw both sides of Bangladesh, but I can honestly say we weren't treated any differently by people with more or less money. 
Let's get one thing straight about Bangladesh though; it's CRAZY! It's a sensory overload and it will drain all your energy. There are so many people, all staring at you, wanting to take pictures with you, so many colours, vehicles, noises. It's exhausting. I didn't say it was going to be an easy ride - the question was is Bangladesh safe!?
Safety concerns
People harassing you: They will not harass you, they just want to come up and talk to you. And also take selfies with you. You will be harassed for selfies as a tourist.
More specifically men: Yes, that's what you were wondering right. You will get stared at by men. And women. But Bangladesh is FULL of men. However, the men are respectable; won't stare for too long, won't follow you, won't try and touch you. You really are just a new sight for them. Their stares mean no harm. But, yes, if you are travelling alone it may make you feel uncomfortable.
People asking for money/begging: The only time we were ever asked for money was by beggars in traffic in Dhaka. This is the harsh reality of the situation in Dhaka; there are a lot of poor people. But as we were walking along the street no one ever asked us. Honestly, you can't say this about many countries.
Travelling Bangladesh as a women: I never noticed any difference in how Tom or I were treated by being male and female. I felt safe as a women in Bangladesh. However I didn't travel alone there, a great resource for solo female travel in Bangladesh is Tea Cake Travels. Alice mentions it is safe and fun, and I totally agree with my own experience!
What to wear (as a women): Bangladesh is a predominately Muslim country, and like most Muslim countries women need to cover up. I'm not talking extreme cover up, just loose cloths, long trousers/skirts and no cleavage. Make sure you always have a scarf with you too as it's always handy if you feel like going into a mosque. 
Public transport: UBER IS LIFE! Uber, Uber, Uber all the way. Everywhere! In a country with 163 million people you'll be surprised just how close the nearest Uber is! And yes, it is chhhheap!
I've heard it's not safe: HAVE YOU? When? Or are you just presuming it's not safe?
Yes, you will get stared at!
That's part of being a tourist in Bangladesh. But, that doesn't mean you are not safe! The people are some of the kindest people I've met! They really are just intrigued to see a tourist. Trust me, go and say hi, they will immediately smile, and when they stare just wave back. Yes, these stares come from men and women, but Bangladesh is a mans world, so they will come from more more. But they are not those creepy kind of stares. They never make inappropriate gestures or comments. At least, I never got any.
This picture says a thousand words. Just keep walking, they will stop and stare and then go on their way.
Embrace Bangladesh
Bangladesh is a country that will give you back as much as you put in. If you go with an open mind and find humour in the weird and wonderful things you will really enjoy your time. If you are uptight and let the crowds and fumes bother you and chose to complain about it all rather than looking through it, you may just hate Bangladesh. I'd recommend travelling with someone else; It will be more fun to laugh about things together. Come prepared, it's not a easy country to travel. There are delays, ques, more ques, people, more people, noises, loud noise, dirt, a lot of dirt. But there are smiles, laughs, boat rides, rice paddies, tea plantations, beaches, sunsets and so, so, much more.
So my opinion... is it safe to travel to Bangladesh? YES. Should YOU travel to Bangladesh! Definitely! 
---
Follow on Facebook
---