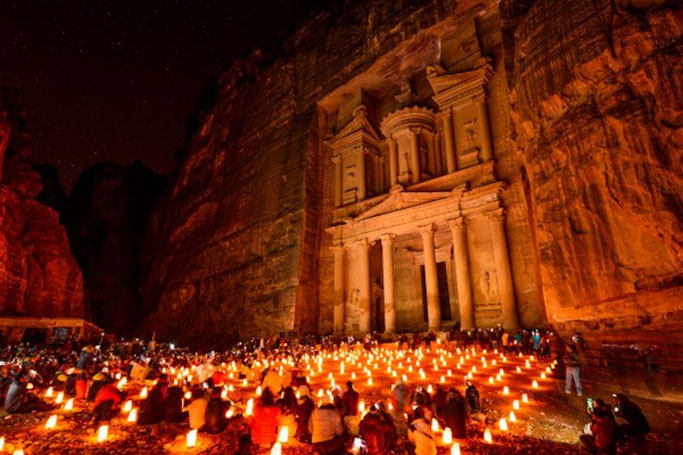 So you've made it all the way to Petra in Jordan and now you are here you are wondering whether you should stay for the evening - pay the extra fee and watch Petra light up in the dark. But first, you need to know whether it is worth it.
How much is it for 'Petra by Night'?
Petra by night is NOT included in your standard Petra entry ticket! If you wish to attend this so called 'spectacle' you will have to pay an extra 17JD (around £17/$20). 
When is Petra by Night?
Petra by Night runs every Monday, Wednesday and Thursday of each week, starts at 20:30 from Petra Visitor Centre and delivers you back by licensed guide to the Visitor Centre around 22.30pm.
What happens at Petra by Night?
Your walk to the treasury is light with around 1,500 candles and nothing else but their small reflections on the rocks. After walking in the dark for around 30 minutes you will arrive at the entrance to the treasury where even more candles will great you, lighting it up (kinda, but hardly) in all its (pretty dark) glory. Here you will be (demanded) to sit and wait until the "show" starts. The show is a man playing the flute, then another man playing the flute. For 30 minutes. Then one of the Bedouins tells a short story of the history of Petra. That is al. Show done. Oh, there's some 'free' tea included.
Is it possible to get good photos?
My picture vs Google Images picture
It is VERY hard to get those pictures you see all over Google of Petra by night. Sure it's possible, but first, you will have to run all the way there to get there first. You then have to have a good camera. No smartphones I'm afraid. I'm not a photographer so I don't know what the right settings should have been, but I know long exposure is necessary and a lot of patience. You are also NOT allowed to use flash photography until the staff say it is ok - and they will SHOUT at you if you do - which is approximately 20 mins into the "show" and you are only allowed to use it all at once for around 1 minute.
So, is Petra by Night worth it?
If you didn't already get what I was trying to say, I'll put it more clearly. For me, Petra by night was not worth it. Petra is one of the most beautiful places in the world in the day - simply amazing. But when merely light with candles and with members of staff demanding you to sit down and not to use a flash camera all night, it becomes more of a money-making scheme and less a wonder of the world. If you have 17JD to throw around then sure, go and see if what I am saying is true. If you don't, stick the the magnificent Petra by day.
10 THINGS YOU NEED TO KNOW BEFORE YOU GO TO PETRA (BY DAY)
I couldn't recommend Petra enough, make sure you take a look at this video to find out what you need to know before you go! Happy travels guys!
---
You will also like